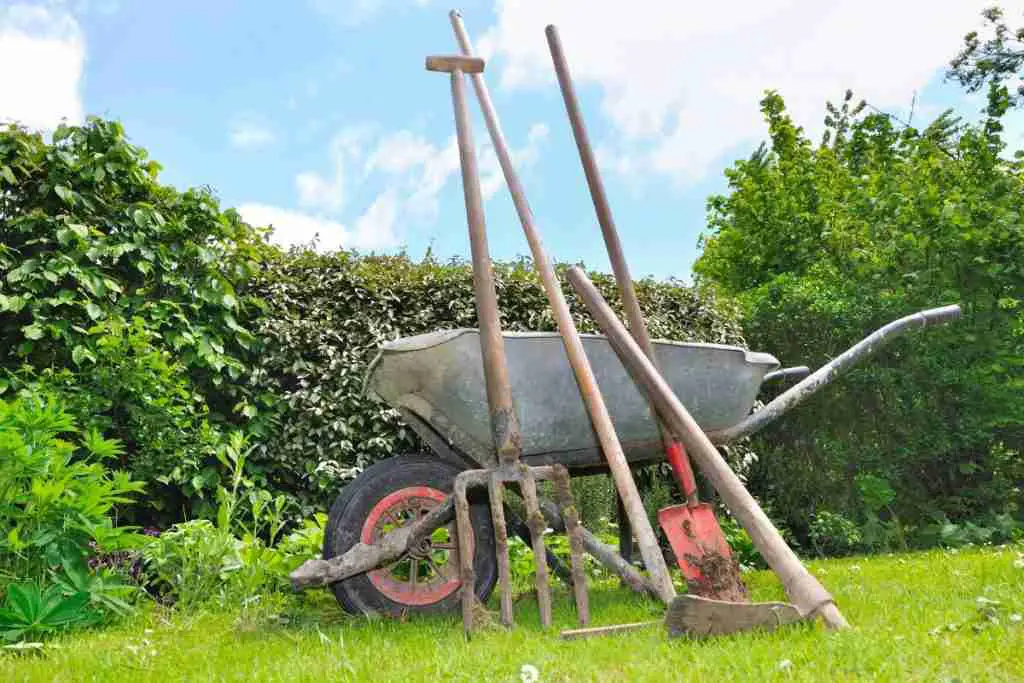 Purchasing your first gardening tools can be overwhelming since there are various garden tools on the market. And you wouldn't want to spend money on every garden tool you see.
Luckily, there are some tools and supplies that can make gardening a lot simpler. So, what tools do you need to start a garden? Here's an overview of my 15 most trusty gardening tools and valuable tips on how to care for them.
While buying garden tools, sticking to the must-have garden tools can save you money and make your gardening easier and less frustrating.
See also: What Are The Best Insecticides for Japanese Beetles
So, What Tools Do You Need to Start a Garden?
When starting your first garden (or even your second or third time), the right tools will make a big difference. And keep in mind: Whether you shop in garden centers or online, it can get easy to get caught up in all the fancy gardening tools that you will see. I would recommend you focus on essential, quality, and durable tools.
Following are some main types of garden tools you would need to have.
See also: Can You Have Too Many Houseplants(What I found!)
1- Pruning Shears
Pruning shears are among the essential gardening tools. A hand pruner is highly versatile for trimming or cutting small branches from perennial plants, trees, or shrubs.
As plants overgrow, get out of control, and take over, pruning shears help you to get rid of such plants. Moreover, you need pruners for cutting vegetables or fruits and flowers for a bouquet. Hand pruners can also be helpful for harvesting ripe vegetables without damaging the plant.
Tips For Choosing Pruning Shears:
Look for razor-sharp blades and a comfortable grip.
Double-check that pruners are fitting in your palms easily.
Sharp your pruners regularly for cleaner cuttings and give fewer injuries to plants.
Don't use anvil pruners for cutting fresh stems and branches. Because they are good for dead wood and can cause injuries to fresh stems and branches.
Choose a bypass-style pruner, meaning the top blade slices pass the bottom blade, resulting in very quick, tear-free cuts so plants can heal quickly.
2- Garden Gloves
You would need the right pair of gloves to protect you from blisters, dirt between your fingers, and cuts and keep your hands clean.
Your hand gloves must fit properly in your hands; otherwise, it would cause slipping accidents. Use gloves that are made of water-resistant, breathable fabrics. You should store your gloves out of sunlight and away from the reach of insects.
See also: The Ultimate Guide for Successfully Starting Cucumbers Indoors.
For digging, search for gloves with waterproofing along the palm and fingers, and consider longer gloves if you are looking for more protection.
3- Hand Cultivator
A hand cultivator looks like a mini garden fork, often with three tines. It helps scratch the soil to remove small weeds and rough up the soil, both in the garden and in a container.
You can usually have a hand trowel and hand cultivator available in a set on Amazon (sometimes with a pruner). 
4- Garden Fork
A garden fork looks like a pitchfork and is an essential and efficient tool for turning soil and compost, digging out root crops, and dividing perennials.
Tips For Choosing a Garden Fork:
For scooping mulch or turning compost miles, consider buying garden forks that have a slight curve to their spines. 
For digging rocky or clay soil, consider buying straight tines garden forks, as they are efficient in digging compacted soils.
Don't buy flat tines garden forks because they tend to bend when they hit a rock or root.
5- Hand Trowel
A trowel is a small shovel that you can use to dig small holes to plant seeds, measure depths in the soil, and dig up tough weeds. 
See also: Why Is Garden Furniture So Expensive? Here's The Truth!
Hand trowels help transplant bedding plants and herbs and are also quite remarkable when you have to plant the containers and take the weeds out. 
While buying a hand trowel, ensure that:
A trowel with a narrow and sturdy blade that will cut into the soil easily 
A hand trowel that has a comfortable grip
The stainless steel hand trowels are more solid and long-lasting.
Its handle comfortably fits in your hand. 
6- Garden Shovel or Angled Shovel
A shovel is an essential tool for gardening and helps dig holes and move soil. They are suitable for digging straight-sided holes, cutting roots, removing plants and weeds, and making edgings.
Angled shovels are shovels with triangular-shaped heads. Such shovels are handy and best for moving the soil, digging holes, and relocating plants. Angled shovels are regarded best for beginners as compared to squared-off spades.
When choosing a garden shovel or angled shovel:
Pay attention to quality. 
The longer the handle, the more leverage you will have. 
Search for forged metal with a sharp blade edge. 
Here's an excellent example of a 

long-handled digging shovel

.
7- Spade
Spades are short-handled square shovels. They make it easy to dig holes and move around small mounds of dirt. Spades are available in both short and long handles as per your convenience.
Spades which have handles made up of ash hardwood are strong and can absorb shock and vibration. 
Tips For Buying a Spade:
Consider buying spades having stainless steel heads, as they won't get rusty. 
Though spades are costly, purchasing a good spade for once will make your gardening easier.
8- Garden Rake
A ground rake or garden rake has metal tines, and you will use a rake to whisk the fallen leaves and debris and clear your garden of debris or small rocks.
Though garden rakes are of various varieties and sizes, buying a standard leaf rake will be suitable for starting a garden. 
Tips For Buying Garden Rake:
For delicate lawns, consider purchasing plastic tines.
Stronger and rougher use, buy steel tines
9- Garden Hoe
Hoes are helpful and convenient for cutting down weeds and preparing flower beds. It is the type of your garden that decides what type of hoe would be suitable for you. 
Tips for Choosing a Garden Hoe:
A sturdy and wide hoe will be pleasing if you have a vegetable garden. 
A thinner hoe would be best if you have a flower garden, especially a perennial garden, as flowers require a delicate touch. 
And also, ensure that the metal head is securely attached to the handle. 
10- Garden Scissors
Garden scissors (also known as trimming scissors) have very thin, super-sharp blades used for deadheading (removing dead flowers), pruning delicate plants, and snipping herbs and flower stems.
See also: Are Garden Mirrors Really Safe? Here's The Truth!
Keep in mind that garden Scissors don't replace a hand pruner but complement it. When purchasing your garden scissors, look for ergonomically designed handles.
 11- Garden Hose
Another important gardening tool to consider while listing down is "what tools do you need to start a garden?" Water is life to a garden.
Your garden hose must be able to reach and spray every area or plant in your garden. Be careful about hose lengths while buying a hose, as it affects the water pressure. A longer hose results in lower water pressure. Though vinyl hoses are less expensive, they usually don't last long.
A cheap hose can be very frustrating; I would recommend getting a quality rubber hose and looking for heavy-duty brass, nickel-plated couplings at both ends of the hose. 
Tips For Choosing a Garden Hose:
Arable nozzles or sprayer heads adjust to deliver everything from a soft sprinkle to a hard stream. 
Metal and brass parts and fittings are more durable than plastic.
Here's an excellent example of a 

high-quality water hose

.
12- Watering Can
Good watering can help you evenly water plants anywhere. Watering cans come in a broad range of colors, sizes, styles, and nozzle options. And they are best suited for small watering jobs and should be easy to carry when full and have a capacity of a least 2 gallons.
Plastic and metal cans are two basic types of watering cans. Though plastic cans are lighter than metal ones, they don't last long. 
Tips For Choosing a Watering Can:
Choose a plastic or metal model with a removable spout. 
Keep a smaller watering can around, especially for watering small container plants.
13- Wheelbarrow or Yard Cart
It is most probable that you would need some heavy lifting in your gardening life, like moving extra soil, etc. Wheelbarrows are important gardening tools to add to your list of essential gardening tools.
Using a wheelbarrow or yard cart can also help protect your back, always at risk of strain from regularly bending to plant and weed your garden.
Tips For Choosing a Wheelbarrow or Yard Cart:
Choose to buy single-handle two-wheel models because they are easy to balance. 
You can even push or pull them with one hand.
Store your wheelbarrow clean and dry to prevent rust.
14- Loppers
Loppers may not be the tools you need to start a garden, but they are essential tools to take care of your garden. They are long-handled pruners and are used to cut thicker branches.
See also: Are Really Fertilizer And Plant Food The Same: Here's The Truth!
The long handles make it easy to cut through branches up to an inch. The lopper's handles usually are 16 to 36 inches in range.
15- Padded Kneelers
Padded kneelers (also known as knee pads) can help to lessen the pressure on your knees. Kneeling is gentler and easier on your back than squatting.
See also: Top 7 Kneeling Pads For Gardening.
If you find kneeling and squatting are too painful, you can bring a stool out to your garden to sit on or just sit on the ground.
Tips For Caring and Sharpening Your Gardening Tools 
If you properly take care of your gardening tools, they will last for many years. 
Every Use:
Before storing your gardening tools, always clean off any tools that come into contact with the soil. For example, you can blast mud off with a jet of water from the hose, or if dirt has hardened or dried, soak metal parts first, then wipe clean with an old rag.
After using your pruning tools, remove any ingrained dirt or sap with wire wool or wire brush if necessary. 
In addition, you can wash them in soapy water, then dry them.
At Least Once a Year or More Often, Depending on How Often You Use Them:
Digging tools and hoes need an occasional oil coating (or any vegetable-based oil ) to prevent the tines or blades from rusting. And use a clean cloth to apply the oil. You can use a wire brush to eliminate any rust spots or ingrained dirt, then wipe clean with a rag. 
To sharpen hoes and digging tools, use a metal file on both the front and back edges of the blade, operating at a shallow angle. Clamping your gardening tools in vice will make it easier. And finish by oiling the blade edges.
Clean wooden handles, then smooth them off with a sanding sponge or sandpaper. Polish every wooden handle with a protective and natural oil such as teak oil.
To sharpen loppers, pruners, and shears, hold the tool firmly and securely in position and use a whetstone, file, or sharpening stone suitable to the size of the blade to sharpen it. Only sharpen the cutting blade itself and work the stone in the same direction as the angle – 2 to 5 passes of the stone or file should be sufficient. You may work smaller blades in a circular motion.
Tighten up any loose bolts on moving components and check if any worn-out parts need replacing. And finish by spraying with a tool lubricant. 
Don't forget to use lubricant throughout the year, especially after heavy periods of pruning.
And remember, winter is the perfect time of year to service your gardening tools and get them ready for the next growing season.
If you prefer watching a video on how to keep garden tools in good condition, check out the video below.
Conclusion
So, these are the essential gardening tools you need to start a garden, along with some helpful tips for caring for and sharpening your gardening tools.
Choosing the right gardening tools will make your gardening life a lot easy, save you money, and make your gardening experience more memorable and less frustrating.