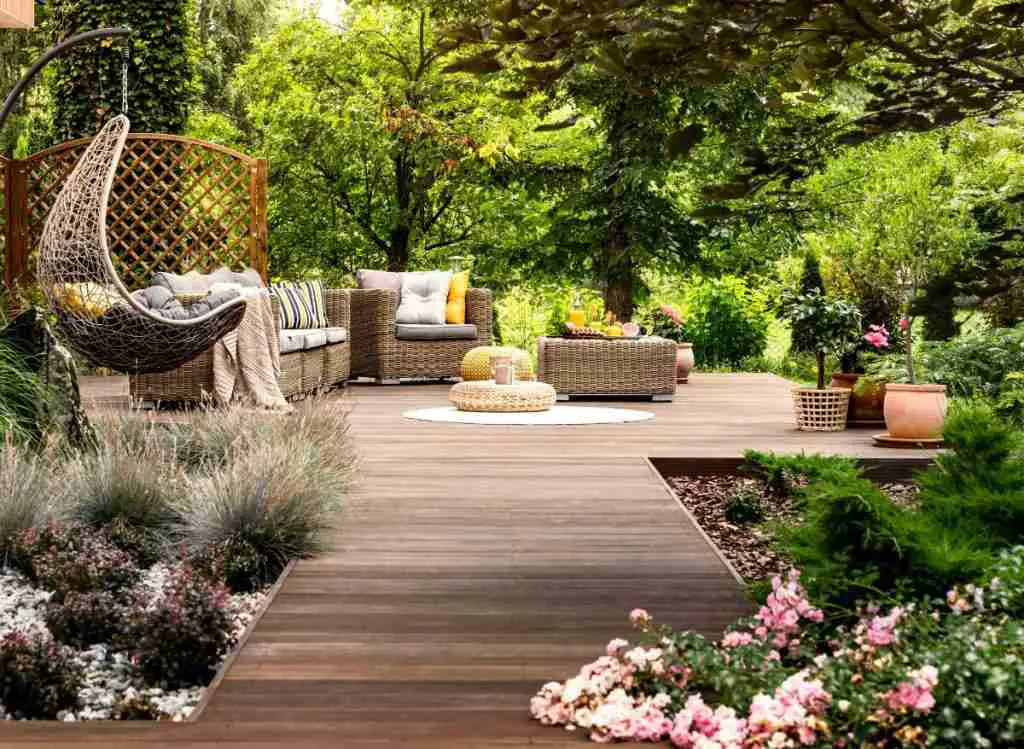 Garden furniture is an extension of your indoor living space and provides more than just a place to eat or relax outside. In addition, the right garden furniture can significantly improve and elevate your outdoor living. But why is garden furniture so expensive?
High-quality garden furniture is more expensive than indoor furniture because garden furniture gets much more wear and tear than interior fabrics and foams. It requires more solid materials and uses more sustainable and efficient methods to withstand constant element exposure and even prevent pests. 
Read on to find out everything you need to know about garden furniture, the best month to buy garden furniture, how much you should spend on decent garden furniture and more.
See also: Are Garden Mirrors Really Safe? Here's The Truth!
Why Is Garden Furniture So Expensive
Garden furniture is so expensive because they are built to last, and they get much more wear and tear than interior furniture. The outdoor conditions are usually harsh on materials, including the UV's effects on materials. In addition, garden furniture experiences constant extreme temperatures and extreme weather conditions such as snow, rain, and high winds.
The higher-end stuff is made exceptionally well, with materials that will withstand all types of elements. Also, because garden furniture is large, making it expensive to ship and store.
See also: Are Fertilizer And Plant Food Really The Same: Here's The Truth!
Why Does Garden Furniture Cost So Much?
Several reasons make outdoor furniture more expensive than indoor furniture. Let's discuss common reasons garden furniture costs so much.
1- They Are Built With High-End Materials
Since garden furniture is meant to be outdoors, it is necessary to use materials capable of withstanding constant exposure to harsh weather, including the sun, snow, rain, wind, and anything nature throws at it.
Using high-end materials ensures that your garden furniture is highly durable and capable of resisting even the harshest environmental conditions. 
Here are the most commonly used materials:
Wood
Wrought Iron
Aluminum
 Wrought Aluminum 
Plastic
Even though all of these materials are intended to be durable; however, the durability of each material will depend on several factors, such as your climate and situation. 
2- Wooden Garden Furniture 
The most commonly used wood furniture is teak, which can be expensive to source depending on where it comes from. Therefore, garden furniture made of teak can be very expensive.
Teak is a magnificent tropical hardwood that is highly resistant and can last up to 75+ years and requires little to no maintenance, and its natural oils allow it to resist sun and moisture compared to other wood.
3- Metallic Garden Furniture 
Another commonly used material is metal because metallic furniture is durable, sturdy, and capable of resisting a significant amount of beating without breaking. 
In addition, the two most commonly used to produce outdoor furniture are wrought iron and wrought aluminum. With proper care, both metals can last as long as you can imagine and resist harsh weather. They are also usually powder coated to protect them from moisture and prevent rusting. 
For metal furniture to last outdoors, it needs to be aluminum that is effectively powder-coated. Similarly, the powder-coating will add a protective layer and reduce the chance of colors fading over time due to sun exposure. 
4- Plastic Garden Furniture 
Any plastic furniture that goes outdoors is likely to be more expensive because it has to withstand UV rays and avoid color fading over time.
And durable and beautiful patio furniture options are made of high-quality plastic. Instead of PVC, high-quality plastic furniture is made out of high-density polyethylene, which is more resistant and does not become fragile. 
5- Effectively and Highly Designed 
Besides the materials used, the design quality is another factor that explains why garden furniture is so expensive. 
As we all would expect from anything in life, the better and higher the design quality, the more expensive it will be. And usually, manufacturers of high-end patio furniture use the best materials available and ensure that every step of the process is as streamlined and effective as possible, creating an overall better piece of garden furniture.
When shopping for garden furniture, pay extra attention to its finishes. Most of the time, high-quality garden expensive furniture has joints that meet properly and an overall look and feel that exudes quality.
See also: 5 Zinc Toxicity Symptoms to Pay Attention to in Your Plants
6- It Will Last Longer 
Sitting outdoors means sun, snow, rain, dust, wind, and even insects can deteriorate your garden furniture. And imagine how resistant a material has to withstand direct sunlight and UV rays 24/7/365, followed by rain and anything nature throws. 
The ability of garden furniture to withstand a harsh environment for so long is simply impressive and a good reason why garden furniture is a more expensive option.
7- Timeless Design
When you buy a piece of garden furniture, you don't want it to go out of style quickly. To avoid this, high-end garden furniture manufacturers design their products to span across changing trends by thinking ahead of time about how well their furniture will adapt and fit into new ideas of beauty in decor.
Garden furniture must remain durable and stylish for years and have a timeless design to adapt to changing trends and fashion.
Is Expensive Garden Furniture Worth It? 
Yes, expensive garden furniture is worth it because it is an investment, without a doubt.  With its high-quality materials, timeless design, sturdy craftsmanship, and long-lasting durability, luxurious garden furniture is naturally more expensive compared to other indoor furniture made to last only one season.
The right garden furniture can enhance and elevate your outdoor living in impactful and significant ways. For example, family gathering on the patio for a sunset meal or sipping on coffee while enjoying a cool, calm morning are types of outdoor enjoyment. 
High-quality outdoor garden furniture is easy to maintain. Some people know that purchasing high-quality products might cost more; however, they also give you your money's worth.
Furniture made from low-quality materials can be easily damaged compared to high-quality ones.
See also: See also: Best Ways To Get Rid of Clover Faster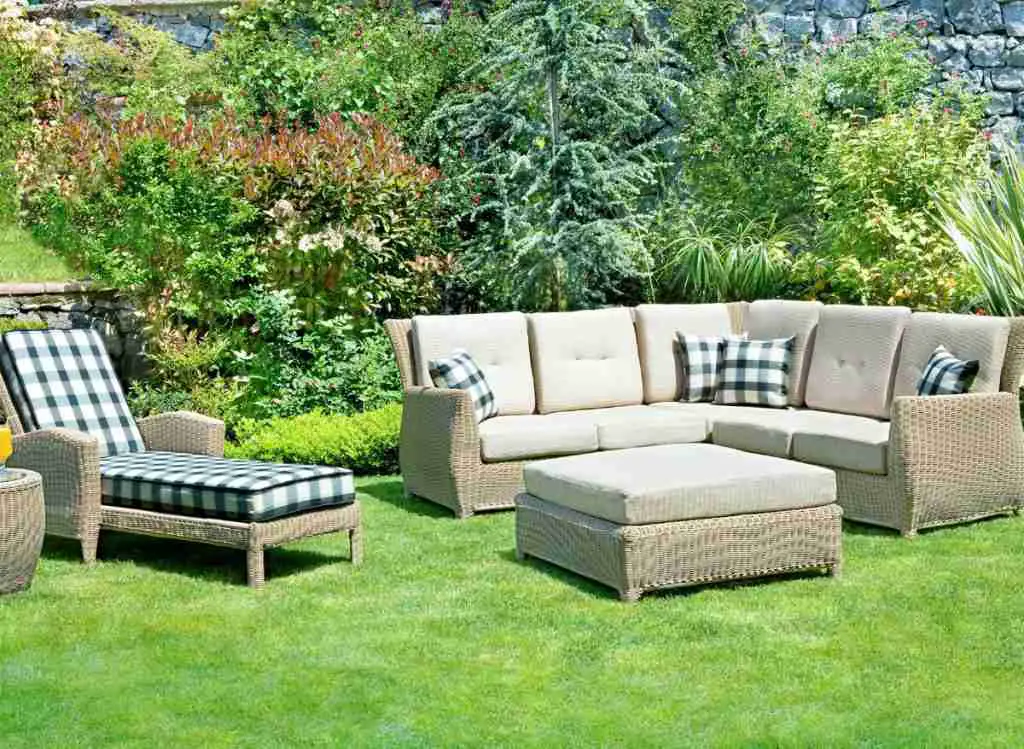 What Is The Best Month to Buy Garden furniture?
Patio and garden furniture typically go on sale from August to October, when stores are clearing their summer items to make room for their fall inventory. And, usually, the further from summer, the higher the savings on patio furniture. For example, in early August, sales are approximately 20% off compared to late October, with savings of up to 70% off. 
The only downside is that you might have a limited selection during these periods. 
How Much Should You Spend on Garden Furniture?
The price of garden furniture varies depending on several factors, such as materials, design, and size. But, in general:
A quality cushioned chair will cost between $800 and $2,000 
A dining table will cost between $900 and $2,000
A quality sofa will cost $1,800 to $3,000
However, before you decide, give yourself a little time to research and visit different stores online and in person. Once you decide you are buying good garden furniture and have committed to investing in high-end furniture, have fun.
With excellent furniture, your garden can be your happy place of relaxation and enjoyment for many years if you love the outdoors.
And, over time, you will probably spend more money replacing cheap outdoor furniture every couple of years instead of buying something higher-end now. But if you can't afford to pay the higher prices now, try second-hand garden furniture.
How to Protect Your Expensive Garden Furniture?
Before you invest in a beautiful and pricey furniture set, take time to read the care instructions and learn more about the materials to ensure you are willing to put in the work to take care of it. 
The easiest ways to care for your garden furniture are: 
To keep it out of direct sunlight and rain.
Use a protective cover during severe weather.  
And periodically clean it.  
See also: How Long Do Flowers Last Without Water And How You Can Make Them Last Longer.
Best Ways to Find Garden Outdoor Furniture You Will Love
Shop at Thrift and Antique Stores. Check out this article on how to shop for secondhand furniture.
Garage, yard, and Estate sales usually happen on weekends, and ensure you show up early.
Looking for budget garden furniture on eBay, Kijiji, Craigslist, and other classified websites.
Buy your garden furniture off-Season.
Find cheap garden furniture and repair them.
Final Thoughts
Overall, the reason why garden furniture is so expensive is that they need to withstand harsh weather conditions.
Garden furniture has to withstand harsh weather, including wind, rain, snow, sun, and bird poop, and it takes significantly more abuse than indoor furniture.
And above all, it is really worth investing in excellent quality furniture as they can last longer than the cheap ones that you will need to replace every other year.