As the old saying goes, "nature is man's best friend". It keeps you calm and away from stress and anxiety. In these crowded cities, it is so hard to find a good garden you can relax in. Terrace gardening can be a solution as it offers a peaceful and soothing atmosphere.
With these terrace gardening tips for beginners, you can turn your terrace into a delightful place. It will also give you a chance to preserve nature and help the environment. All the plant lovers can easily transform their rooftops into a beautiful terrace garden.
Terrace gardens are a great way to enjoy fresh vegetables that will ensure the good quality of your food. The fruits and vegetables that we buy from markets are grown with the help of chemical fertilizers that can eventually lead to health hazards.
This article will provide quite useful tips on how to set up a terrace vegetable garden. It does not matter how huge or small your rooftop is, with these useful terrace gardening tips for beginners, you can revamp your terrace. 
See also: Can You Speed Up Your Pepper Seed Germination? (Yes, and here's how!).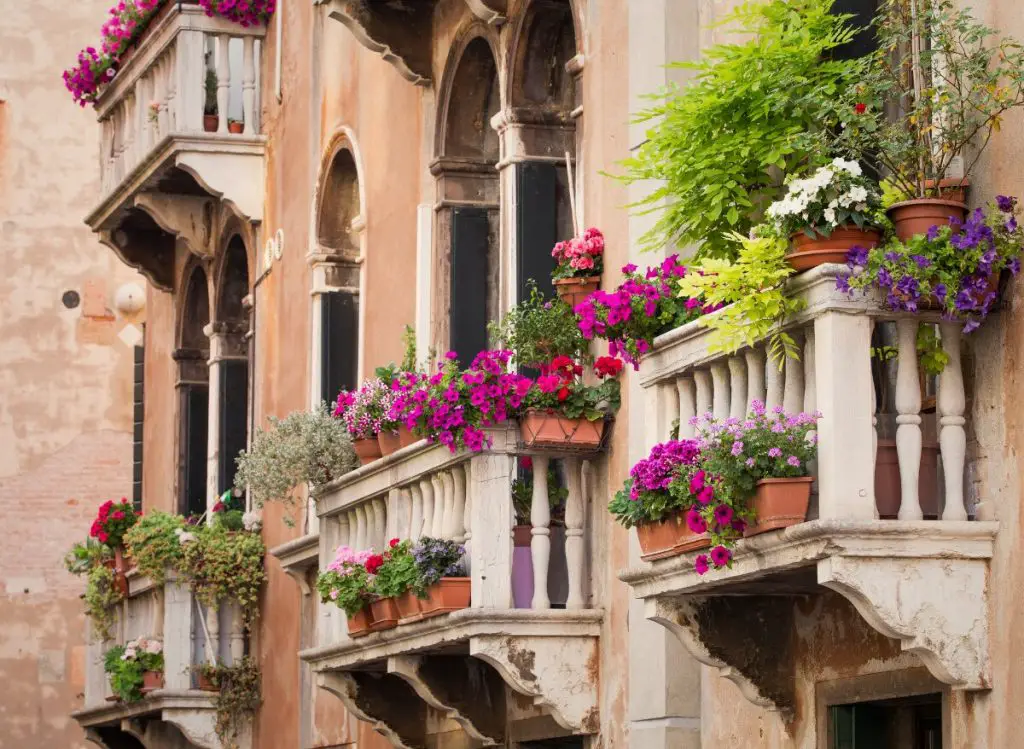 What Is Terrace Gardening?
A terrace garden is a garden established on a terrace, patio, and roof, particularly in a house with limited gardening space. These types of terrace gardens are particularly popular in urban areas.
Terrace gardens are generally created at three different levels, which are:
On the rooftop of a building.
Porches, window boxes, portico, balconies
At the podium level, around the base, or on the roof of large basements. 
How to Start Terrace Gardening
Once you are set on revamping your terrace, then there are some terrace gardening tips for beginners that you need to know. 
1- Start With a Checklist
Before trying out your gardening skills, make a rough plan. Sketch how you will start planting your greens.
Check where you will be planting them, in pots or on the vertical space of the rooftop. Make sitting arrangements in between your garden where you can sit and relax. 
2- Get the Equipment
A necessary terrace gardening tip for beginners is that before you start working on your terrace garden, make sure that you have all the equipment that may come in handy while gardening. You don't have to buy any unnecessary pieces of equipment for gardening.
Equipment Needed To Start a Terrace Vegetable Garden:
The basic pieces of equipment for gardening are:
A shovel
Watering can
Trowel
Gardening rake
And pruning scissors
See also: List of Essential Gardening Tools For a Beginner.
3- Prepare the Soil
A great terrace gardening tip for beginners is healthy soil. The key to healthy plants is healthy soil. The soil should be properly nourished for the growing plants.
Create the potting mixture by mixing your soil with organic compounds. It should neither be too compact nor too light. The texture of the soil must be balanced. 
It is best if you avoid using chemical fertilizers, as they can cause health issues. However, it is necessary to fertilize them with organic compounds.
The soil should be fertilized now and then for a good yield. Regularly fertilizing the soil with natural compounds will keep it healthy as well.
See also: Bokashi Vs Compost: Which One Should You Choose?
How to Set Up A Terrace Vegetable Garden
Any vegetable can be grown in a terrace garden. If you want to know how to set up a terrace vegetable garden, then you can start with growing vegetables such as spinach, radish, or coriander.
The terrace gardening tips for beginners include growing vegetables that require minimal effort and can be grown in any season. However, any shrubs or herbs can be grown on your rooftop with the right effort, investment, and care. 
Keep in mind the factors of temperature, pH, type of soil, and sunlight. These are important to consider before choosing the seeds of your vegetables. Furthermore, the plants in your terrace garden should be watered as per their requirements. They also need to be placed at a spot, where they can receive ample sunlight. 
Water all the planted vegetables in the morning. It is the perfect way to keep them hydrated and healthy. The soil on the rooftop tends to get dry quickly hence, the plants need to be watered frequently. Dry plants can die out easily. 
Moreover, take care of the infestation too. The pests will always keep coming back to the plantation, no matter how much good care is taken of the plant. In terrace gardening tips for beginners, it is recommended to use natural pesticides to get rid of bugs and pests.
You can also prepare natural pesticides at home. Make sure to fully coat the stem and leaves while spraying. Spray the mixture of natural pesticides often and watch your plants grow without any pests attacking them.
See also: Can You Really Save Money With Gardening? (Yes, and here's how!)
Terrace Gardening Ideas for Beginners
If you have just started terrace gardening then these convenient terrace gardening tips for beginners will really help you revamp your rooftop. Some helpful terrace gardening ideas for beginners are;
1- Test The Soil
Before the plantation, test the pH of the soil, so that you can buy seeds accordingly. You can send your soil to the nearest garden center for testing.
2- Best Planting Time
Understand the theory of best planting time. The best time of the day to plant depends on the weather. If the day is windy or sunny, then the late afternoon is the best time for planting.
However, on a cold, cloudy day, morning is the best planting time. If it is a hot and humid day, then plant your vegetables in the evening. 
3- Water Plants in the Morning
The perfect time to water your plants is the morning time. Watering plants in the morning will reduce the water loss by evaporation. The plant gets dry before the evening arrives, hence it is protected from all the fleas and bugs. 
4- Reuse Water
The water that you used to previously water the vegetables can be reused. The drained vegetable water in containers is rich in nutrients and the plants can absorb that water easily. 
See also: How To Grow Pepper Seed Faster?
5- Plant in Odd Numbers
It is a fact that plants that are planted in an odd sequence of numbers seem more natural and also attractive. 
Gardening is a soothing hobby, however, it requires utmost patience and effort. Take care of your plants consistently and you will have a beautiful garden right on your rooftop. 
Plants To Grow In Terrace Garden
With terrace garden facing south and receiving direct sunlight throughout the day. Don't forget to water your garden well, and they will love it there. 
With a terrace garden facing north or shaded by other buildings for most of the day, look for low-light plants, including: 
Coleus
Hostas
Ferns
Impatiens
And begonias.
With a terrace garden receiving less than a half-day of sun, some greens like:
Spinach
Chard
Or lettuce can grow well. 
Keep in mind that most veggies require a minimum of 6 to 8 hours of sunlight daily. 
See also: Everything You Must Know Before Starting Green Beans Indoors.
Wrapping Up
Overall, gardening is a great way to keep yourself active, and it keeps you busy and fit at the same time. Moreover, terrace gardening is excellent in transforming your home into a beautiful and environment-friendly place as it will help control the temperatures and keep your home cool.
Plus, it is perfect for people that live in tropical areas. It can really save you from expensive bills of air conditioners.