Hibiscus, being easy to plant and look after, is one of the most planted flowering plant species. It has different varieties that grow well in different regions. However, these may also suffer from any disease without proper care. Along with other requirements, watering is one of the essentials for the healthy growth of any plant. Hibiscus also needs frequent water. So, how much water does a hibiscus need?
Generally, hibiscus plants thrive in regular water and full sunlight areas. In addition, they grow well in containers, landscapes, hanging baskets, raised beds, or houseplants. Also, hibiscus plants prefer good drainage, regular pruning, and protection from frost, according to the University of California.
However, some hibiscus varieties need a little more water than others. As a gardener, it is a good idea to learn everything you can about the plants you are growing. Some varieties of the hibiscus can withstand the sun, while others are sensitive to the full sun.
Read on to find out more about the two main types of hibiscus plants and how to properly care for them.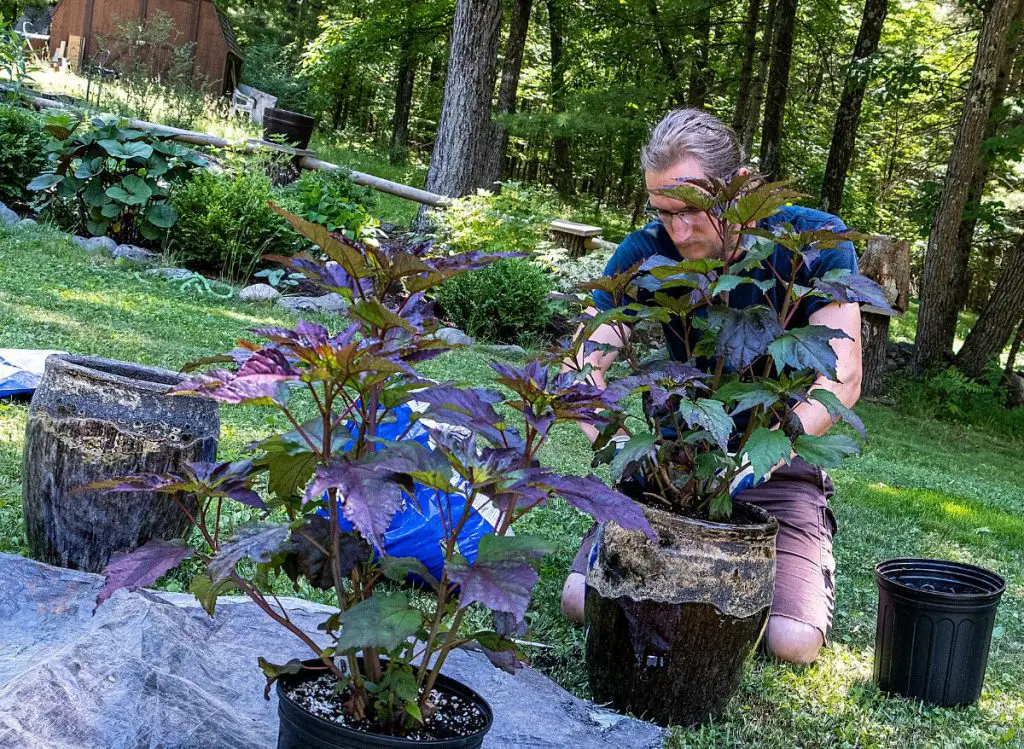 Characteristics Of Tropical Hibiscus And Perennial Hibiscus
Typically, hibiscus consists of many flowering plants, including hardy perennial and annual herbaceous plants and hardy and tender shrubs.
When selecting a hibiscus plant to grow, remember that various types of hibiscus are available. Choose the ones that can grow well in your region.
Generally, most hibiscus plants thrive in the condition outlined in the table below.
Type of Hibiscus
Tropical Hibiscus
Perennial Hibiscus
Family
Malvaceae
Malvaceae
Botanical Name
Hibiscus rosa-sinensis
Hibiscus moscheutos
Common Names
– Tropical hibiscus
– Chinese hibiscus
– China rose
– Hardy hibiscus
– Swamp mallow
– Rose mallow
Plant Type
Evergreen shrub
Herbaceous perennial
Size
– 48 to 120 inches (121.92 to 304.8 cm) tall
– 60 to 96 inches (152.4 to 243.84 cm) wide
– 36 to 84 inches (91.44 to 213.36 cm) tall
– 24 to 48 inches (60.96 to 121.92 cm) wide
Light requirements
Tropical hibiscus thrives in full sun or partial shade.
Perennial Hibiscus prefers full sun exposure
Watering requirements
– Keep the soil moderately moist and not saturated.
Do not allow the soil to dry out to the point of wilting.
– Water thoroughly hibiscus plants from the top of the ground down.
– Allow the soil to dry out a little more between watering during the winter months. 
– Both hardy and perennial hibiscus have the exact watering requirements. 
– Always keep your soil moisture and do not allow the soil to dry out 
– Water thoroughly the plants from the top of the ground down.
– Allow the soil to dry out a little between watering during the winter months. 
Bloom Time
Tropical hibiscus in summer to fall in containers, and generally year-round outdoors in tropical climates.
Perennial hibiscus generally flowers in mid to late summer.
pH requirements 
6.5 – 6.8 
6.5 – 6.8 
Flower Color
– Red
– White
– Purple
– Pink
– Orange
– Peach
– Yellow
– Blue
– Red
– Pink
– White
USDA Plant Hardiness Zone
9 and 10
 5 to 9
Region of Origin
Asia
North America (in Missouri)
Table Displays Characteristics Of Tropical Hibiscus And Perennial Hibiscus – plantsheaven.com
How To Water Hibiscus Plant?
All types of hibiscus plants must be watered thoroughly every few days for the first couple of weeks after you plant them.
After a couple of weeks, water perennial hibiscus about twice weekly for the first growing season. Throughout the second growing season and beyond, try to water once per week unless it rains several days nonstop. The good news is that it is almost impossible to overwater hibiscus plants. 
Keep tropical hibiscus plants consistently moist and water once the top inch of soil is dry. (To check, just stick your finger in the soil to check.) 
If you are growing hibiscus plants in containers, water them 3 to 4 times per week at the beginning of the summer and every day toward the end of the summer as your plants grow. 
If you manage watering hibiscus with a proper routine, they will give you proper output in the form of effective growth. However, any irregular watering routine will affect the growth of your flowery plants.
So, make sure that you manage to water them at the recommended time. Here is how to water different varieties of these plants. 
See also: Brassica Flower Vs Hibiscus Flower: How Are They Different?
Early Days of Planting
No matter if you have planted a tropical variety of hibiscus or perennial, all types of hibiscus plants will need to be watered in the early days. For the first few weeks of planting, water the small plants of hibiscus after a few days. Follow the same watering routine until you are certain that the roots are grown well. 
Watering In The First Growing Season
After you are sure that the plants have rooted effectively, you'll have to follow different schedules to water tropical and perennial variates. Follow the following routine. 
Perennial Variety: Water the perennial variety of hibiscus once a week during the first growing seasons. 
Tropical Variety: Tropical variety is relatively sensitive, so it must be watered consistently throughout the seasons. So, keep the soil of these plants moist throughout the first growing season. 
Watering in the Second Growing Season
Perennial Variety: Before it rains successively, water the perennial variety of hibiscus at least once a week during the second growing season. 
Tropical Variety: During the second growing season, water the tropical variety of hibiscus at least 3 times a week. Make sure that their soil never dries out. Drying of the soil is the death of the tropical variety of these plants. Moreover, cut short their watering in the cooler weather. 
If you plant the topical variety, no matter whether in soil or pots, make sure that they always remain moist. To check, punch your finger in the soil. If you feel that the soil has no moisture below one inch, water them. 
See also: Best Ways Of Using Yarrow As Companion Plants For Your Garden.
Choosing the Right Variety of Hibiscus
As mentioned above (check the table above to learn more about the requirements of your plants), hibiscus elevates the beauty of any garden. However, all varieties can't flourish well in all the regions. Choosing the right type of these flowery plants is also a wise act. Here is how to decide what type will suit you as per region. 
Tropical hibiscus is one of the commonly grown flowery plants in cool weather areas. These can bear full sun only in winter. So, if you're residing in a cold area and want to plant these plants outdoors, choose this variety. Also, these will be ideal choices to enhance the look of your garden in winter. 
Perennial hibiscus: On the other hand, if you're residing in a hot climate region, perennial hibiscus will be good for you. This variety can survive even in summer, keeping them safe from the severe sunlight. These will flower in the summer. 
See also: How Long Can Succulents Live Without Water? (This long!)
Can Hibiscus Tolerate Full Sun? 
Hibiscus can tolerate full sun but only in winter or at the start of summer. Out of all, hardy hibiscus does well in full sun. However, the rest of the varieties will need partial shade and partial sun.
If you're going to plant them in a region that remains hot throughout the year, make sure that you manage to plant them near a shadowy place so that they may get partial shade in severe heat. If you can't do this, you'll have to manage to put them in the shade during the hard weather conditions. 
Can You Water a Hibiscus Too Much?
Though hibiscus needs adequate water, over-watering will also affect their growth. Also, this may lead to severe diseases in these flowery plants. So, make sure that your plants need to be watered when you're going to water them.
A simple way to check whether these need water or not is by pinching your finger into the soil that contains hibiscus. If it's dry more than one inch, water them. But if you feel that these are too moist, wait for some more time. 
How Do You Know If Your Hibiscus Is Overwatered?
Sometimes, your hibiscus may be overwatered mistakenly. The following signs will show that you've watered them more than they need. 
Yellowish leaves 
Swollen leaves
Wilting plants
Bad smelling roots
How Often Should You Water Hibiscus Plants?
The watering gap depends on the variety of the hibiscus you have planted in your garden. In the early days of their planting, all varieties need to be watered excessively and consistently.
However, after they have rooted well, water the tropical plants thrice a week, while the perennial variety will need to be watered excessively still. 
See also: How Long Can Flowers Last Without Water? And how to make them last longer.
Wrapping Up
Though hibiscus is a water-loving plant, it can also undergo different issues when overwatered. So, choose the right kind of these plants according to the climate of your region. Moreover, keep on investigating whether these need water or not.
Any mistake in watering may lead to the death of your lovely plants. Regularly diagnose them to keep your garden healthy and flourishing.