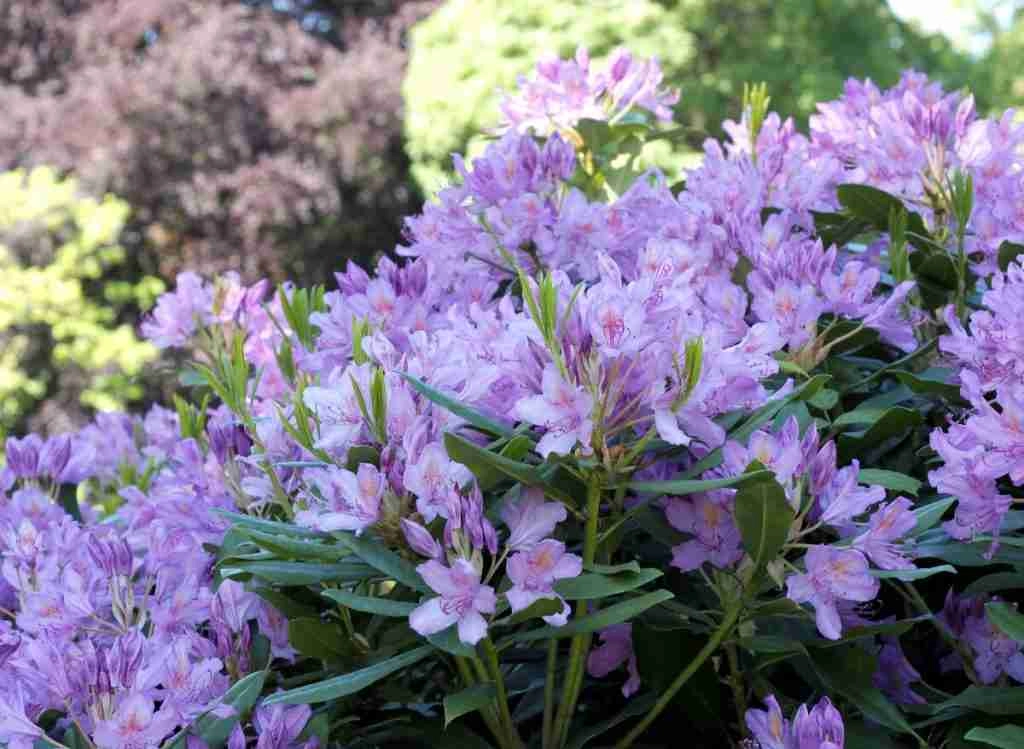 Planting rhododendrons in direct sunlight or shade depends on your garden's location. However, too much exposure to direct sunlight and no water supply may cause many issues in the proper growth of the rhododendron.
Without adequate watering, they may turn into odd shapes with large leathery leaves, diminishing the beauty of the plant. So, should you leave rhododendrons in the sun or the shade? In other words, rhododendron sun or shade?
Rhododendron thrives in dappled shade and when it is protected from the wind, ideally from a high cover of limbs that will provide filtered shade all day. In addition, some species will take a few hours of direct sun in the morning, but most species require protection from the intense Southern sun. And the best site to plant is on the east or north side of a building.
Read on to find everything you need to know about growing rhododendrons and the optimal conditions for successfully growing healthy, beautiful, and strong rhododendron.
See also: The Difference Between Tulip And Rose?
Genus name
Rhododendron
Plant type
Shrub
Light requirements
– Part Sun
– Shade
Watering requirements
– In warm weather and sandy soils,

rhododendrons

require watering the root system about twice a week during the first year. 
– During dry spells, newly planted rhododendrons require regular watering throughout the first few years.
Rhododendrons fertilizer needs
– With proper soil preparation and mulching, rhododendrons require little

fertilizer

, especially the older and established plants.
– Ensure you don't fertilize rhododendrons when planting them; give them time to establish their root system in the soil before applying

fertilizer

.
Rhododendrons diseases
– Dieback
– Root rot
– And blight
Flower color
– Purple
– Red
– Orange
– White
– Pink
– Yellow

pH

4.5 to 6.0
Foliage color
Blue or Green
Best time to plant rhododendrons
The best time to plant rhododendron is early fall or spring, when the roots have a period to adjust and prepare for early spring growth. The plant will need a good bit of water throughout the first year of establishment.
Rhododendrons height
– 3 to 8 feet (91.5 to 243.9 cm)
– 8 to 20 feet (243.9 to 609.6 cm)
Width
 Up to 25 feet (up to 762 cm)
Rhododendrons blooming seasons
– Fall Bloom
– Spring Bloom
– Summer Bloom
– Winter Interest

USD Zones

3, 4, 5, 6, 7, 8 and 9
Propagation methods
– Layering
– Stem Cuttings
– Seed
Should You Leave Rhododendrons In The Sun Or The Shade? – plantsheaven.com
Should You Leave Rhododendrons In The Sun Or The Shade?
Rhododendrons (Rhododendron spp.) are also called the shade garden royalty or the backyard staples. But not all rhododendrons require heavy shade; most prefer dappled light, meaning light filtering through a leafy canopy, and some thrive in full sunshine.
Also, mostly, large-leafed plants show better growth in the dappled shade. If you expose them to direct sun or deep shade, they will lose their beauty. They will turn into odd large leaves that will make them less attractive. 
Another thing that affects the growth of the rhododendron is wind. If you plant them in such a protected place by the wind, they will grow faster and healthily. It's the happiest location for this flowery plant.
In addition, rhododendron needs an optimal temperature and optimal location to grow healthily. You will see the perfect growth of this flowery plant in the shade of any building. You can grow it on the north side of your building to see its maximum growth. 
Select such a place for this flowery plant that has a dappled shade. It should receive the shade partially. Only such a situation can make your garden attractive. So, choose a place with partial shade to grow your rhododendron. 
See also: How Long Do Flowers Really Last Without Water (And how can you make them last longer)
Do Rhododendrons Like Morning or Afternoon Sun? 
Rhododendrons are sensitive flowers and require an adequate temperature to thrive. In addition, rhododendrons have different varieties. All of them need different conditions to grow properly. Some can sustain a harder climate for some days, while others are affected immediately. They may turn yellowish when exposed to severe climate conditions.
A moderate quantity of sunlight is necessary for all plants to grow buds, leaves, and seeds properly. But inadequate sun exposure will affect them severely. So, you may say that most varieties of the rhododendron love the morning sun, particularly in summer. 
There are many types of Rhodos, and all these need different circumstances for proper growth. Some can bear severe weather conditions, while others don't. However, spotted shade is the optimal condition for the adequate development of the Rhodos. So, try to plant rhododendrons in a place that's shady and receives partial sunlight. 
See also: Are All Hydrangeas Actually Perennials? Here is what you need to know!
Best Shade Tolerant Rhododendron
The species and hybrids listed in this table bloom exceptionally well in the minimal sun and bright light of open to medium shade. Two of them, 'Snowlady' and the royal azalea, will even bloom in deep shade.
Best Rhododendron for shade
Description
Bow Bells Rhododendron
– A growing site with filtered light is best suited for 'Bow Bells.'
–

Fertilize

carefully because excessive fertilizer will cause foliage to burn more quickly than on other rhododendrons.
Boule de Neige Rhododendron
– Blooms well in deep shade
– Very hardy and grows to a height of 4" and width of 5".

King George Rhododendron
– King George is a large leaf plant that follows this rule. But, if provided adequate shade, it is drought tolerant.
– The rule of thumb is that the larger the leaf of rhododendrons, the less sun they can handle beautifully with rhododendrons.
–

USDA Zones

7-8
Elviira Rhododendron
– Very hardy and thrives in the shade.
– Water regularly when the top 3 inches of soil is dry.
P.J.M. hybrid rhododendrons (AKA Peter J. Mezitt rhododendrons)
– It thrives in USDA Zone 4-8 and in part shade.
– Originally, P.J.M. hybrid rhododendrons were developed to tolerate northern winters in New England and the Midwest. 
Ramapo Rhododendron
– It grows about 2 feet tall and 4 feet wide.
– Ramapo is hardy and tolerates sun and shade.
Rhododendron Carolinianum
– It grows well in bright shade or dappled sunlight, not in deep shade.
– It is 3 to 6 feet (91.5 to 182.9 cm) high with a generally rounded shape and dark green leaves 3 inches (7.7 cm) long.
– USDA Zones 5-8
Rhododendron 'Snow Lady'
– It thrives in the sun or shade and booms well, even in deep shade.
– USDA Zones 7-8

Rhododendron Catawbiense
– Rhododendron catawbiense is very hardy. 
– Generally, rhododendron catawbiense is dense under ideal conditions, but it grows well in dense shade. 
Should You Leave Rhododendrons In The Sun Or The Shade
Rhododendron Flowering Time
Rhododendrons will grow beautifully in full sun to moderate shade. A few Rhododendron varieties, including Caroline, Hong Kong, Scintillation, Yakushimanum hybrids, and the hardy varieties from Finland, require shade midday; otherwise, their foliage will turn in shade yellow or even burn, particularly during a hot summer.
However, if the shade is too dense, it can lead to fewer blooms and spindly growth. In general, a combination of dense shade and poor air circulation causes fungus, which attacks new plant growth and sometimes kills the Rhododendrons.
Most varieties of rhododendrons start blooming in springtime. So, the flowering time of most rhododendrons varieties is in spring. However, some varieties of this species also bloom in the hot season, summer. 
See also: Best Gardening Tools: The Only Gardening Tools You Need to Start Your Garden.
Why is Rhododendron Bad? 
Due to their delicacy and sensitivity, rhododendrons get infected by many diseases. These diseases may further infect other flowery plants. This may make your garden flower-free. Here are some of the most common diseases of this flowery plant. 
Bud blast
Rusting
Mildew (powdery)
Azalea leaf gall disease
Rot rotting (phytophthora)
Honey fungus
Silver leaf 
Dieback
Root rot
And blight
See also: Will Gardening Save You Money? Here's the Truth!
How To Successfully Grow Rhododendrons
All rhododendrons thrive in cool, moist, acidic soil. 
Plant rhododendrons in spring or fall, where winter damage is no hazard; otherwise, plant them only in spring.
Do not add fertilizer when planting rhododendrons as it might injure the roots, but water deeply. 
Rhododendrons do not generally require fertilizer, except if they appear pale or droopy. 
If needed, use cottonseed meal or

fertilizer

for acid-loving plants around rhododendrons' base in early spring. 
Year-round mulching of rotted oak leaves will also provide natural nutrients and help keep the soil cool and moist.
If you observe any infected plant in your garden, you can control the spreading of the disease by the following methods:

Eliminate the buds of infected flowers

Sometimes the leaves got infected. In such a situation, remove the infected leaves
Get rid of the infected plants
Remove the galls before it starts producing fungus
Many chemicals may secure your rhododendron garden from many diseases. 
See also: The Reasons Why Garden Furniture Is So Expensive? Let's find out the truth!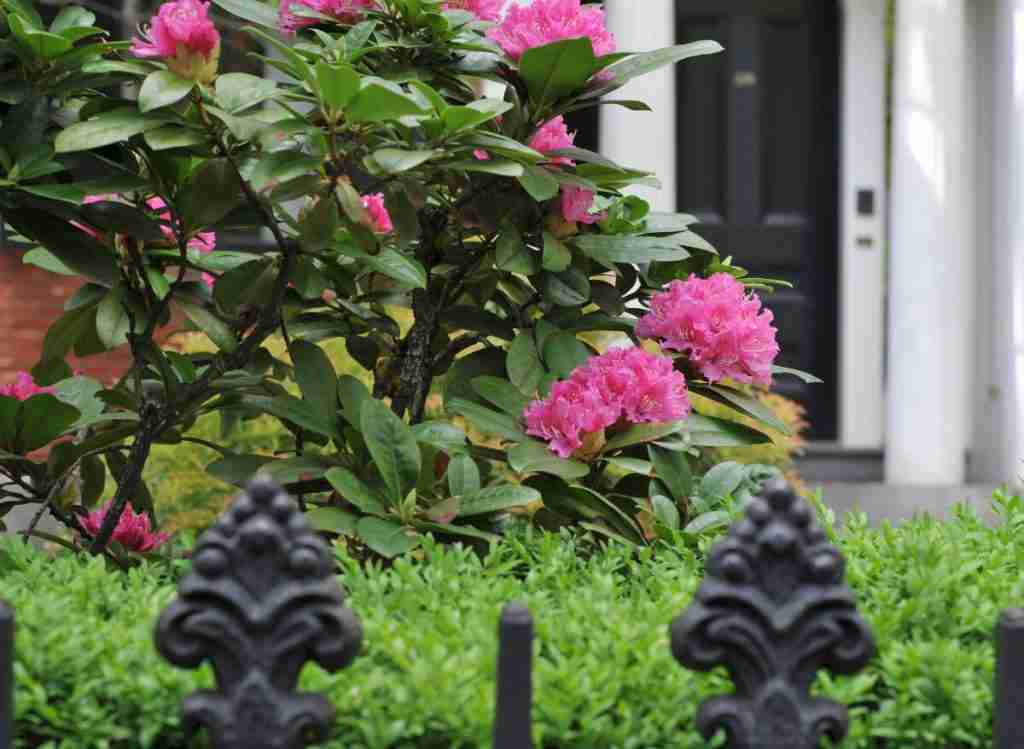 Final Thoughts
Rhododendrons are very attractive flower plants, but they need special care and protection because they are very sensitive and delicate and can be affected by any change in the climate.
Moreover, some of them are more likely to get infected with different diseases. The diseased plants or flowers may infect other plants too. So, if you don't properly look after them, you may need to make your garden flower-free.
But, if you create optimal growth conditions, you can enjoy healthy and beautiful rhododendrons in your garden.