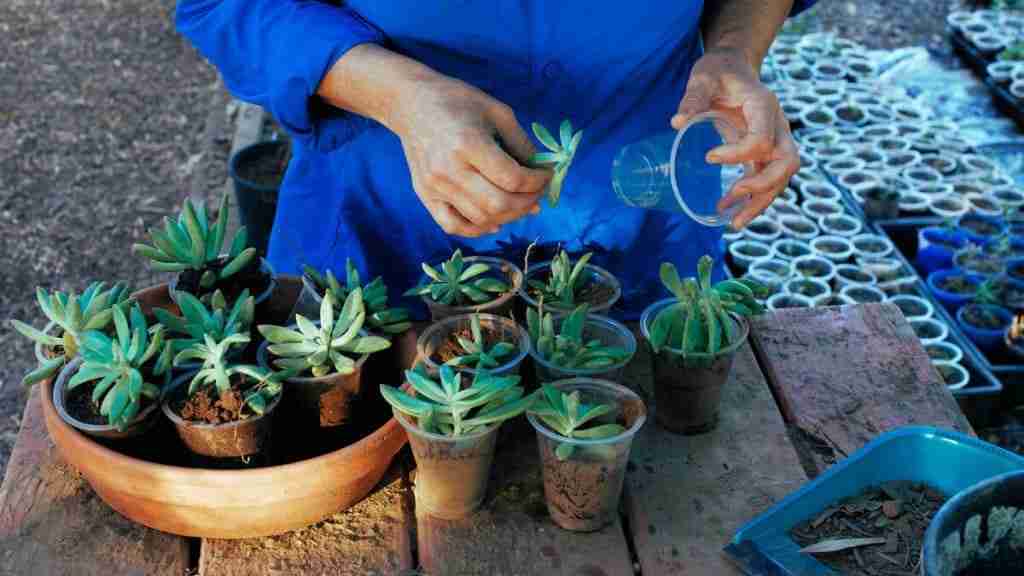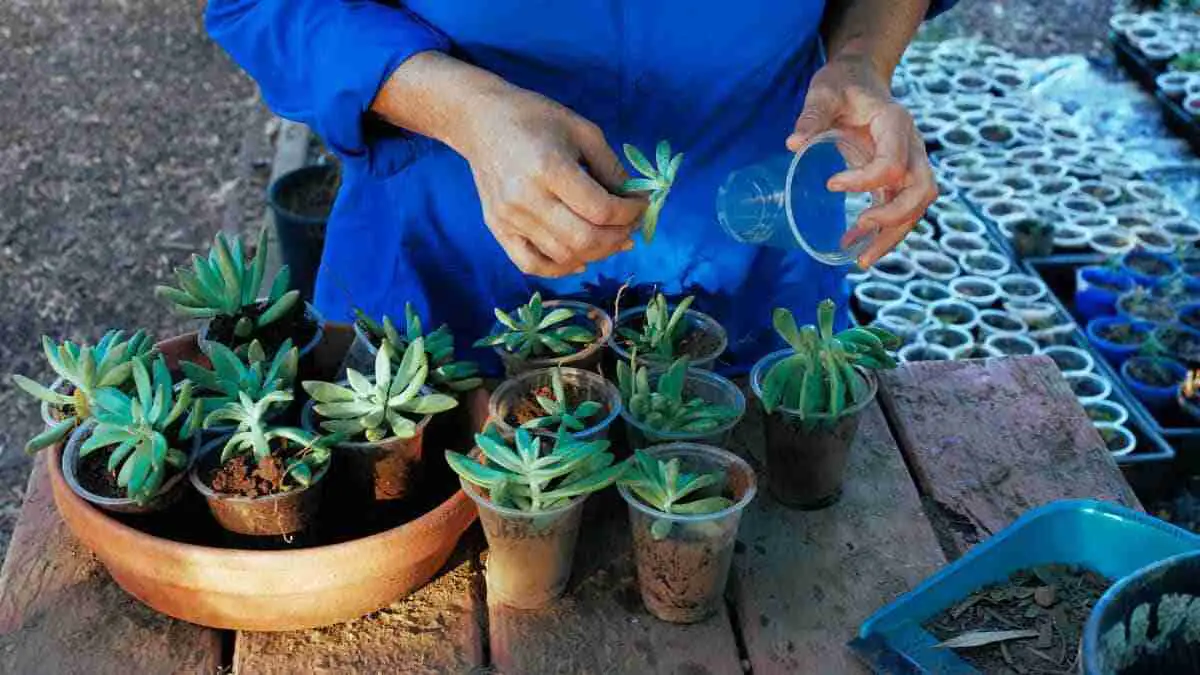 After a couple of years, you might find that your succulents are overgrown. Don't worry; you can repot them into a larger container with fresh soil to ensure that light conditions and soil nutrients are optimal for their health. You might wonder how to repot overgrown succulents.
 Pull from the stem's base and gently remove all plants from the old container.
Fill the new, larger container partially with gritty, well-draining soil, such as a cactus/succulent potting mix.

Prune back all undesired leaves

with pruning shears or a clean pair of scissors and arrange the plants in the new container.
Fill the container the rest of the way with soil; then, if you want some decorations, close the soil surface with a top dressing.
Finally, place them in the suggested light conditions, leave them dry for about 1-3 days, water deeply, and then wait for your soil to dry completely before re-watering. 
As you can see, you can easily repot succulent plants once they are overgrown. They are some of the easiest and most versatile plants to grow. Succulents love the sun and fully thrive when grown in proper light conditions.
See also: How to Propagate Succulents with Honey: A Complete Guide
When To Repot Overgrown Succulents?
Timing is also an essential factor you should care about.  You must know the right time to repot your succulents. In the beginning, usually, succulents are planted in small and tight pots; however, with time, they will ultimately outgrow their pot and need a bigger container to grow better.  Here are a few signs that indicate that it is time to repot overgrown succulents:
Your succulents' roots are too tight, and sometimes they may stick out of the holes of their pot for more space.
Water does not soak within the entire container, or the soil drains too fast after water in just a few hours.
The plant looks unhealthy even with adequate lighting and water.
The plant topples over the container.
It is essential to know that you should never repot your succulent if it starts to flower, as repotting may stop the blooming process, and the flower may fall off. 
Throughout the repotting process, be careful not to soak your succulent plant in water for too long or water it right after putting it in a new container. Your succulent will get root rot if you water it abundantly during the process of repotting.
String and fall are the perfect time to repot overgrown succulents, as most succulents are either summer- or winter-dormant. Do not try to repot during succulents' dormancy as you disrupt their growing cycle and harm your succulents. Dormancy is when a plant is alive but not actively growing.
On average, you should aim to repot your succulents every two years to ensure the soil is fresh and fertile and there is enough space for the plant to grow. 
See also: How To Water Succulents Without Drainage: A Complete Guide.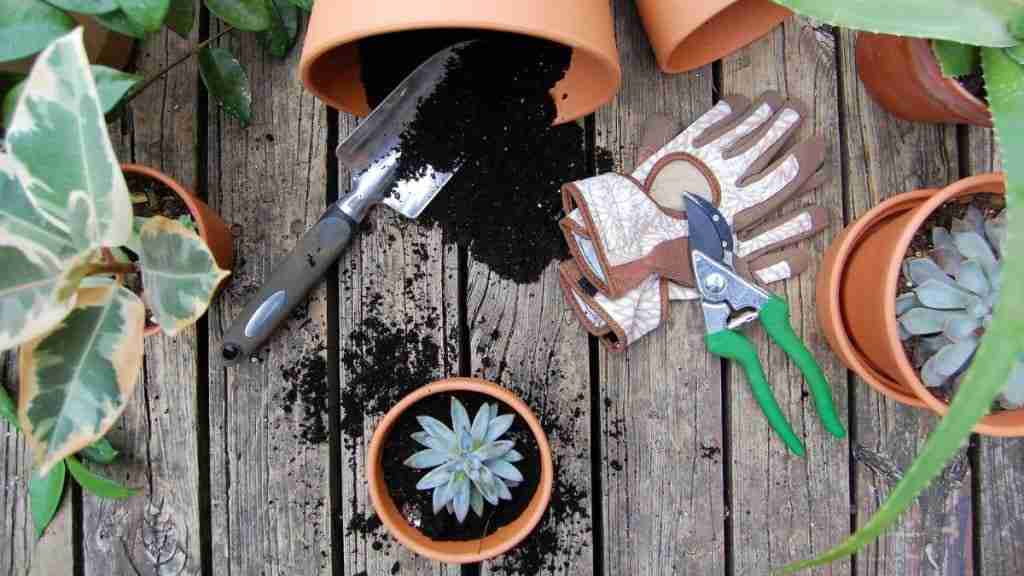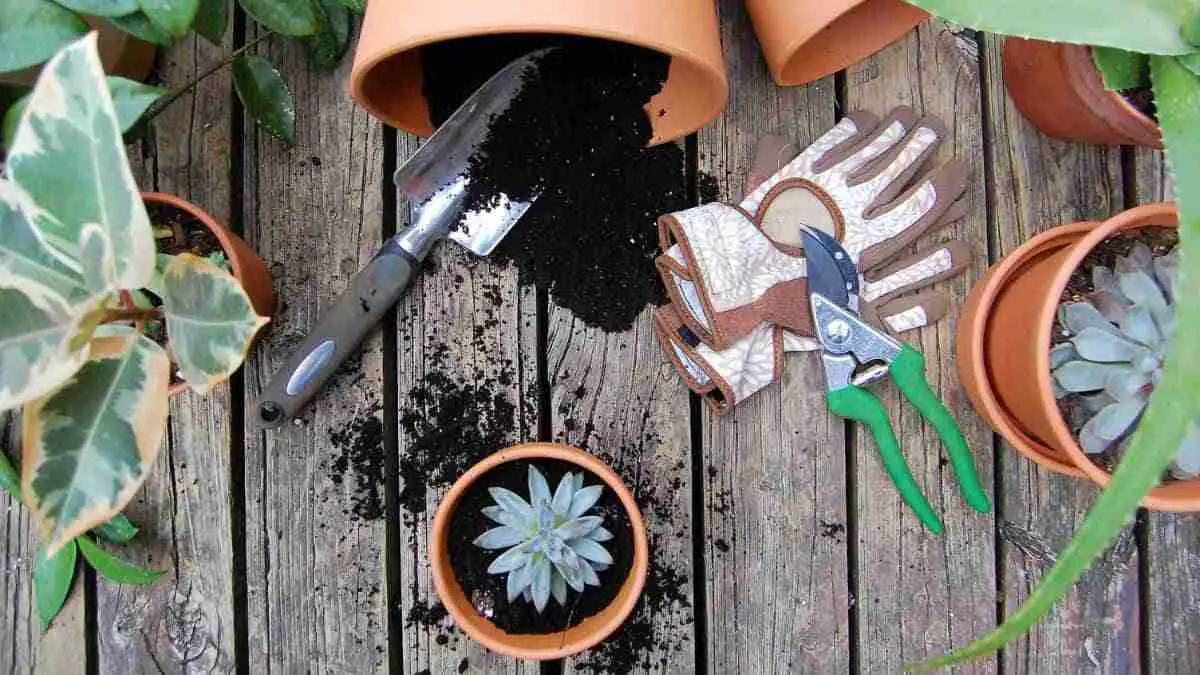 How To Repot Overgrown Succulents Like A Pro
First, start by pulling from the stem's base and gently removing all plants from the old container. If it is a large container, use a stick to get your succulent out easier. Be gentle and make you do not hurt the root system. If the root is small, you can turn the container upside down to get it out.
Fill the new, larger container partially with gritty, well-draining soil, such as a cactus / succulent potting mix.
After getting your succulent out of the old container, you can tap the root to get the dirt off or choose to clean it with water. Sometimes, the root may be too long; you may want to trim it slightly. If you use water to clean the root, allow it to dry in cool places for 3 to 5 days – try to avoid direct sunlight and rain. 
Prune back any undesired leaves with pruning shears or a clean pair of scissors and arrange the plants in the new container
Fill the container halfway with the soil.
You can cover the soil surface with a top dressing if you want some decorations.
Place in the recommended light conditions (see succulent product page)
Leave dry for 1 to 3 days, water deeply, then wait for the soil to dry entirely before re-watering them again.
Put the plant in a new container with dry soil for a couple of days to let it recover before watering it. At this step, try not to give your succulent much water as the root system is still fragile.
Remember always to be gentle and ensure each section you repot has roots along with it, especially when repotting overgrown succulents.
See also: Can Succulents Grow in Shade? Here's the Truth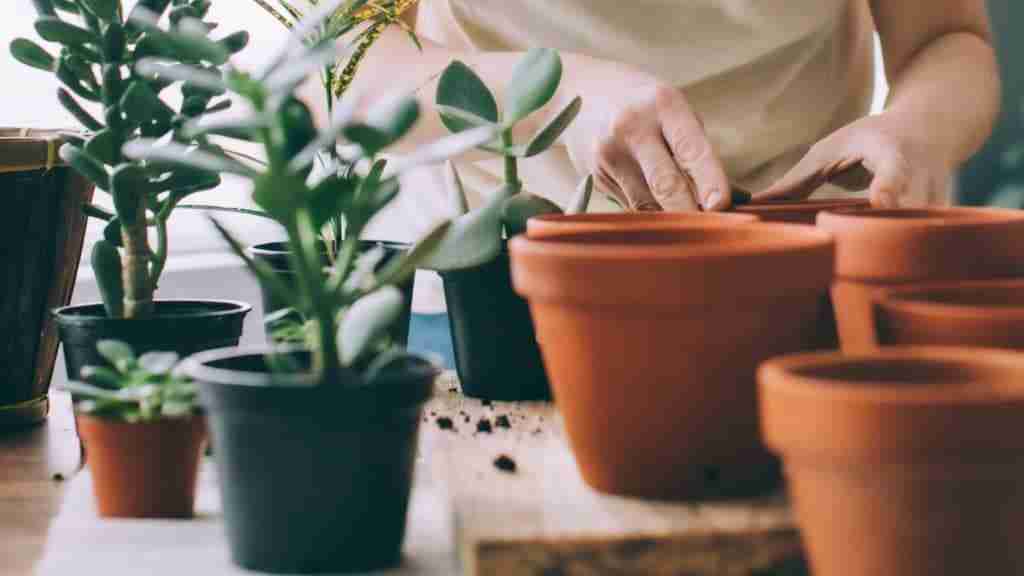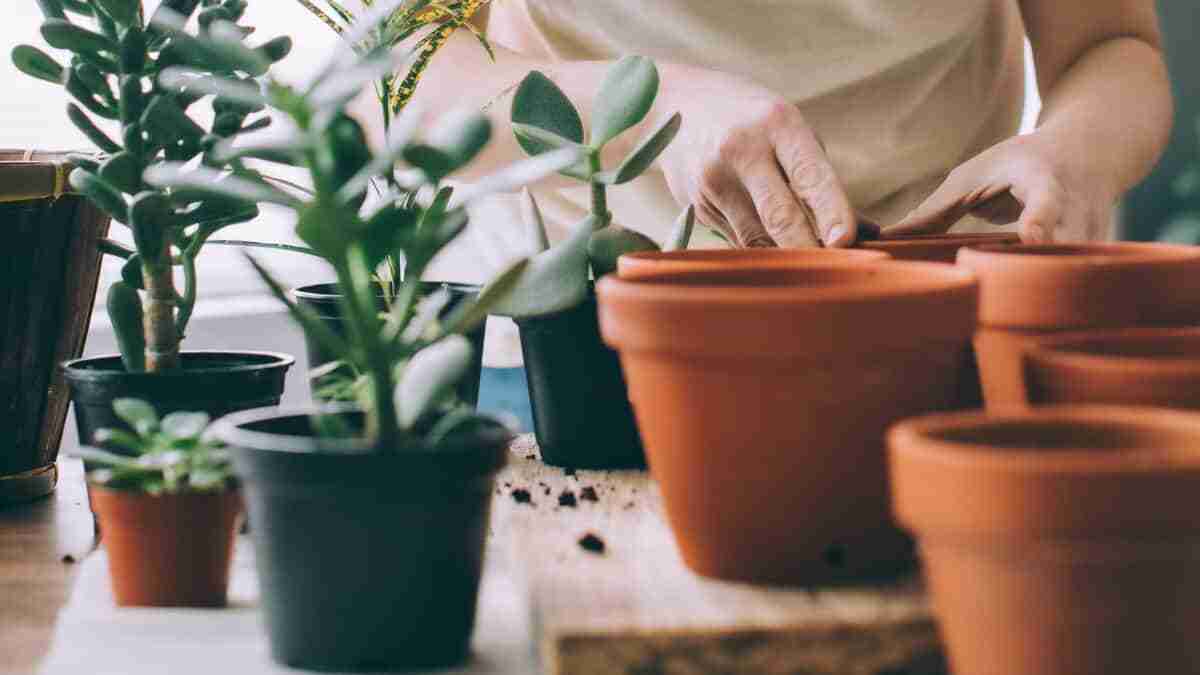 Things to Consider When Repotting Overgrown Succulents
While succulents don't have other plant types' watering and maintenance requirements, they need a few things.
Bowl: You will need a container with a drainage hole in the bottom. You can drill a few small holes if your container doesn't have one.
Potting mix. Succulents don't like wet soil, so your soil should drain quickly (and that is why you need the drainage hole in the pot bottom).
Light. Succulents love the sun. Ensure that your location has sunlight, as your plants will need to receive 6 to 8 hours of sun each day. But, many succulents will do just fine indoors in bright indirect light. Read the plant tag to understand the light requirements for your plant. 
Water. All plants need water to live; however, succulents are very low-maintenance and don't need a lot of water. If you don't know when to water your succulents need water, gently squeeze a leaf. If the leaf is firm, it needs no water; if it's a little squishy, it's time to water.
Temperature. Even though most of the succulents are hardy, a few of them need protection in winter. Try to bring them indoors before frost. Growing these tender succulents in containers is excellent: They make beautiful specimens on bright windowsills in winter.
Gravel or another ornamental topper is optional; however, it provides an elegant look and keeps soil from splashing on foliage.
See also: 5 Succulent Christmas Ornament Ideas For Diy Enthusiasts!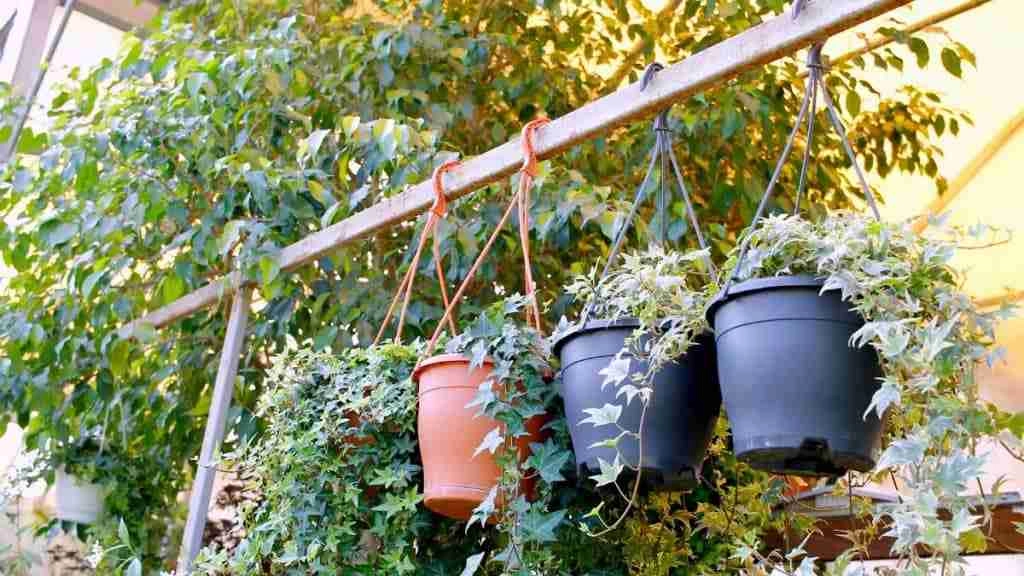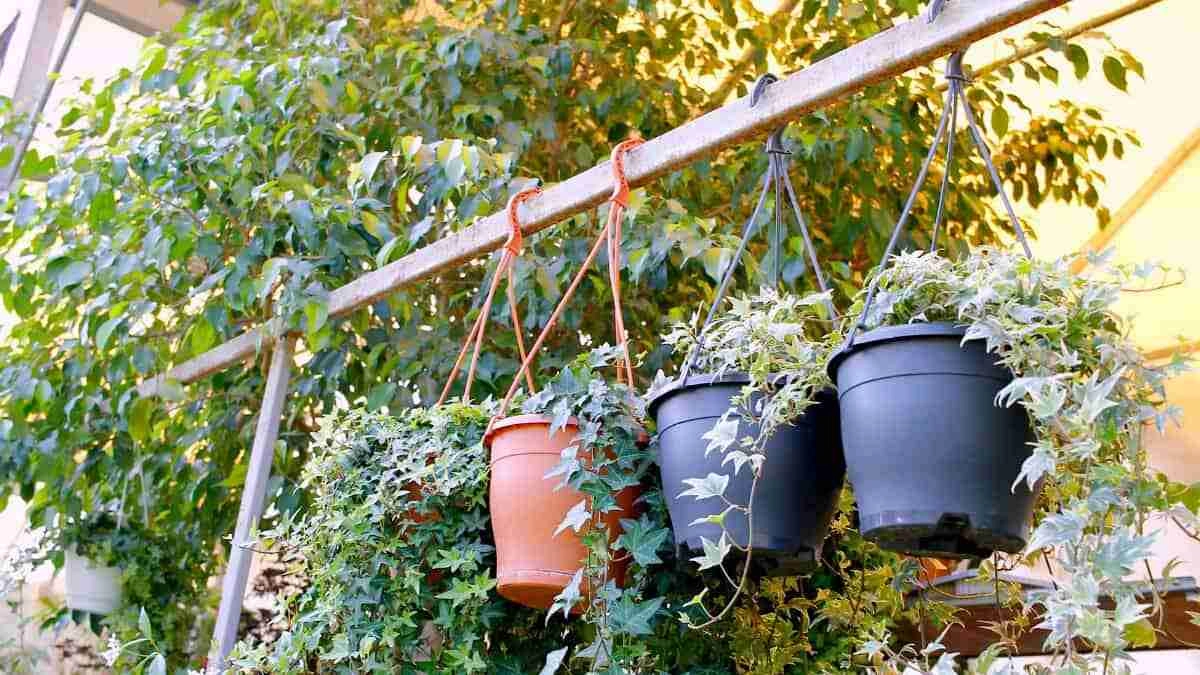 Benefits of Repotting Overgrown Succulents
Repotting overgrown succulents offers tremendous benefits; here are the advantages of repotting overgrown succulents:
1- Repotting Overgrown Succulents Promote Growth
You can promote your succulent's growth by repotting it in a larger pot. If you keep it in tight, compact containers, it adapts by growing slower. Repotting your plant into a large pot will give them more room to grow.
When you give more space to your plant to grow, you can encourage the plants to grow larger faster. When plants appear to stop growing, it is time to repot and give them a fresh start.
2- Repotting Overgrown Succulents Provide the Plants with Fresh Potting Soil
When you repot overgrown succulents, you will provide your succulents with fresh potting soil and a more suitable potting mix.
Repotting overgrown succulents helps to replace the old potting mix with fresh potting soil for your succulents to get the necessary nutrients they need to grow.
3- Repotting Help Accommodate Bigger Plants
Sooner or later, your succulents will outgrow their container, and repotting them will help accommodate their growth.
When succulents outgrow their container, they become root-bound. The plant's root system becomes tangled, and you can sometimes see roots coming out of the holes.
Repotting will ensure healthy growth for your succulents.
4- Overgrown Succulents Create an Ornament
You might want to change the look of your garden, office, or house, and repotting is a great way to redecorate.
Repotting your succulents also gives you a chance to inspect them more closely for any issues such as root rot or pests.
See also: How to Lower Manganese Levels In Soil
Conclusion
While repotting overgrown succulents is not hard, you must follow the instructions carefully.
Remember that succulent is a resilient plant, so if you want to switch from your current pot to another cute pot, do not be afraid to experiment and have fun along the way.