This post contains affiliate links.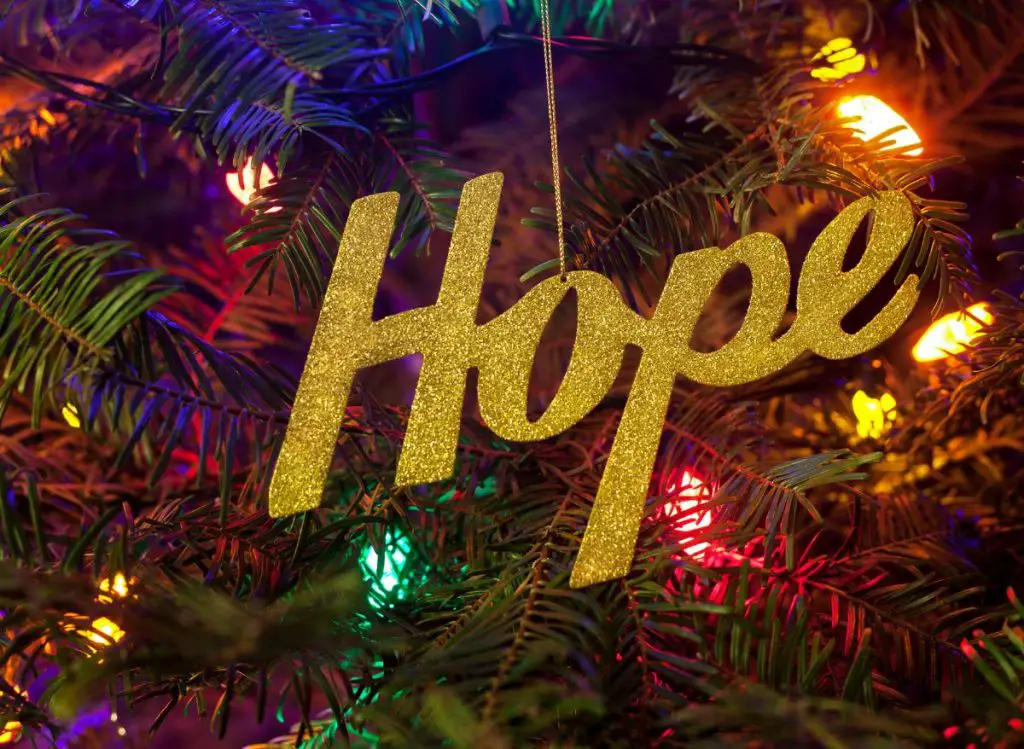 Handmade Christmas ornaments are a wonderful way to add character to your Christmas tree this holiday season—and making some with succulents is a great way to add a trendy twist. There are plenty of ways to decorate succulent ornaments, and it's even better to turn the decorating into a fun family activity.
Not only do they add a lively element to any Christmas tree, but they're also easy to maintain. You can keep succulent ornaments alive with a terrarium and soil or preserve the succulent tops and make them into a simple and elegant ornament on their own.
You can handmake succulent ornaments any way you like but check out this list if you need a little creative inspiration.
You might also enjoy reading: What To Do With Aeoniums After Flowering: Things To Keep in Mind.
Before You Start
Succulent ornaments are very on-trend with interior design décor of the moment. But you don't have to have an entire crafting arsenal to create your fabulous eclectic ornaments. Just gather a few basic supplies:
You can also purchase small, inexpensive succulents, decorative pebbles, moss, or soil from your local gardening store. If you want to add some more crafty elements or holiday glam, you can also incorporate mini ornaments and glitter.
5 Succulent Ornament Ideas for DIY Enthusiasts
You don't have to be a master crafter to make any of the ornaments listed. These are all fairly simple and straightforward, but the final result is anything but!
1- Keep It Simple with Mini Succulents and Ribbon
If you love the look of succulents but you want to keep the ornament simple and elegant, all you need is a mini succulent in a thin pot and glue some string to the opposite ends of the container as a hook. This looks even better if you use some ribbon or twine.
Incorporating different hanging materials helps the ornaments take on more character but remain minimal and sophisticated.
Pick out a few small succulents you like the look of, and use a hot glue gun to attach the string or ribbon to each side of the inside of the pot for a clean look. Make sure to let the glue completely dry before hanging the ornament up on the tree to prevent the string from slipping and the ornament falling.
You can even find different colors of succulents and coordinate them to match the ribbon color. Along those same lines, you can also paint or decorate the succulent pot. Coordinating colors will help make the ornaments look like they were professionally made. This is also a great trick if you follow a certain color scheme for the rest of your tree décor.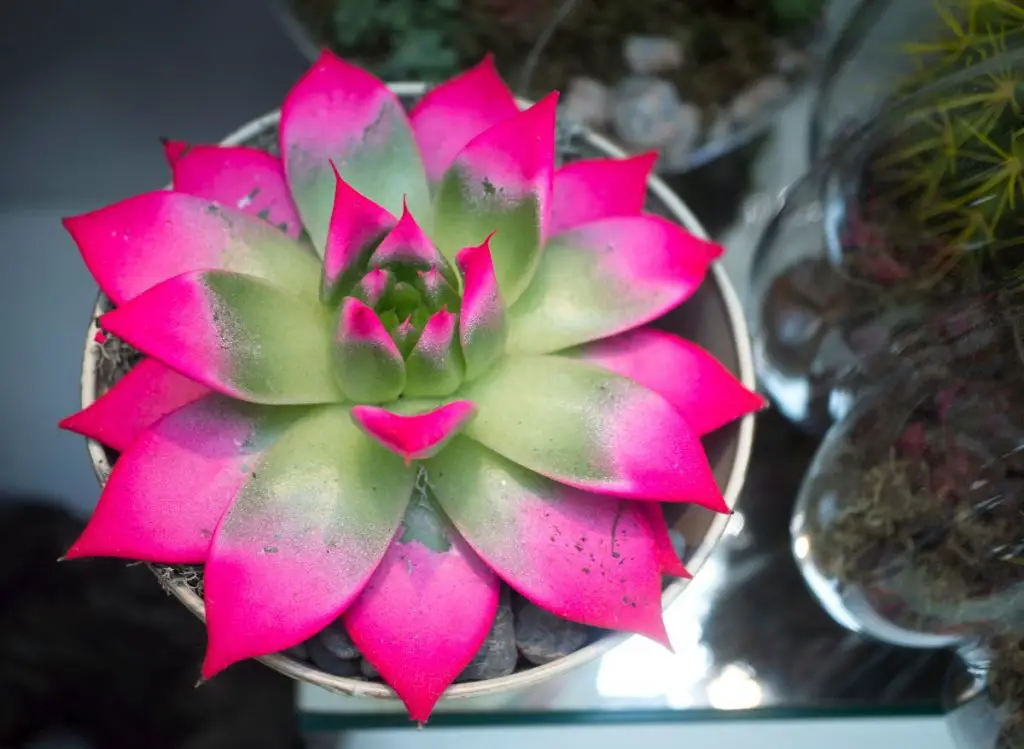 2- Christmas Color Themed Terrariums
Terrariums are a great option if you want to spend some more time crafting more intricate ornaments.
Besides the succulents, you'll need some small glass or plastic terrariums. The terrariums have a medium-sized opening in the front that allows the plant to breathe. In these little domes, you want to layer some moss, soil, and pebbles, if you choose, and then plant the succulent in the soil.
For smaller pieces like moss or mini décor elements you want to include in the terrarium, tweezers can come in handy for placing the different elements in the exact place you'd like.
These terrariums look especially festive when you follow a Christmas color theme. Peruse your local craft store and pick some small elements that will fit the terrarium, like mini ornaments, mini faux trees, fake snow, pinecones, etc. You can turn the succulent terrarium into a mini Christmas environment.
Incorporating a ribbon bow at the top incorporates a nice touch as well. You can also add beads to the string or wire you use to hang the ornament for even more color coordination and décor.
You can truly customize terrariums to fit any Christmas style. Whether it's bright green and red or naturalistic pinecones and snow-covered leaves—you can decorate the inside of a terrarium to fit your decorating preferences.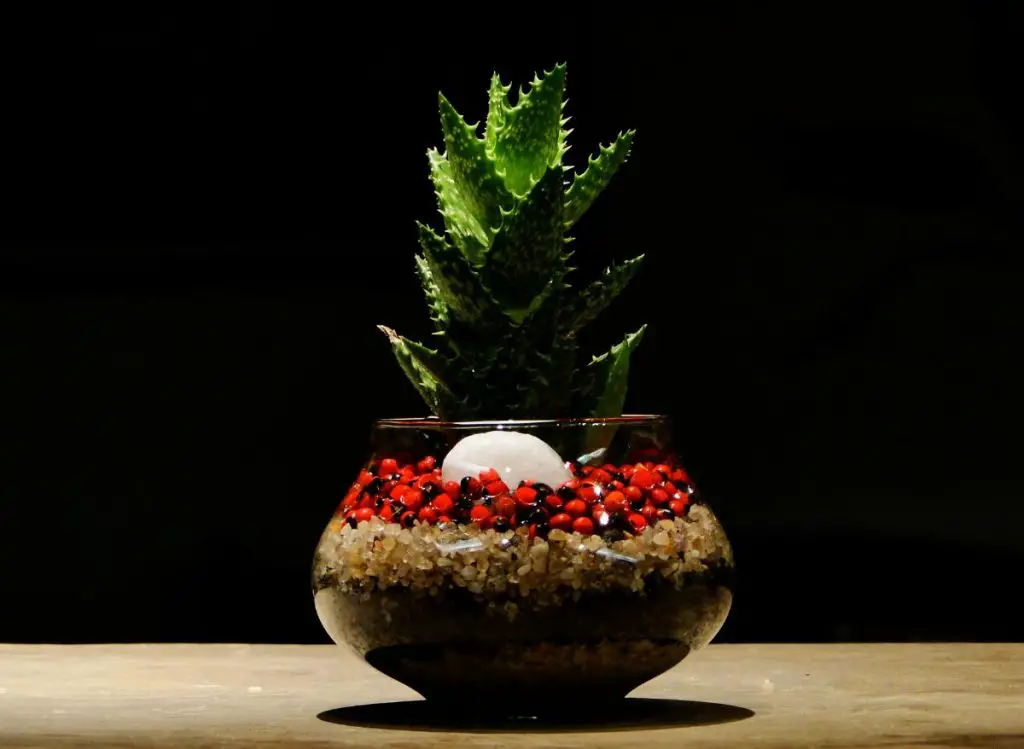 3- Mini Succulent Wire Wreath
A small succulent wreath using wire and other decorations is another great way to include succulents on your tree. Wire circles are easy to find at any craft store.
After choosing which decorations you want to include, it's a good idea to plan out how you want the different elements placed on the wreath. Laying out the wire circle on a flat surface, estimate where you plan to glue the succulents, ribbons, flowers, greenery, and other ornaments.
After deciding where the different elements are placed, start by hot gluing the leafiest parts of the wire's decorations. It's good to create a flat foundation on the wire wreath so that the rest of the elements have a sturdy foundation to stick to.
You also want to make sure wherever you choose to glue the succulents. There's a bit of room on the back also to glue down some light moss. This will help keep the succulent alive and fresh throughout the lifespan of the tree.
Once you've glued down all the pieces onto the wire wreath, use a wire hook to put the wreath on the tree.
The video below discusses how to make a succulent wreath.
4- Elegant Succulent Flowers with Jewelry Wire Hook
Another simple and elegant way to use succulents as ornaments is to detach the plant's floral top, preserve it, and use jewelry wire to hang it up.
Since jewelry wire works best for this type of ornament, you'll also need some jewelry wire cutters to get the perfect length.
After creating a hook with the wire, you'll use hot glue to attach it to the succulent flower stem. As stated earlier, make sure to let the glue completely dry before moving on to the next step.
These ornaments look especially great if you can find various colors and sizes of succulents to turn into ornaments. They blend beautifully into any Christmas tree while also providing a rustic and elegant addition.
Also, don't be afraid to play around with different colors of jewelry wire. The best part of making your ornaments is that you can customize them; however, you see fit. If a certain type of decoration sparks your eye at the craft store or has Christmas décor you want to repurpose into new ornaments, don't be afraid to test out new ideas.
5- Succulent Pinecone Ornaments
For a more earthy look, you can use a medium to large-sized pinecone as the base of the ornament and glue the base of a succulent into the top.
These ornaments smell great and look amazing on any Christmas tree. Use the small openings throughout the pinecone to attach different succulents, ribbons, and décor onto the pinecone.
If you love the pinecone's look but would prefer it be a different color, use your favorite spray paint color and coat the outside before attaching the rest of the decorations. This looks especially great If you use sparkly spray paint because it blends into the texture of the pinecone more naturally.
Pinecones can also be a more inexpensive base than terrariums, and they can be utilized later in a decorative bowl to keep your home smelling fantastic.
Watch the video below to learn how to make a hanging succulent-topped pinecone.
What to read next:
Final Thoughts
These are just a few ways to incorporate succulents into your tree decorating. Depending on your tree's style and other ornaments you like to include, minimal succulent ornaments might be your preference. Or, if you love to have a colorful and glittery tree, those extra elements in a terrarium or wreath can help the succulent ornaments add even more style and flair to your tree. 
They're a unique and stylish addition to anyone's Christmas tree décor and easy to maintain. To keep the succulents fresh and healthy, simply mist them with a spray bottle every few days.
Head to the store, grab a few mini succulents and try out some of this post's ideas for lively DIY ornament fun this holiday season.