Landscaping around your house can make it look more beautiful. Often people choose trees because of their unique and helpful landscape benefits. And, if you want to make your home appear wider, a dogwood tree is an excellent choice. But how far from the house should you plant a dogwood tree?
Whether you plant a traditional dogwood or a kousa dogwood, ensure you dig the planting hole at least 15 feet (4.58 meters) away from the house for the tree to eventually reach its full growth, maximizing its ability to make your home look wider.
According to the Missouri Botanical Garden, a well-developed and mature dogwood tree has a vaselike form, with branches extending out beautifully from the tree's center, making dogwood one of the best trees to plant near a house. 
Read on to find out everything you need to know about dogwood trees and properly plant and care for them.
See also: How To Effectively Deal With Splitting Lithops?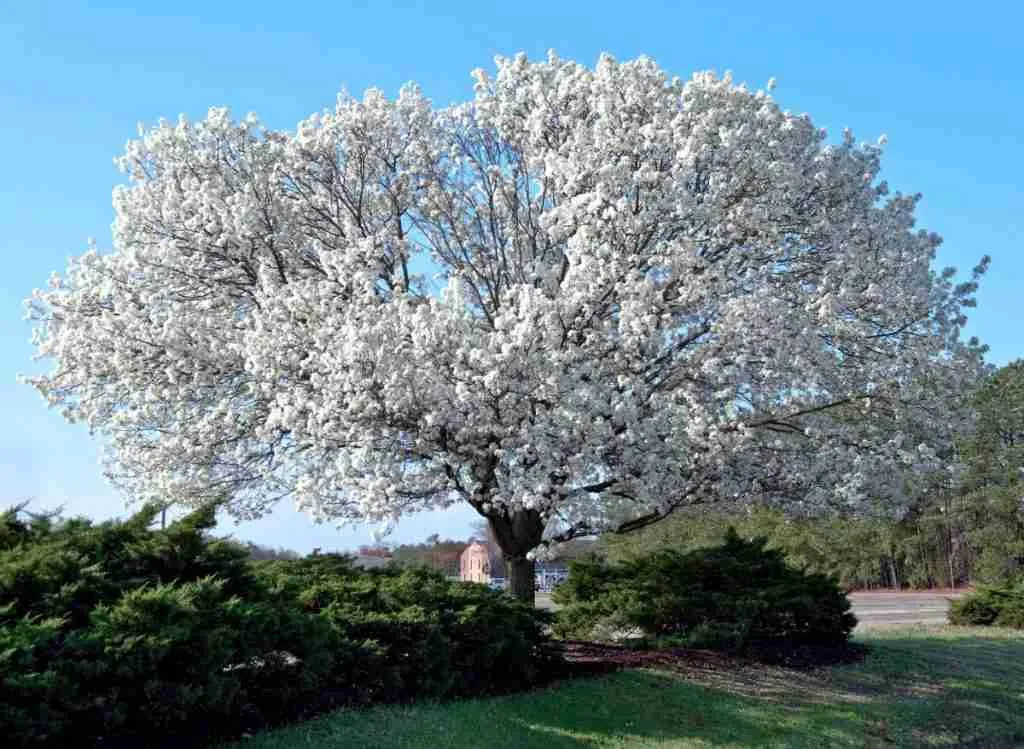 Is Dogwood a Good Tree? 
Dogwoods are excellent plants for both colored stems and flowers. They are relatively low-maintenance plants with very few serious pests or diseases. In addition, they thrive in a wide variety of soils for several years and will bring pleasure and color to your garden.
Generally, dogwoods thrive in filtered sun or partial sun, with protection from drying winds. The most frequent cause of dogwood death in the garden is over-watering and planting dogwood too deep in heavy soil. You need to let dogwoods dry out between waterings.
Bark borers and several types of fungus prey on dogwoods. In general, pests and diseases attack plants under stress and grow healthy plants alone. For example, lawnmower injuries can attract borers and girdle the tree.
 A good choice is a Chinese dogwood (Cornus Kousa), which is much sturdier than native dogwood (Cornus Florida). 
See also: 10 Best Helpful Pests For Gardens
Characteristics Of Dogwood Trees
Dogwoods are small trees or shrubs with simple, oval leaves, generally dark green. However, some garden varieties of dogwoods have red leaves or leaves with white edges. 
Furthermore, they are popular plants among gardeners, but they can be a little challenging to grow successfully. They grow in well-drained acid soil. In addition, dogwood trees require care and protection from wind and sun.
Dogwoods are beautiful plants for gardens in cooler areas to thrive. You can use them to create a beautiful fence to protect your property from small wild animals. 
Below is a snapshot of the most important characteristics of Dogwood trees you need to know to grow a beautiful and healthy dogwood tree successfully.
See also: Will Rhododendrons Thrive In The Sun Or The Shade?
Genus name
Cornus 
Plant type
Perennial species
Light requirements
– A partially sunny area with a bit of access to afternoon shade. 
– Dappled shade or partially filtered sun through a bigger and taller tree. 
– Dogwoods do best in dappled shade areas when taller shade trees protect from the more direct sun lights.
Watering requirements
– Water the

Dogwood tree

at least twice a week in most areas and water more throughout dry spells to reduce the shallow roots of the Dogwood risk of drying out. 
– The most important thing to keep in mind when planting a Dogwood is water access. Because dogwoods have shallow roots, these root systems will dry quickly, even with dappled shade. 
– Water dogwoods tree to a depth of three feet (91.44 cm) and observe the leaves for signs of over or under-watering. If the leaves are light-green, crispy, or prickly, the tree needs more water. If the leaves are green-gray, limp, or enlarged, the tree needs less water.
Soil requirements
– Plant dogwoods in well-drained and moist soil, but avoid overly wet planting soil. 
– Even though dogwoods can adapt to many soil types, they prefer slightly acidic loam.
Maintenance requirements 
Remove broken or dead branches in late winter, and prune carefully and gently to maintain the tree's shape.
Dogwood diseases
Dogwood Trees are sensitive to the following pests and diseases: 
– Fungus
– Pest infestations
– Dogwood anthracnose: You prevent this by planting your Dogwood in late spring when warm temperatures kill the fungus, thriving in wet and cooler weather.
– Dogwood powdery mildew – also treatable with fungicides like horticulture oil.
– Because of its delicious taste, Dogwood attracts deep; you can protect the newly planted tree with 'Deer Away. 
Flower color
In general, dogwood flowers are white. They can also be rose or pink and sometimes yellow. 
pH
5.5 to 7.0
Foliage color
During summer, dogwood leaves are green, and then they change to a beautiful reddish-purple during the fall. 
Best time to plant Dogwood
In general, the best time to plant dogwoods is in late spring, when the soil is well-drained and moist but not too wet. 
Dogwood height
– Dogwood trees grow on average between 13 and 24 inches (33.02 to 60.96 cm) per year. 
– Mature Dogwood trees like the Flowering Dogwood can reach up to 40 feet (12.192 meters) in height.
Dogwood blooming seasons
The dogwood blooms between late March and

mid-May

for weeks. 

USD Zones

3, 4, 5, 6, 7 and 8
Main type Dogwood
– Flowering dogwoods (AKA Benthamidia)
– Dogwoods (AKA Swida)
– Bunchberries or Dwarf cornels (AKA Chamaepericlymenum)
– Cornels (AKA Cornus)
Propagation methods
Either softwood or hardwood cuttings can propagate dogwood trees. 
– Cuttings have the best chance of rooting when done at the proper time of year. 
– For softwood cuttings, summer is the best time. Choose branches that are flexible and firm enough to snap when you bend them. 
How Far From The House Should You Plant a Dogwood Tree (This Far!) – plantsheaven.com
Best Way To Plant And Care For a Dogwood Tree
Choose a growth site that offers some protection from the sun and the winter wind. 
Till a rich mix of peat moss, Holly-Tone fertilizer, and composted pine bark in a six-foot circle, and plant your dogwood tree a little high in the ground to prevent drowning. 
Make a mulch circle around the trunk with pine bark to prevent nicking the bark with your trimmer or lawnmower, and expand it each year as your dogwood tree grows.
To help your dogwood thrive and resist disease, aim to fertilize every year in early spring and again in mid-summer with an acid-rich fertilizer like Holly-Tone. 
Keeping the mulch circle reduces competition from lawn grasses, the primary cause of slow tree development.  
Without competition from turf, dogwood trees can grow about two feet (60.96 cm) per year.
Look for locations in your property where your new dogwood will be protected from the sun. 
Consider fast-growing shade trees such as

Tulip

Poplar to offer your dogwoods dappled shade.
You can also plant your dogwood in an area where a nearby building gives shade. But keep in mind that buildings might reflect heat, which might dry out your Dogwood plants quickly.
See also: Tulip Vs. Rose: What's The Main Difference Between Both?
Wrapping Up
Dogwoods are helpful for their flowers and their natural form. Adding dogwoods to your garden will bring charm and beauty. 
However, make you plant dogwood at least 15 feet (4.58 meters) away from your house to allow the tree to reach its full width, maximizing its ability to make your home look wider.