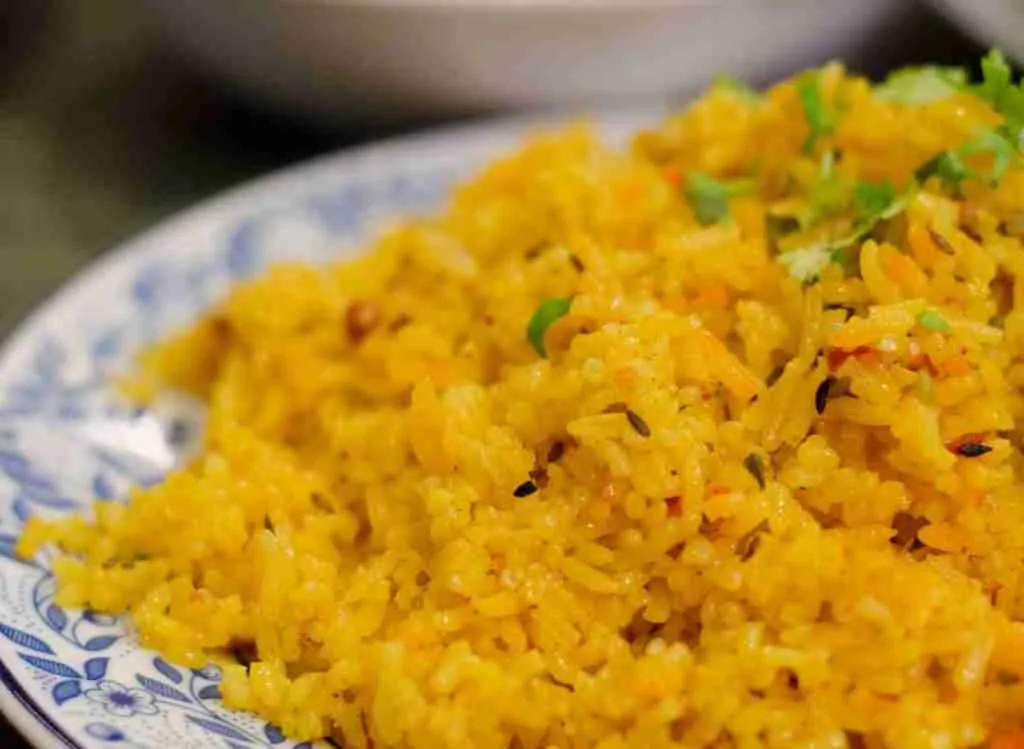 Rice (AKA Oryza sativa) is one of the most consumed food. About one-half of the world's population depends on rice. And there are various ways to enjoy rice, including alone, soup, side dishes, or main dishes.
Like anything, we appreciate you might sometimes get too excited and cook more than needed. So, sometimes you may end up with rice leftovers and wonder what to do with them.
Composting is a good way to deal with rice leftovers. But can you compost rice? Cooked and uncooked rice can be composted according to the North Carolina State University Extension. Everything that can be eaten can also be composted since any organic matter will eventually decompose and become good fertilizer.
But, even though you can compost rice, there are a few things you should consider. Read on to find out more. 
See also: Can You Really Compost Pasta? Here's The Truth!
Can You Compost Cooked Rice?
Cooked rice is compostable. And even though cooked rice will rot down pretty quickly, it also attracts unwanted visitors causing other issues to your compost bin. Rice contains a lot of nutrients, which can create a boom to help your compost decay faster. 
In addition, cooked rice leftovers contain oils, fats, meats, or other flavorings, attracting unwanted vermin. But, you can prevent pests and rodents by burying the rice in the deeper end of the compost pile.
​​Even though rice is compostable, there is still a debate about whether or not to compost rice. Out of 92 people surveyed online, 91.3 % answered that they compost rice, while 8.69 % of participants responded that they would never compost rice in a million years.
See also: Is Bt Really Safe For Organic Gardening? Let's Find Out The Truth!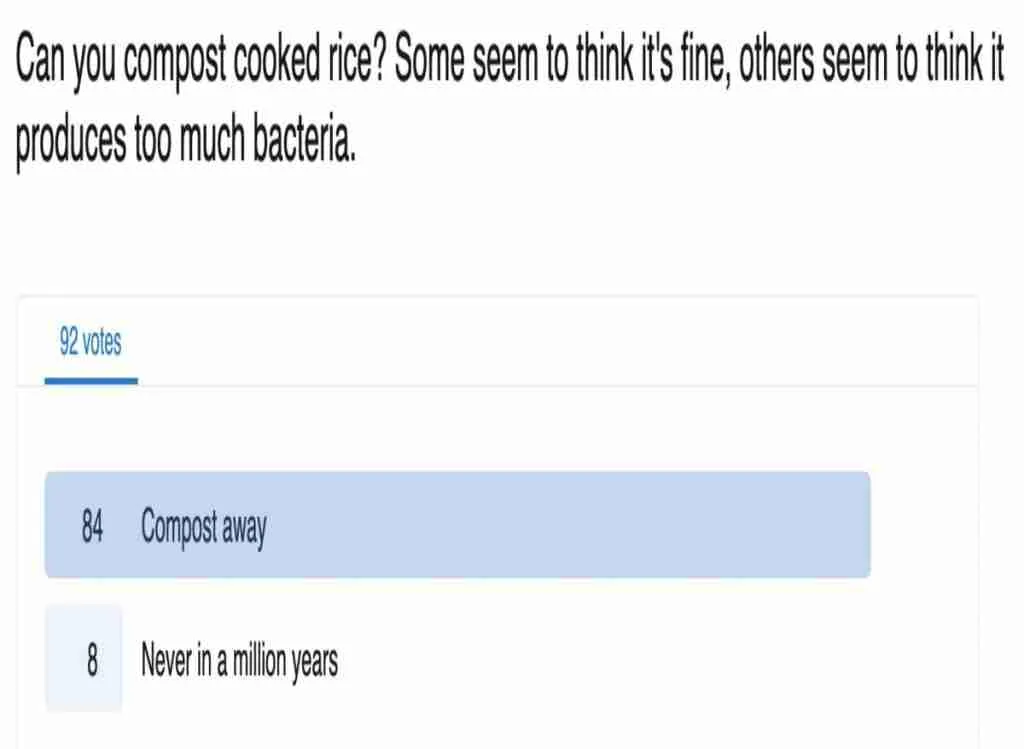 Is Rice a Brown Or Green Compost?
Rice is a green compost matter, also known as a protein-rich nitrogen source. Generally, compostable organic materials are divided into "browns" and "greens." 
Greens are protein-rich nitrogen sources (nitrogenous), providing moisture to microorganisms. Green compost matter includes rice, pasta, grass clippings, tea leaves, vegetables and fruit, and livestock manures.
Browns are sugar-rich carbon sources (carbonaceous), providing energy to microorganisms, absorbing excess moisture, and providing structure to your pile.
See also: The Only Essential Gardening Tools You Need to Start a Garden
Best Ways to Compost Rice 
After you have created your compost pile, managing it involves learning the best ways of composting rice. Here's a snapshot of the essential steps to compost rice successfully. 
Essential steps in Successfully Composting Rice
How 
Why 
Use the

hot composting method

. 
Keep turning your compost pile if it is less than 100 degrees F (37.77 C) or more than 150 degrees F (65.55 C). The reason is that bacteria thrive in temperatures between 105-140 degrees F range (40.55 to 60C). 
The hot composting method is the best way to compost rice because it helps control weeds and unwanted visitors. 
Generally, bacteria can't survive in a compost pile when the temperature exceeds 155 degrees F (68.33 C)
Pay attention to the smell
Turn if you sense any odors and add "

browns

" if the odors persist.
Using a brown layer on top of a compost pile will absorb odors and discourage flies.
Keep it moist
Ensure you keep it moist, and if too wet, turn (without adding more water) or add dry "browns" to your compost pile while turning.
You need to keep your compost adequately moist because microbes require moisture to survive, but too much water will slow the composting rate and create odor problems. 
Vermicompost (or worm-based composting)
Composting rice with worms or vermicomposting uses worms to produce rich compost from your leftover cooked or uncooked rice. One pound (0.45 kg) of worms can turn 65 pounds (29.48 kg) of garbage into rich fertilizer for your garden in 100 days. 
Composting with worms (AKA vermicomposting) is an efficient way to compost rice, especially if you live in an apartment. 
Your local city's composting plans
Nowadays, most cities offer food composting plans with a designated compost bin to put rice (and other starches like pasta) in a specific garbage bin and a particular day. 
So ensure you are familiar with your city garbage bin coloring and pickup.
Closed compost bin
An enclosed bin, like a tumbler, will help you keep pests and rodents away.
A closed compost bin will help prevent unwanted visitors and smells.
Can You Compost Rice? (Yes! And here's how) – plantsheaven.com
How to Successfully Compost Rice? 
Grind the rice as finely as possible before composting it. And then mix it into the compost as well as possible. Sort of like mixing cake batter; try to make it a nice even mix, as best you can.
Just about anything organic, rice will break down in compost and enrich your soil. But if your compost bin is unprotected and accessible to birds, rodents, and small animals, these creatures will be attracted to rice and pasta and may make things messy.
Even if animals or birds do get into your compost, it is not the end of the world. You will just need to clean up the mess they create.
Place your compost pile or bin in a convenient location that is at least six feet (182.88 cm) away from your home or any wooden structures if you live in a secluded area. 
To help your compost pile or bin retain moisture, place it in a shaded area within reach of a garden hose and ensure the location is flat, open space protected from flooding or runoff to surface waters or wells. 
Keep the areas you place your compost pile or bin clean and accessible all the time. 
See also: Here's How Gardening Will Help You Save Money
How To Solve Composting Issues
| | | |
| --- | --- | --- |
| Signs | Problem | How to solve it?  |
| Your compost pile starts to smell like rotten eggs or vinegar | When it happens, it means that your compost pile is too wet, there is too much nitrogen, or there is not enough air. | Turn your compost pile and more brown matter.  |
| The temperature of your compost pile is not hot is not within 100 degrees F (37.77 C) and 150 degrees F (65.55 C).  | Your compost pile is too dry, too small, or does not contain sufficient nitrogen. | Add more to your compost bin, make it larger, and don't forget to water while turning.  |
| Your compost pile attracts unwanted visitors, including pests and rodents. | It means you added cooked rice with sauce and other kitchen items. | Cover the cooked rice or food with brown leaves, including wood chips or finished compost; You can remove meat and dairy from the pile and keep your composting bin closed all the time.  |
| Your compost pile is too dry. | There is too much airflow or not enough moisture.  | Use a watering can to water, mix your compost pile well, and then cover it loosely with a tarp to help maintain moisture. |
| Your compost pile is only moist or warm in the middle | Generally, it means your compost pile is not large enough.  | Just keep adding more items and continuously turn and moisten. |
Can You Compost Rice? (Yes! And here's how) – plantsheaven.com
See also: How To Effectively Use Nematodes To Control Garden Pests
Final Thoughts
Overall, you can compost both cooked and uncooked rice, especially if you typically have a lot of stale leftover rice. 
However, there are a few things to consider. And the best ways to compost rice are: 
Use the

hot composting method

. 
Vermicompost (or worm-based composting)
Your local city's composting plans
And ensure you keep your compost bin closed at all times, especially when composting cooked rice to prevent unwanted visitors.