There has been an endless debate among gardeners on whether or not mulching is good or bad. If you typically clip your lawn, you know the hassle of bagging. Nevertheless, mulching your grass clippings offers tremendous benefits.
Mulching makes it easier and helps you save time, money, and energy by using grass clippings as fertilizer. Additionally, mulching your grass clippings keeps your lawn healthy by increasing the soil's nutrient supply and saving time and energy.
With these best mulching blades, you can effortlessly keep your lawn greener, healthy and beautiful without needing to regularly bag larger grass clippings.
And, instead of buying mulch to fertilize your lawn, a mulching mower uses grass clippings to spread compost throughout your yard. 
My Top Picks:
My top pick is Maxpower 561713XB Mulching Blade, as it offers the highest value for money. It comes in a set of 2 and is compatible with 42″ Poulan, Husqvarna, and Craftsman.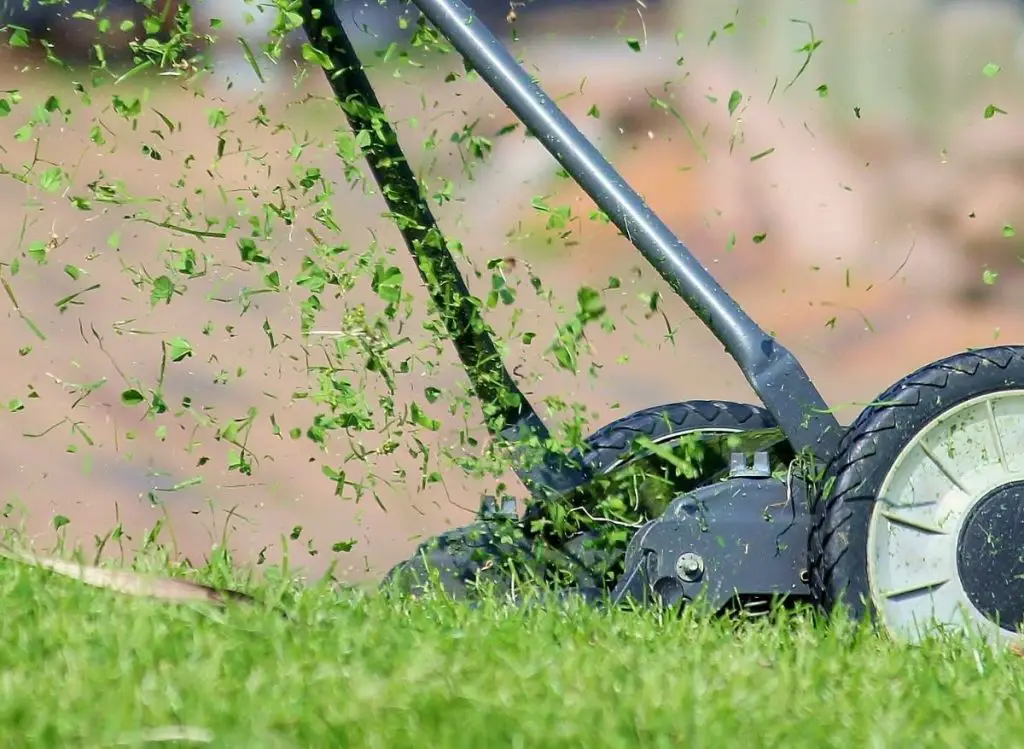 What to Look For When Choosing The Perfect Mulching Blades?
The following features and criteria are the most important things to look for when selecting good mulching blades.
1- Length Of the Mulching Blade
Choosing the proper mulching blade length for your mower is essential. Mowers and their components are designed specifically for a specific blade length.
Picking a mulching blade that is too-small mulching blade will provide less than optimum results. A smaller mulching blade will result in:
Make more passes and work harder because your mower will cover smaller areas. 
Using multi-blade mower decks, you will miss small grass strips, which leave your lawn with different cuts.
An infective bagger because of the lack of airflow provided by a smaller blade.
On the other hand, a larger lawn mower blade will slow your mower down significantly. In addition, a larger lawn mower blade can be a hazard, possibly striking your mower's body.
Check your mower's model before buying a mulching blade to find the appropriate length. You can also refer to the owner's manual located under the replacement parts section. 

plantsheaven.com
2- Weight of the Mulching Blade
Because mulching blades are typically much heavier than standard blades, installing differently weighted blades will result in turbulent mowing and a less satisfying experience for you. 
3- Number of Pieces in the Mulching Blade
Ensure you pick a mulching blade with the appropriate number of blades. Generally, most riding mowers have two or three blades. 
4- Fitment and Mounting Options Of the Mulching Blade
Nowadays, there are several different mounting hole styles, including:
Five-point star
Six-point star
Bow-tie
And universal fit. 
Generally, the easiest installation techniques include the five-point and six-point stars because they only require you to remove one bolt. 
4- Durability Of the Mulching Blade
In general, mulching blades are more durable than standard mowing blades because of their design and thickness. 
Regardless of mower style, always remember to remove any obstructions before mowing as it might help you extend the life of your mulching blade.

plantsheaven.com
The following mulching blades meet all requirements, including durability, weight, and heavy-duty.
See also: 6 Best Electric Kitchen Composters (And you need one of these!)
Top 5 Mulching Blades
Here are the best mulching blades available on the market for relatively low prices and good quality.
1- Rotary Blades for Deck, Craftsman, Poulan, or Husqvarna
The Rotary Mulching Blades come in a set of 3 and are made in the USA. In addition, these Rotary Mulching Blades are designed for any 48-inch mower from Craftsman, Poulan, and Husqvarna with its five-point star mounting hole.
See what other gardeners are saying about Rotary Mulching Blades on Amazon.
Pros 
Cons 
– Works with most 48-inch mowers
– Works great with or without a bagger
– They come in a set of 3
The only issue is that they may leave a few clumps behind
Table Displays The Pros and Cons of Rotary Mulching Blades – plantsheaven.com
2- USA Mower Blades AYP340BP Mulching Blade Fits AYP Craftsman Husqvarna
USA Mower Blades come in a set of 2 and are designed for a wide variety of mowers with a 42" deck. They are among the best mulching blades on the market.
USA Mower Blades meet all the criteria for durability and lightweight. And they are thin and have a large cutting surface, and the pre-sharpened blades work well on dry and wet grass.
In addition, these blades are really easy to install. The only issue is that USA Mower Mulching Blades might not be ideal for heavy-duty mulching, but with their price, they are worth buying. 
3- Maxpower 331981S 21-Inch Universal Gold Metal Mulching Lawn Mower Blade
MaxPower specializes in producing replacement parts for home, patio, and garden power equipment. You can find products for multiple popular models in their range of blades. 
Maxpower 331981S 21-Inch mulching blade is an excellent but relatively expensive item that easily handles heavy-duty tasks. 
If you often find yourself chopping not only grass and leaves but also branches, cones, and nuts, the Maxpower 331981S 21-Inch mulching blade is perfect for you. 
Tips On Using Maxpower Mulching Blades:
After removing your old blade, make sure you check to see the direction the blade's cutting edge is facing and match the new blade to it.
Ensure that it is tight with no wobble in action. 
After you start using it for a few minutes, turn off the motor and double-check to ensure that everything is still tight.
Pros 
Cons 
– Maxpower 331981S works well with most 21-inch mowers
– It comes with a steep lift and sturdy teeth
– A little expensive
– You might have to sharpen the blade.
Table Displays The Pros and Cons of Maxpower Universal Gold Metal Mulching – plantsheaven.com
4- Oregon 95-605-3 Gator Mulching Blades 
Oregon is a US-based company producing gardening and outdoor equipment and tools. The Oregon G3 blades are designed in 54" deck mowers for better performance and durability. 
Oregon Mulching Blades come in a set of 3 gator mulcher blades for 54″ decks that fit a wide variety of brands, including Ariens, Craftsman, Poulan Pro, and Husqvarna. 
Its G3 blades work well regardless of weather conditions and how tough the grass is as they are about  20% harder than regular steel. The hardier material guarantees that the blades can hold up to various challenging conditions.
Oregon G3 Gator mulching blades are the best lawn mower mulching blades because of their extreme efficiency and durability. 
If you are looking to keep your lawn beautiful and healthy, go for Oregon 95-605-3 Gator Mulching Blades. 
Pros 
Cons 
– Durable and reliable work well in harsh weather 
– Works well with tough grass
– It is relatively expensive 
– Might be challenging to install
Table Displays Advantages and Disadvantages of Oregon Mower Blades – plantsheaven.com
5- Maxpower 561713X Commercial Style Mulching Blade. 
Maxpower 561713X Commercial Style Mulching Blade is one of the best mulching blades. They come in a set of 2 blades made in the USA and fit 42″ cut mowers, including Poulan, Husqvarna, and Craftsman Rider. 
Their cutting-edge design makes them very effective in cutting even the most challenging grass in the harshest weather conditions. 
Pick the Maxpower 561713X Commercial Style Mulching Blade if you want heavy-duty mulching blades.
Pros 
Cons 
– They perfectly fit almost every 42″ deck
– Great if you are dealing with heavy-duty and challenging lawn
– No chute clogging
– They are made of highly durable material
– Can be a little challenging to install
Table Displays The Advantages And Disadvantages of Maxpower 561713X Commercial Style Mulching Blade – plantsheaven.com
Are Mulching Blades Good For Leaves? 
In general, mulching blades are good for leaves and effective for leaf mulching. For optimal results, ensure you regularly sharpen and replace your mulching blades. In addition, mulching blades help reduce your mulching workload and the time and energy cost incurred during mowing. 
In other words, mulching leaves is much easier, more lawn-friendly, and less costly saving you money and time spent on bagging leaves and fertilizing. 
See also: 4 Best Gardening Forearms Sleeves (And why you should get one!)
Pros And Cons of Mulching Blades
Mulching blades accelerate the composting process: Standard lawn mower blades generally cut and discharge the leaves or grass clippings. Because the grass does not undergo more blade surface, your grass will not be as finely cut as it would be. 
Every gardener or lawn care professional knows mulching blades will provide your lawn with its nutrients. 
Mulching lets you recycle nutrients back into the soil for a healthy lawn. When the clippings decompose, they create organic compost and enrich the soil enormously.
Mulching mowers also save you money by naturally fertilizing your lawn and saving you time instantly. 
One of the drawbacks of mulching your lawn is that the clippings on the top of the grass are now easier to track in your houses and might leave grass stains.
Wrapping Up 
Mulching blades are definitely worth buying because they offer tremendous benefits, including accelerating the composting process and maintaining a healthy and greener lawn. 
With these mulching blades, you will save yourself a lot of time, energy, and money. And whenever looking to replace your mulching blade, ensure it meets all the criteria outlined in this article: