Gardening offers tremendous health and mental benefits. Several studies revealed that gardening could relieve stress, reduce depression, improve physical health, and lower the risk of other diseases. 
But, when gardening without protection, your arms can risk developing skin-related diseases and puncture from plants, including thorn. Gardening sleeves protect you while you take care of plants. 
It is a good idea to consider investing in gardening sleeves as it can prove beneficial in many vital ways. They help reduce pain and fatigue and protect you from harmful UV rays. 
Read on to find out the best gardening sleeves and what to look for when picking the perfect gardening sleeves that meet your needs.
My Top Pick:
MY Top Pick is the Evridwear Arm Protective Sleeves Cut Resistant Sleeve, it offers the highest value for money. It comes in different sizes, colors, and designs (and it comes with and no thumb hole).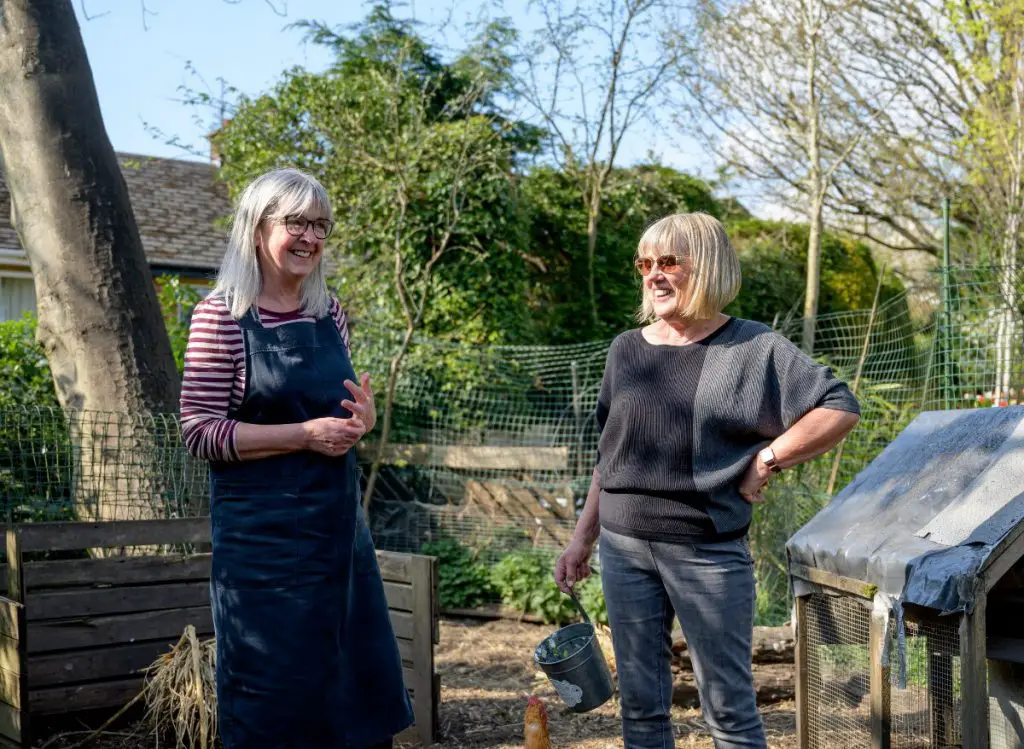 What Are Gardening Sleeves?
As gardeners, we all deal with daily cuts and scratches. Gardening sleeves help us enjoy gardening without the risk of getting scratches as they are resistant to scratches, cuts, and heat. 
In addition, gardening sleeves will keep your arms and hands safe and sound, whether you are pruning roses, tulips, trees, or handling succulents or cacti. 
Also, gardening sleeves come in various colors, materials, and designs. Some of them are thin and breathable. I suggest you invest in a pair to protect your arms and hands. 
See also: Best Tips Growing Flowers for Beginner.
How To Choose Gardening Sleeves
Breathable and durable: Look for gardening sleeves made of a high-quality material such as leather. A good pair of gardening sleeves should provide you with the highest protection and should be puncture resistance. They should also be breathable to wear for a long time; without feeling hot.
Flexible and lightweight: A good pair of gardening sleeves let your fingers easily hold any gardening tools and naturally move fingers as you wear sleeves. 
Fit and provide efficient protection: Choose a pair of gardening sleeves that fit you well and offer an excellent level of protection while still not making your hands feel cumbersome. Protection includes cuts, scratches, sharp thorns, pricks, rough stuff, and working for pruning roses, handling cactus, pruning berries.
Easy to Wash: Ensure that you choose gardening sleeves made of easily washable materials. 
Pros and Cons Of Gardening Sleeves
Gardening sleeves can protect you from the cuts commonly while taking care of your plants. In addition, gardening sleeves provide a cushion for your hands and prevent skin irritations and chafing when working with branches all day or running saws or mowers.
Gardening sleeves help prevent the irritating rashes and itching from poisonous plants, including scratches from sharp plants and branches which might cause irritating rashes and annoying itching.
Gardening sleeves can prevent potential wild animal bites, bug bites, and snakes on your forearms and wrists.
Gardening sleeves can help protect your favorite clothes from being torn up by the brush, which can save you money over time.
Gardening sleeves provide excellent wrist support while working with gardening tools, including saws and mowers. This can be very helpful, particularly when carrying heavy gardening tools.
Gardening sleeves help prevent injuries, including wrist strain, cuts and scrapes from stems and bark, puncture wounds, chainsaw, and other gardening tool accidents, and the everyday cuts that seem to occur nowhere. Take a minute to observe your hands, do you notice any recent blemishes or scars? Wearing gardening sleeves can help prevent these annoying cuts and scrapes. 
Gardening sleeves promote comfort for gardeners. Most garden sleeves are made with sun-blocking, delicate materials that keep your arms relaxed and muscles fresh. Rather than sweating as you work under the sun, your arms actually feel as if they are in air conditioning. 
Gardening Sleeves vs Gardening Gloves: Which One Is Better?
Gardening sleeves and gardening gloves are complementary gardening tools. Most gardeners wear gardening gloves because of cuts and scratches. But gardening gloves do not protect your arms.
Gardening gloves help your hands from cuts or scrapes. Soils contain bacteria and fungi, which can cause severe damage when allowed to enter the body, according to the University of Queensland, Australia. 
However, gardening gloves generally do not provide wrist support or protection to your forearms. On the other hand, gardening sleeves protect your forearm from heat, scratches, cuts, poisonous plants, and animals. 
Whether pruning roses or tidying up after trimming hedges, gardening sleeves can protect your skin from cuts and scratches while working with your beautiful but prickly plants.
Gardening sleeves help protect your skin from harmful UV rays. Every garden loves the sun because, without the sun, your plants will not thrive and bloom. 
But one of the biggest threats to any gardener's arms is the sun, as the sun's UV rays can cause skin damage and might lead to skin cancer. Gardening sleeves can protect the sun's UV rays from your skin and prevent skin cancer.
In addition, gardening sleeves can easily fit under any gardening gloves, providing you with both the benefits of gardening sleeves and gardening gloves. 
See also: 3 Best Toughest Gardening Gloves To Make Your Gardening Experience Painless.
4 Gardening Sleeves
Now that we under the benefits of gardening sleeves, let's explore the best gardening sleeves.
1- Unitron World Cut Resistant Sleeves with Thumb Hole
Unitron world cut-resistant sleeves with a thumb hole help protect your arms from injury, mainly if you work with sharp gardening tools, including a chain saw, or spend time caring for your plants or trees and removing dead shrubs on your garden or property. 
If you do a lot of gardening and often get cuts, scrapes, and bruises all over your arms, these gardening sleeves will help protect your arms from scratches. Here is a link to check out Unitron World Cut Resistant Sleeves on Amazon.
Comfort: Unitron world cut-resistant sleeves are breathable, comfortable and lightweight, and highly durable. They keep your arms dry and strain-free for long hours. 
Unitron world cut-resistant sleeves are ideal:

Yardwork
Farming
Gardening
Camping
Woodworking
Trimming shrubs 
Handling animals
Kitchen work
2- Blue Straw Cut Resistant Sleeves
Blue straw cut-resistant sleeves can help reduce injuries caused by sharp gardening tools, including shears, chainsaws, and thorns. 
These gardening sleeves are excellent if you have blackberry bushes or care for thorns. They will protect your arms and forearms from multiple wounds from the blackberry thorns. 
See Blue Straw Cut Resistant Sleeves on Amazon.
Comfortable and breathable: 
Blue straw cut-resistant sleeves are comfortable, highly breathable, and lightweight
Their thumb slot helps protect your arms and ensures that they don't ride up and expose your forearm. 
Blue straw cut-resistant sleeves are Ideal for:

Gardening
Yardwork 
Assembly line work
Knife handling
Warehousing
Glass handling
4- Evridwear 1 Pr/Pack Cut Resistant Sleeves for Arm Work Protection
Like other gardening sleeves, EvridWear arm protectors can help protect your arms from cuts, sharp branches, and pet scratches. 
They are made from HPPE materials, making them stronger and highly durable than leather. You can use them for almost everything.
Comfort and protection:
They are breathable, comfortable, and stretchable.
Since they are made of high-quality HPPE materials, you can expect them to fit comfortably. 
EvridWear cut-resistant sleeves come in 4 different elastic sizes – S, M, L, and XL. 
They are also easy to wash; just throw them in your washing machine. 
4- Idea Pro  Arm Protection Sleeve and Cut Resistant
Idea Pro gardening sleeves will protect your arm from cuts, abrasions, and heat. Additionally, they are cut-resistant protection and help prevent scrapes and dog cat scratches.
These gardening sleeves from Idea Pro are perfect for garden work as they prevent bruising and scratching, and skin damage. Here is a link for you to check on Amazon to see what other gardeners are saying about these gardening sleeves.
Idea Pro gardening sleeves will stop a sharp metal point; they are more for gardening scratches and protecting your arms when carrying a pile of twigs or logs.
Idea Pro  Arm Protection Sleeves are ideal for: 

Gardening 
Household chores
Thorn Proof Gardening sleeves
If you plan to do gardening and yard work and enjoy the beautiful smell of thorny roses this spring, you need to keep your arms protected using thornproof gardening sleeves. 
Thorns can make it hard when pruning or collecting flowers or yields from your garden, particularly roses and berries. Thorn proof gardening sleeves can help. Evridwear Arm Protective Sleeves Cut Resistant Sleeve Forearm Cover is the best if you are dealing with thorns. They offer the best thorn proof gardening sleeves.
In addition, Evridwear Arm Protective Garden Sleeves are heavy-duty gardening sleeves and protect your arms and forearms from sharp thorns, branch scratches, ticks, bug bites, direct sunlight, and even poisonous animals and plants. 
Wrapping Up
Overall, it is worth investing in gardening sleeves whether they are thorn proof gardening sleeves or not. They will enhance your gardening experience and keep you safe from unwanted sunburn, cuts, and scratches. 
When picking your gardening sleeves, ensure they are: 
Flexible and lightweight
Breathable and durable
Fit and provide efficient protection
Easy to Wash