When it comes to bonsai trees, there are two main types: outdoor and indoor. If you want to keep your bonsai tree indoors, then you need to choose the right types of Bonsai trees indoors.
There are many different types of indoor bonsai trees, so it can be difficult to decide which one is right for you.
Here we will discuss the different types of indoor bonsai trees and provide tips on properly caring for them!
You might wonder How To Successfully Grow a Bonsai Tree From Seeds? I wrote an article and encourage you to check it out.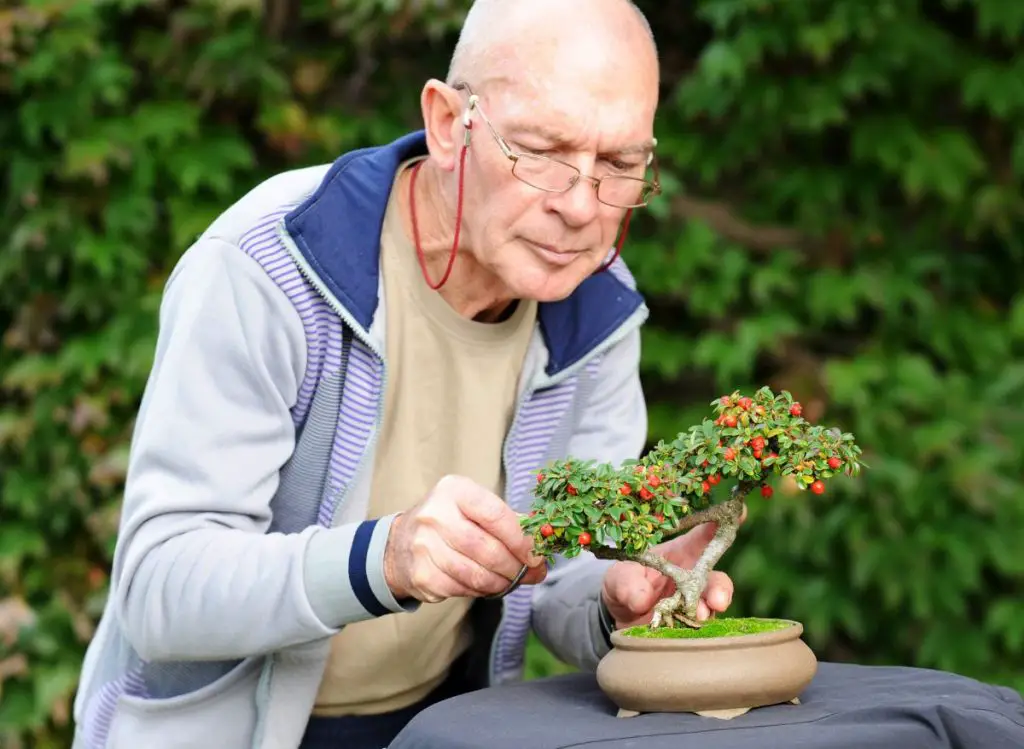 9 Types Of Bonsai Trees Indoors
Even though most Bonsai trees do well outdoors, exposed to the four natural seasons just like regular trees, only a few Bonsai trees can survive indoors where temperatures are high and stable during the year.
Here are the 9 best types of bonsai trees that thrive indoors:
1- Ficus Bonsai
A ficus bonsai is a miniature tree that is popular for its low maintenance and easy-to-care-for nature. Ficus trees are native to tropical regions and can be found in wide different varieties. The most common type of ficus bonsai is the "Ficus Retusa" or "Banyan Fig."
Ficus bonsai trees are comparatively easy to care for and make great starter plants for those new to bonsai. They can tolerate many ranges of light conditions, from full sun to low light, and can even be grown indoors.
Ficus bonsai do not require much watering and can go several days without water. When watering, be sure to allow the soil to dry out completely between watering.
Fertilize your ficus bonsai tree monthly during the growing season with a balanced fertilizer. Cut back on fertilizing during the winter months when the tree is dormant.
The best time to prune your ficus bonsai is in late spring or early summer. Pruning will help to keep your tree compact and encourage new growth.
When repotting, be sure to use a well-draining bonsai soil mix. Repot the plant after every two to three years in the springtime.
See also: Can You Use Orchid Soil To Grow a Bonsai Tree? (Yes, and Here's how!)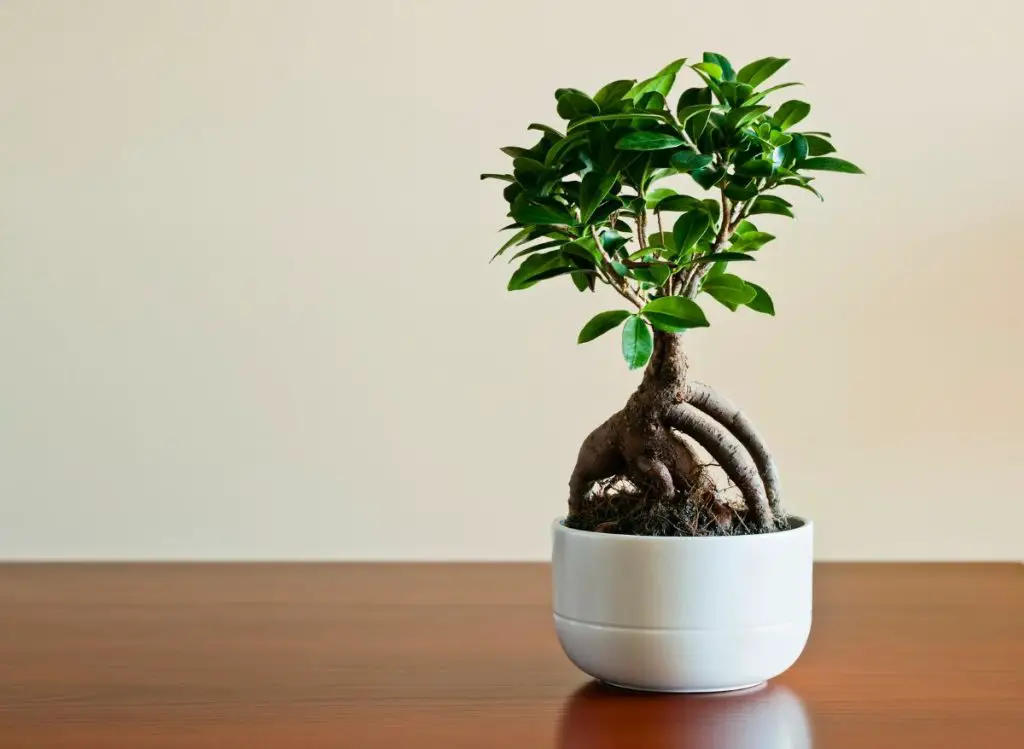 2- Weeping Fig
Weeping fig (also commonly known as the ficus tree) is easy to grow, tolerates indoor conditions, and is a good plant for a new bonsai enthusiast. Wide varieties exist and vary in the size of their leaves.
The variety exotica and cultivar 'Natascha' are particularly appreciated as bonsai and tolerate low light levels.
The Weeping Fig got its nickname from its unusual shape; its leaves are small, and the tree has strong roots, which makes it an excellent bonsai for a beginner to care for. If you choose the Weeping Fig for your home, remember that it must have moist soil to grow.
Weeping fig grows quickly indoors in containers loaded with soil-based potting mix and positioned in bright indirect light or sunny areas that get some afternoon shade.
It would be best if you consistently and regularly watered during the growing season but allow it to become drier from fall to late winter.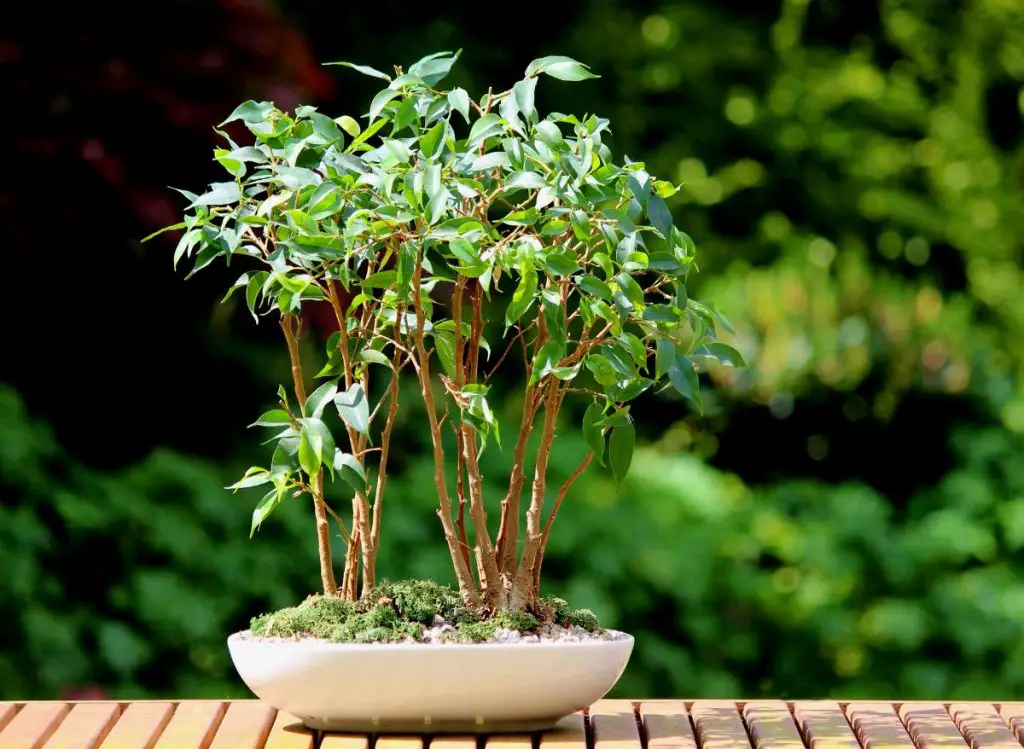 3- Carmona Bonsai
Carmona Bonsai, also known as Fukien Tea, is an evergreen plant that originates from the Fujian Province in China. It is a popular and unique choice for bonsai enthusiasts due to its small leaves and dense branching.
Carmona Bonsai can be difficult to care for, so it is recommended for experienced growers. It prefers warm weather and does not tolerate cold well.
Carmona Bonsai should be watered regularly but allowed to dry out between watering. Feed Carmona Bonsai with a balanced fertilizer during the growing season. Prune Carmona Bonsai to shape as needed.
Carmona bonsais are beautiful, dense-branching evergreens from Fujian Province in China. They are popular choices for bonsai enthusiasts due to their small leaves and dense branching.
Because they can be difficult to care for, Carmona bonsais are recommended for experienced growers. They prefer warm weather and do not tolerate cold well.
See also: Top Alternatives You Should Try: 6 Bonsai Soil Options.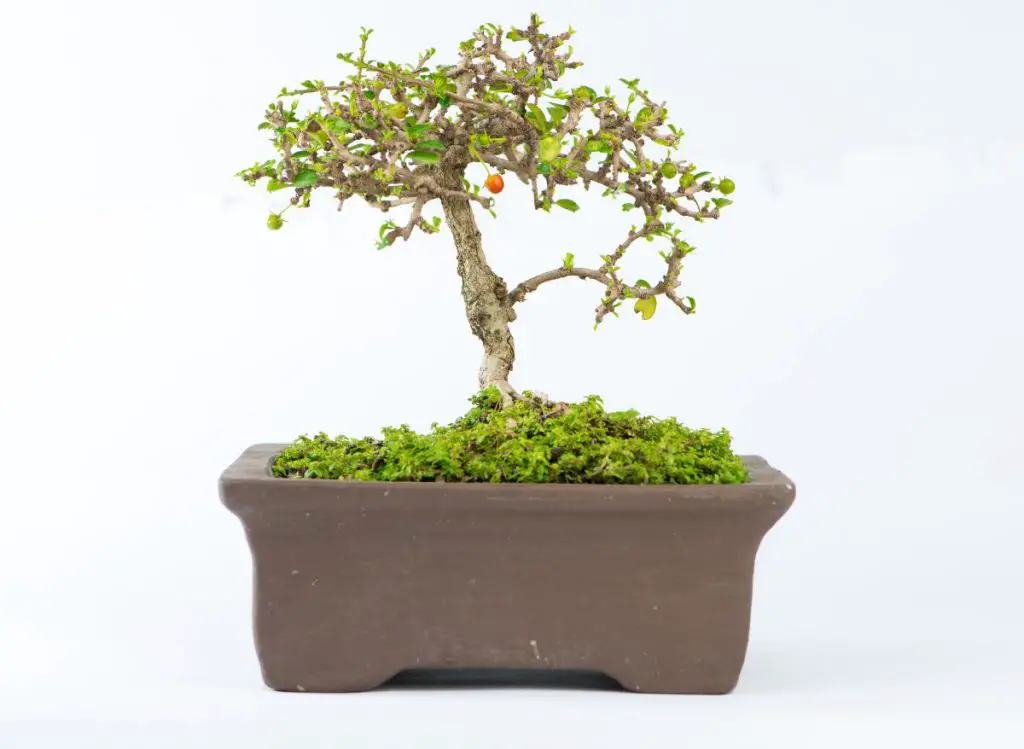 4- Hawaiian Umbrella Bonsai
Hawaiian Umbrella Bonsai (also known as Dwarf Umbrella Tree or Schefflera Bonsai) is very suitable for indoor bonsai.
It thrives in dim light and low humidity but grows much better and produces smaller leaves if they get much sunlight. 
You can keep Dwarf Umbrella Bonsai indoors all year round. The ideal temperatures for Hawaiian Umbrella Bonsai are 18° C to 22° C / 65° F to 72° F. Ensure the temperature doesn't fall below 10° C / 50° F.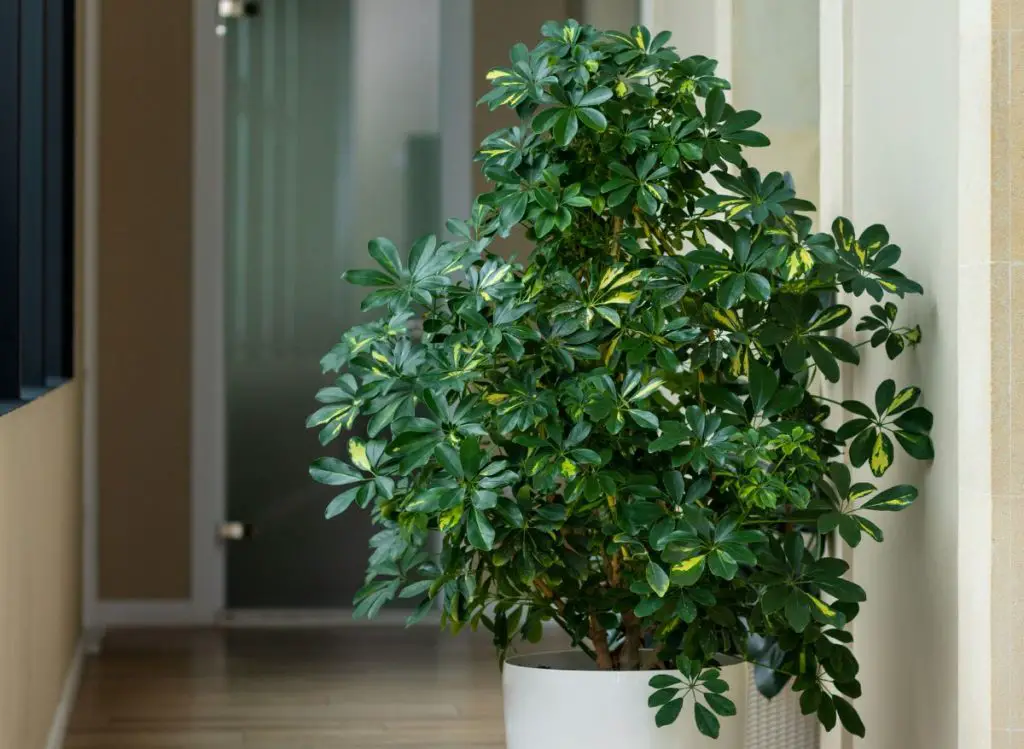 5- Schefflera Bonsai
Schefflera Bonsaitree, also associated with the umbrella tree, is a very popular type of bonsai tree. It is loved by beginners and experienced growers alike because of its easy care and beautiful appearance.
The Schefflera bonsai is native to Taiwan and other parts of Asia. It can go up to length 60 feet tall in its natural habitat!
The Schefflera bonsai tree has shiny, dark green leaves that are divided into seven to eleven leaflets. The leaves are arranged in a radial pattern, and they can grow up to 8 inches long.
The flowers of the Schefflera bonsai tree are small and white and appear in clusters. The fruit of the tree is a small blackberry.
The Schefflera bonsai tree is an evergreen, meaning that it will keep its leaves year-round. It can be grown and thrive outdoors in USDA hardiness zones 10 and 11. If you live in a colder climate, you can grow your Schefflera bonsai tree indoors.
When growing a Schefflera bonsai tree, it is important to give it plenty of bright, indirect sunlight. The tree can tolerate some direct sun, but too much direct sun will scorch the leaves.
Water your Schefflera bonsai tree when the top inch of soil is dry to the touch. Let the water drain completely before putting the tree back in its saucer.
Feed your Schefflera bonsai tree once a month with a balanced, liquid fertilizer. Apply the fertilizer at half the strength recommended on the packaging. During the winter months, you can reduce feeding to once every two months.
See also: How Often Should You Water a Bonsai Tree? (This often!)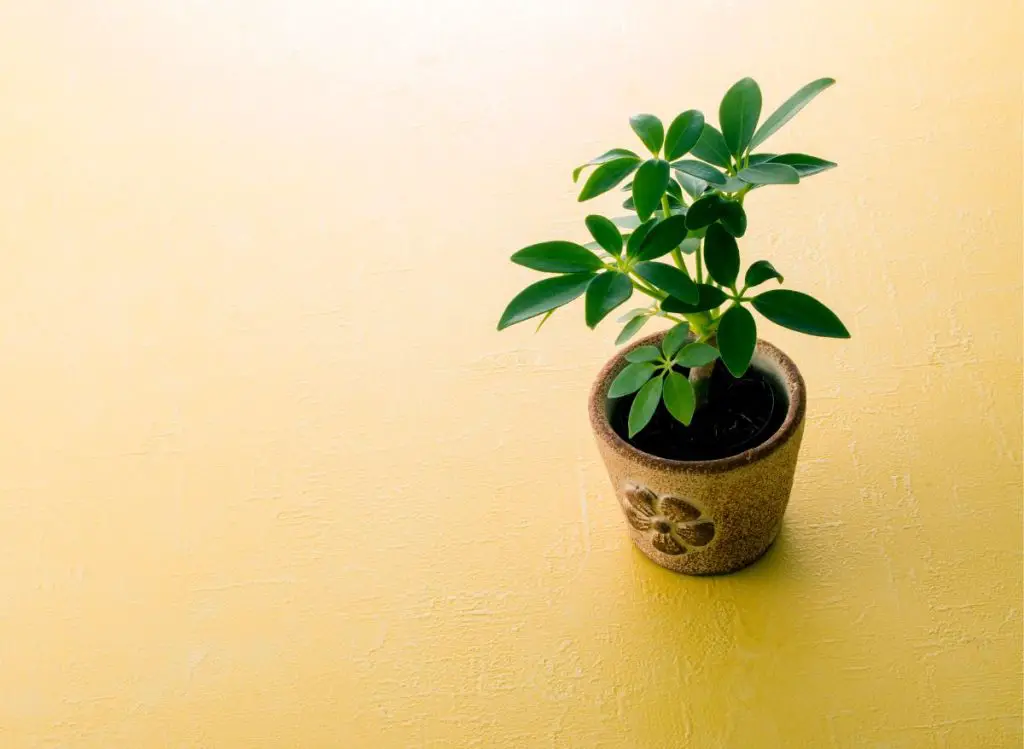 6- Chinese Elm Bonsai
Chinese Elm Bonsai (Ulmus parvifolia) is a beautiful, deciduous miniature tree that is popular among bonsai enthusiasts. The small, dark green leaves are one of the main reasons why this tree is so popular. They have a delicate, serrated edge, and they turn yellow in the fall before they drop off.
Furthermore, Chinese Elm Bonsai is very easy to care for and can be kept indoors or outdoors. It takes time to grow, so it doesn't require to be repotted often. If you live in an area with cold winters, you will need to bring your tree indoors before the first frost.
Chinese Elm Bonsai are available in many different styles, including formal upright, informal upright, slanting, cascade, semi-cascade, raft, and literati. The most popular style is the informal upright.
The Chinese Elm Bonsai is a beautiful tree that is easy to care for and makes a remarkable and unique addition to any home or office.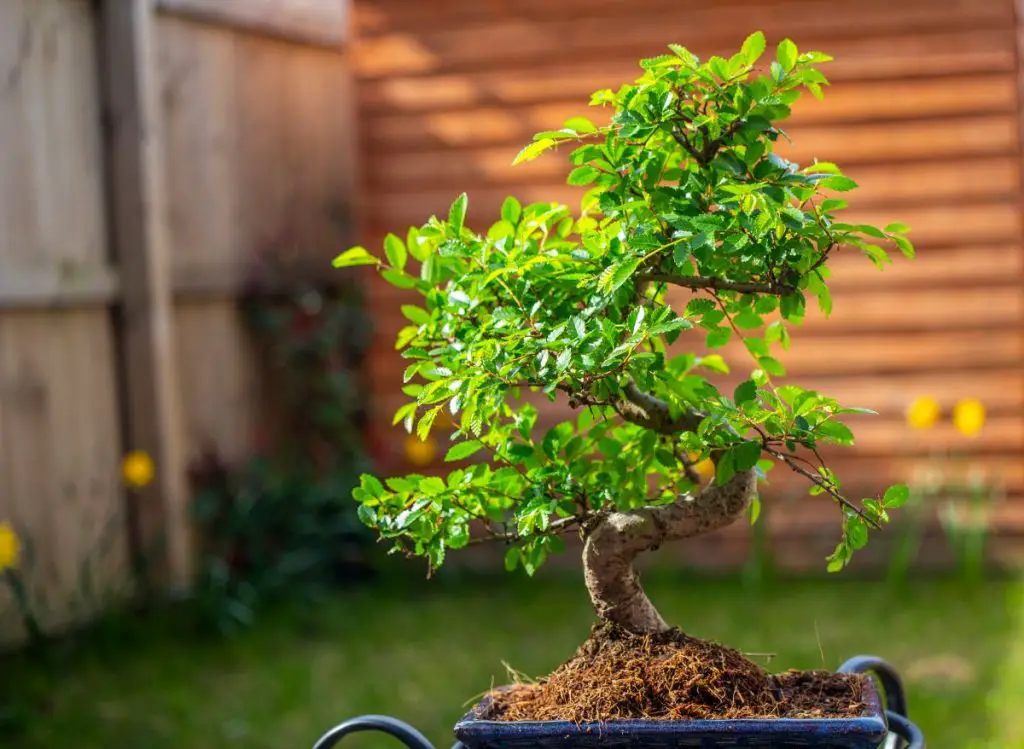 7- Crassula Bonsai
Crassula Bonsai, also known as the Jade Plant, is a popular type of bonsai tree. It is native to South Africa and has been growing in popularity in recent years. Crassula Bonsai are easy to care for and make great gifts for plant lovers.
The Crassula Bonsai is a succulent plant that stores water in its leaves. This makes it a great plant for people who are new to bonsai or who do not have a lot of time to care for their plants. Crassula Bonsai is also known for being very resilient and can survive in a wide range of climates.
When choosing a Crassula Bonsai tree, it is important to select one that is healthy and has a strong root system. Crassula Bonsai trees can be found at most garden centers or online.
See also: How Much Sunlight Do Bonsai Trees Need? (Here's the truth!)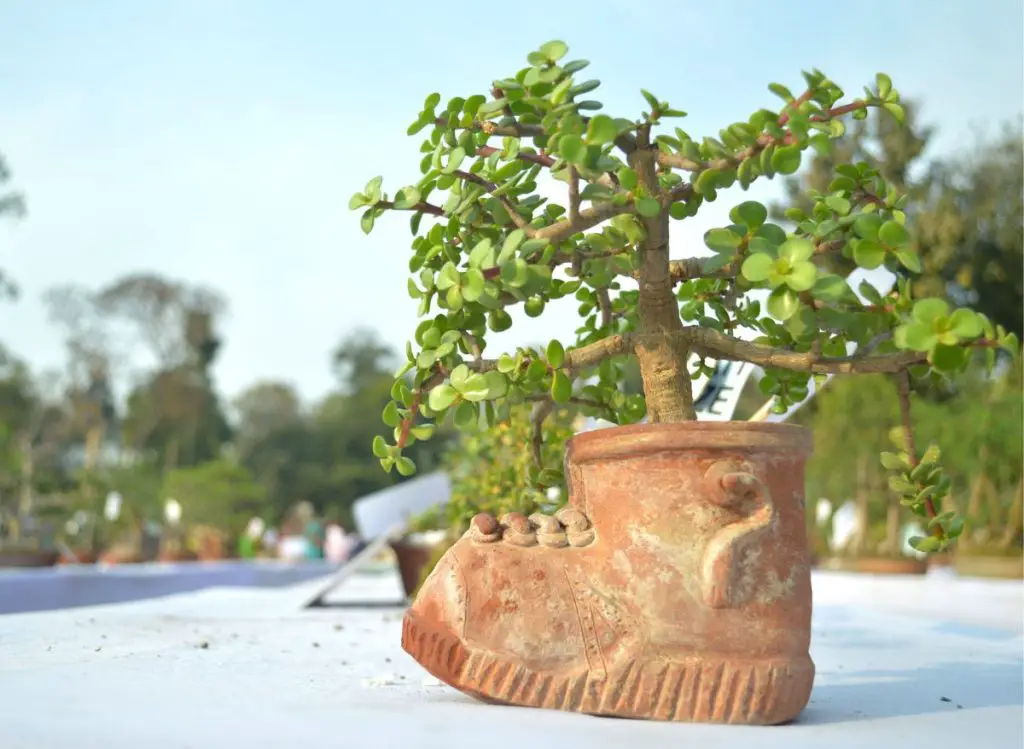 8- Sweet plum (Sageretia)
The sageretia (also called the Chinese sweet plum or bird plum) is a popular indoor Bonsai. It is native to China and Japan and is a subtropical evergreen shrub that can grow 2 to 3 meters (7 to 10ft) high.
The sageretia does well in high humidity, so it is a good idea to spray the foliage with lime-free water regularly. 
Regularly water sweet plum and avoid letting the roots dry out entirely because the sageretia's leaves and twigs desiccate quickly, as lack of water can lead to your plant's death. 
Use solid organic fertilizer every four weeks or liquid fertilizer every week during the growing season.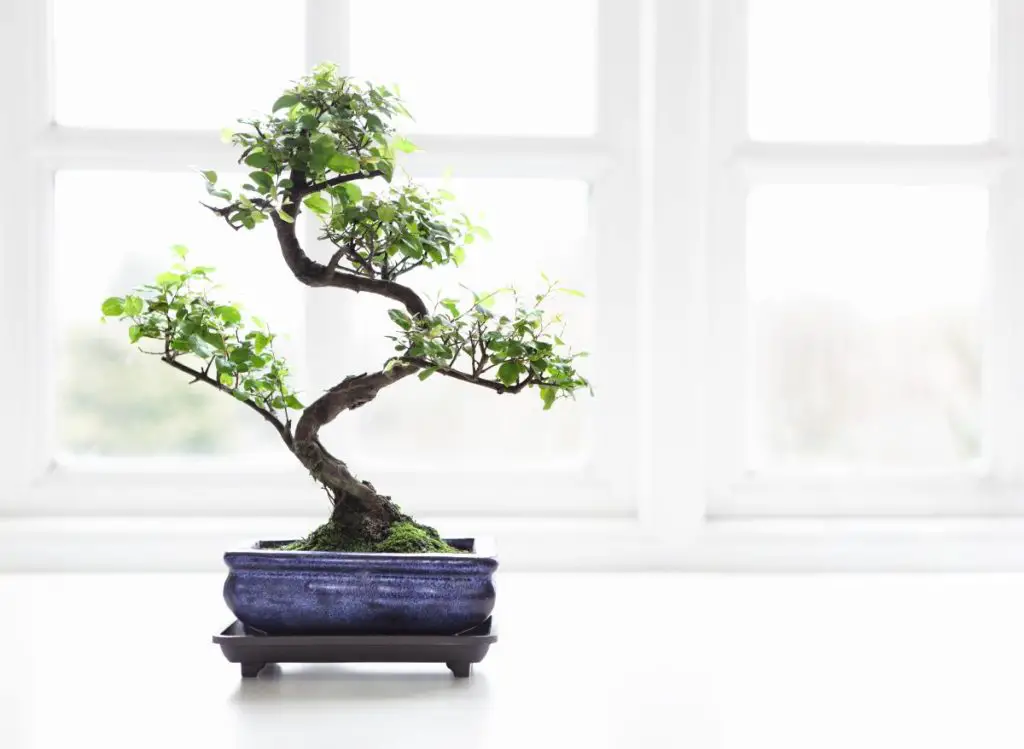 9- Serissa Japonica Bonsai
Serissa Japonica Bonsai trees are one of the most popular indoor bonsai trees. They are known for their small, delicate leaves and flowers. These beautiful trees make great gifts and are perfect for beginners.
Serissa Japonica Bonsai trees are native to Japan and China. They prefer warm, humid climates and do not like cold weather. If you live in cold conditions, you must protect your tree from the cold winters.
Serissa Japonica Bonsai trees should be fertilized every two weeks during the growing season. Use a high-quality fertilizer that is specifically for bonsai trees. During the winter, you can reduce the fertilizing to once a month.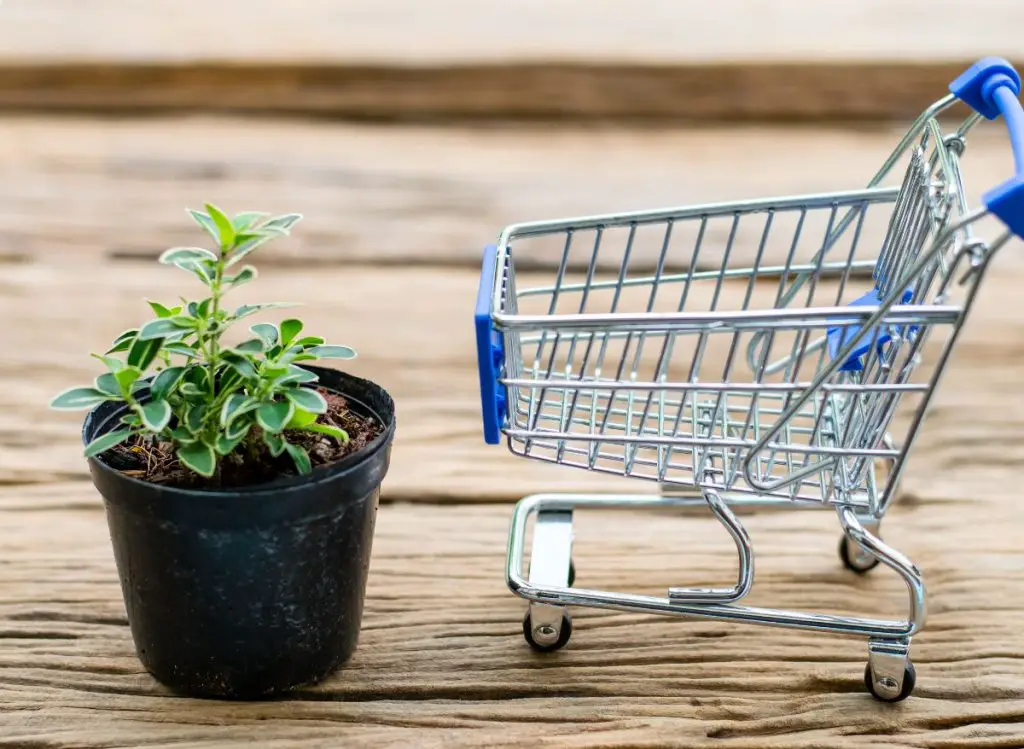 How To Care For Bonsai Tree Indoors
Caring for an indoor Bonsai differs from typically potted house plants. The principal reason is that Bonsai trees are grown in small pots with limited storage for nutrients and water.
1- Light
The main problem with keeping a Bonsai tree indoors is that light intensity is much lower than outdoors. That is why placing your Bonsai in a sunny area is highly advised. When growing Bonsai indoors, put your plant directly in front of a window facing the south.
If the light intensity is too low, you can supplement the light deficit with artificial lighting to help your tree.
2- Humidity
Indoors Bonsai tree requires relatively high humidity, which might be much higher than your house's conditions, particularly heating or air conditioning.
You can improve the humidity near your Bonsai tree by placing it on a humidity tray loaded with water and by misting your tree a few times a day. Another way to increase humidity is to keep a window open throughout the day.
3- Watering
Contrary to tropical indoor plants, indoor Bonsai trees do not require you to follow a watering routine.
The best practice regarding watering indoor Bonsai trees is carefully observing your tree and its soil and only water when needed.
4- Temperature
Indoors Bonsai trees can withstand relatively lower temperatures. In addition, they generally do well in winter, with temperatures well below the standard room temperature.
You might also enjoy reading: How To Effectively Take Care Of A Bonsai Tree (Here's How!)
Wrapping Up
Many different types of bonsai trees can be grown indoors. The three most popular types of indoor bonsai trees are the Schefflera, Chinese Elm, and Crassula.
Each type has its own unique care requirements and appearance. When choosing an indoor bonsai tree, it is important to select a tree that is suited for your climate and that you will be able to care for properly. With a little bit of care, your indoor bonsai tree will thrive and bring you years of enjoyment.