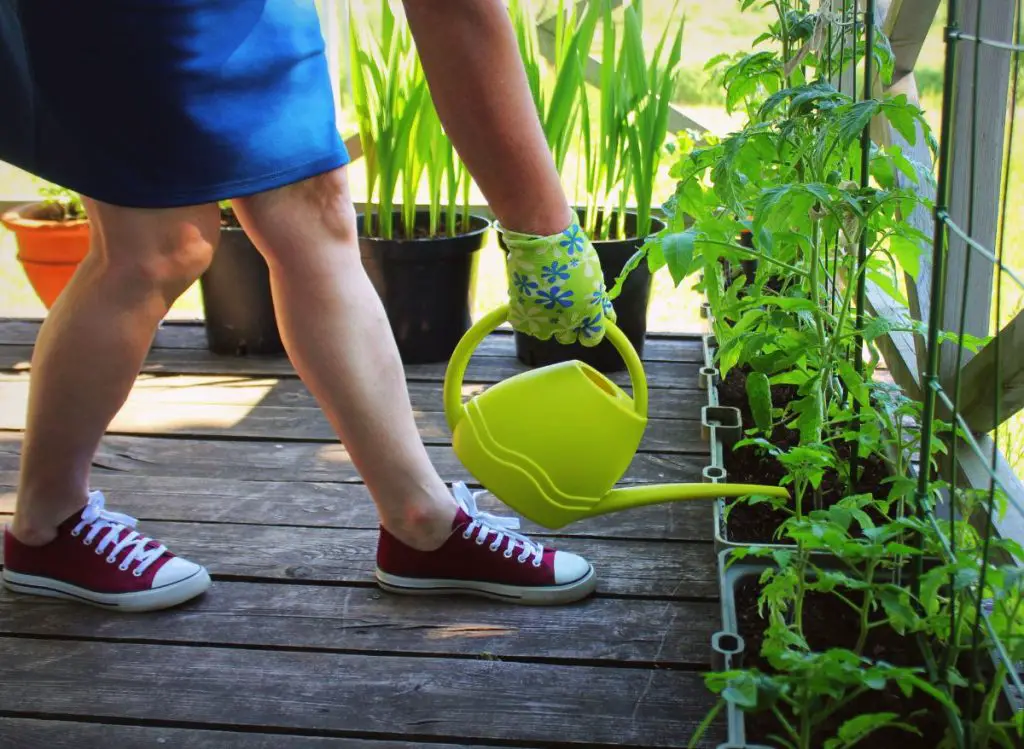 As fall approaches, it doesn't mean the gardening season has to end. A whole new garden crop can be planted and enjoyed before the temperature dips below the freezing mark. 
You can plant and harvest many fresh vegetables between the end of summer and the first cold snap of winter when you know the right crops to grow. Growing fall vegetables in pots is easy and rewarding as long as you plant cool-season vegetables that thrive in cooler weather. 
Here is a list of fall vegetables to grow in pots at the end of summer so you can have another bountiful harvest before the end of the year.
These vegetables grow fast and thrive in pots, and they will mature before frost if you plant them in late summer.
You might also enjoy reading: Best Tips To Speed Up Pepper Seed Germination.
19 Fall Vegetables To Grow In Pots, Including Tips To Properly Grow Each
Growing vegetables in containers during the fall can be beneficial, mainly when local farmers' markets and grocery stores are stocking and selling soft, high-priced imported vegetables.
Choosing the suitable vegetables to grow in your fall garden will make all the difference in keeping your kitchen freshly and healthily stocked throughout the year, regardless of the temperature.
Here is my suggestion for potted fall vegetables and tips on successfully growing and caring for each.
1- Arugula
This leafy green, also known as Rocket, thrives in the cooler fall and spring temperatures. It will need 40 days from seed time to harvest time. The seeds can be planted in succession every 2 weeks from mid-summer until 40 days before your growing zone's first predicted frost date.
If the arugula is grown in a pot that is protected from frost, the leafy green will continue to produce until the temperature goes below freezing. 
How To Grow Arugula In Pot:
Fill the pot with good potting soil, and plant the arugula seeds 1/4 inch deep and 1 inch apart.
Place the pot in a sunny location and keep the soil moist.
Harvest any time after the leaves are 4 inches long.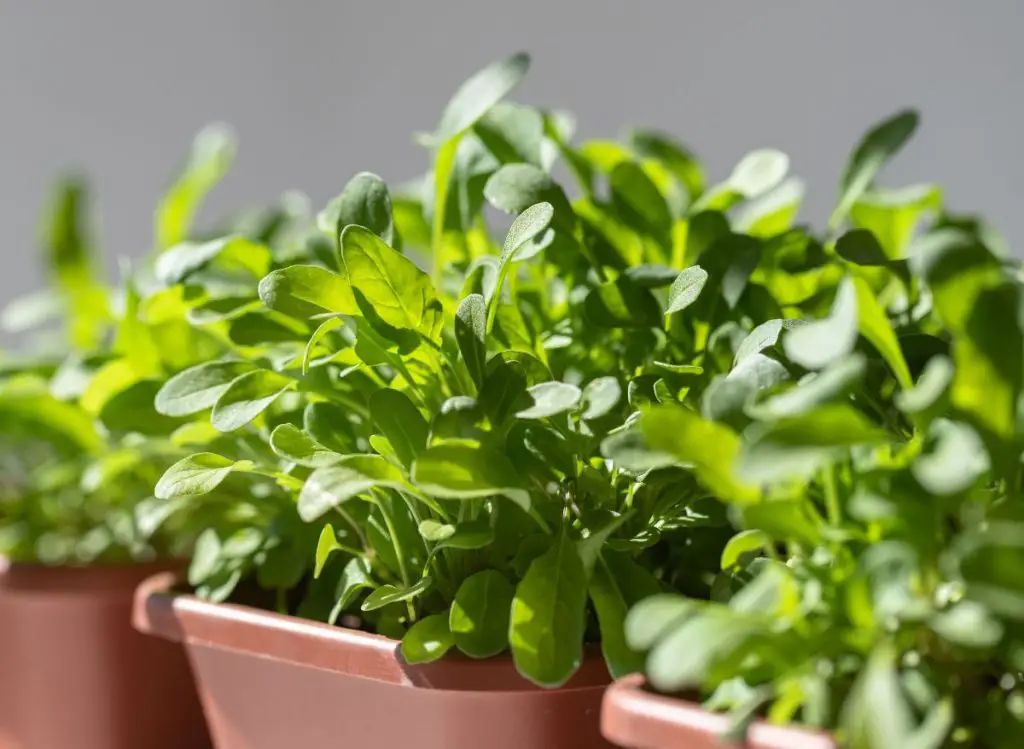 2- Beets
Beets provide you with 2 vegetables – the beetroot and the leafy green tops. They are easy to grow in pots indoors or outdoors and are ready to harvest in 8 weeks.
Beets can be grown in the sun or shade. However, the shadier the location, the smaller the beetroot will be. If you want large beetroots, then the plants will need at least 6 hours of sunlight each day.
How To Grow Beets In Pot:
Use a deep pot (a 5-gallon bucket works well) and fill it with good potting soil.
Plant beet seeds 1/4 inch deep and 3 inches apart.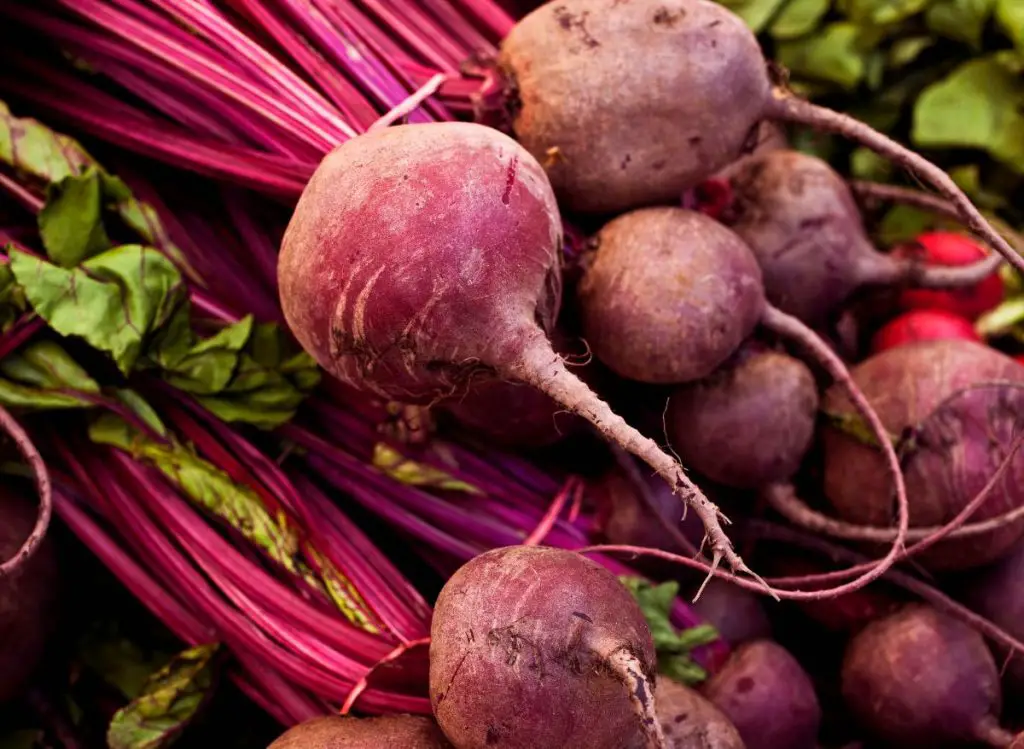 3- Lettuce
Lettuce is a relatively hardy, cool-weather vegetable that grows well when the average daily temperature is between 60 and 70°F.
Lettuce requires proper care and watering. Overwatering, particularly in heavy soils, can lead to disease, weak growth, or burning of the leaf margins.
There are five distinct types of lettuce (Source: University of Illinois)
Cos or romaine
Leaf (also called loose-leaf lettuce)
Crisphead
Butterhead and stem (also called asparagus lettuce)
How To Grow Lettuce in Pots:
Plant your lettuce a minimum of eight weeks before the frost.
Plant lettuce seeds in a wide pot at least 6 inches (15 cm.) deep, or start seedlings from a nursery.
Even though lettuce needs sun, it thrives in the shade during hot afternoons.
Lettuce needs between 50 to 60 days to reach maximum size (6 to 12 ounces).
You might wonder How Much Light Lettuce Needs to Grow Indoors? Check out this article.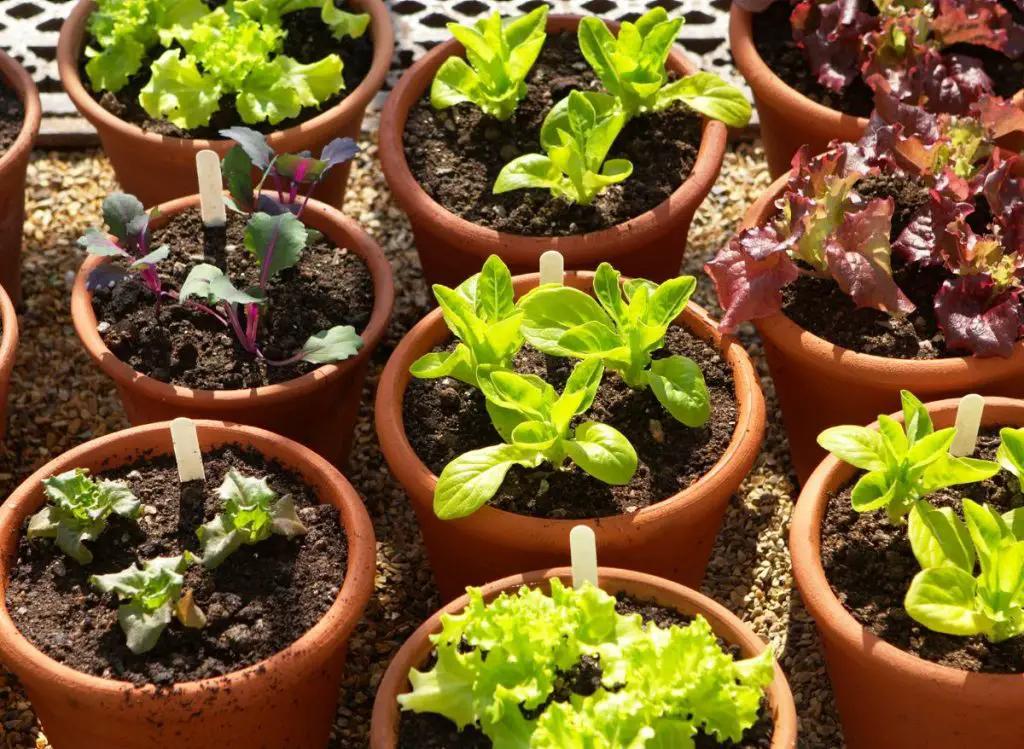 4- Beans
Green beans will be ready to harvest 50-60 days after planting. Select a bush bean variety, so the plant will produce a small bush, like Kentucky Wonder Bush or Blue Lake Bush.
How To Grow Beans In Pot:
Use a 12 inches wider or wider pot and plant 2-3 bean seeds around the outer edge of the pot.
Use potting soil that contains compost and feed the plants with your favorite plant food every 2 weeks.
Beans are my favourite all-time vegetables to grow and eat; for this reason, I wrote a complete guide on Starting And Growing Green Beans Indoors; I encourage you to read it.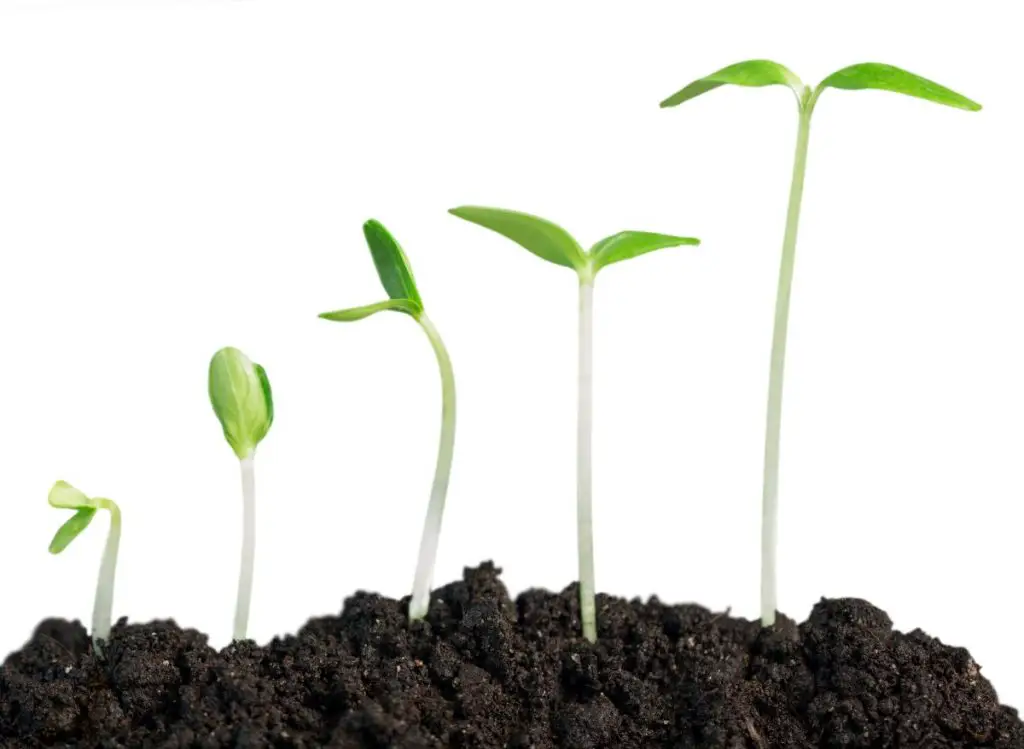 5- Kohlrabi
Kohlrabi grows best as a fall vegetable. When growing Kohlrabi, avoid hot temperatures as it will stress the plant and impede the growth of its nutritious, bulb-shaped stem.
Kohlrabi thrives when it receives abundant sunlight for at least 6 hours and is grown in rich, slightly acidic, and well-draining soil.
How To Grow Kohlrabi In Pots:
If you are looking for fall vegetables, plant Kohlrabi seeds in mid-summer or late summer, particularly in July or August.
Plan your Kohlrabi for a week or two after the first fall frost. 
Kohlrabi typically takes 55 days to mature. 
You can also start Kohlrabi seeds for four to six weeks indoors before moving the plant outside.
To prevent nutrient deficiencies and the spread of disease, avoid planting kohlrabi, where other vegetable members of the Brassica family have been grown in the last 2 or 3 years.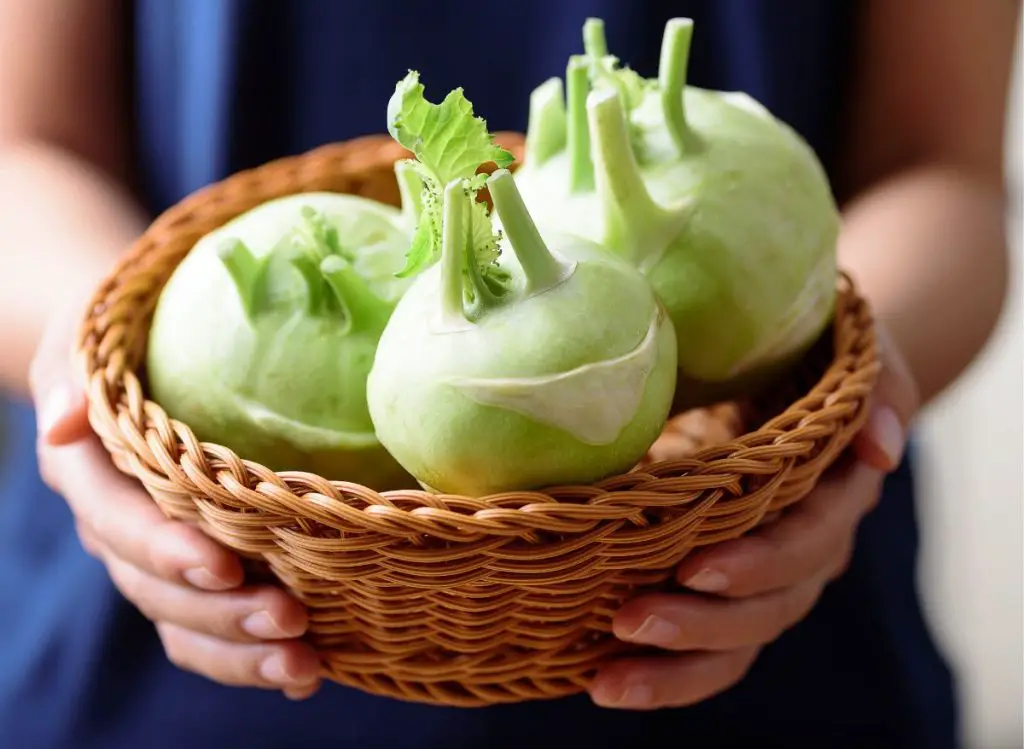 6- Bok Choy
This fall vegetable is in the cabbage family and thrives when grown in pots. Bok Choy is hardy in growing zones 2-11 and will be ready to harvest in 4-6 weeks after planting.
How To Grow Bok Choy in Pot:
Select a pot that is at least 10 inches wide and 6 inches deep.
Make sure there are plenty of drainage holes in the bottom, and fill the pot with potting soil that contains compost.
Plant the bok choy seeds 1/4 inch deep and 1 inch apart.
Place the pot in a location that provides the plants with partial shade in the afternoon.
The seeds will germinate in 4-10 days and can be harvested at any stage. Thin the seedlings out to 2 inches apart and keep the soil moist.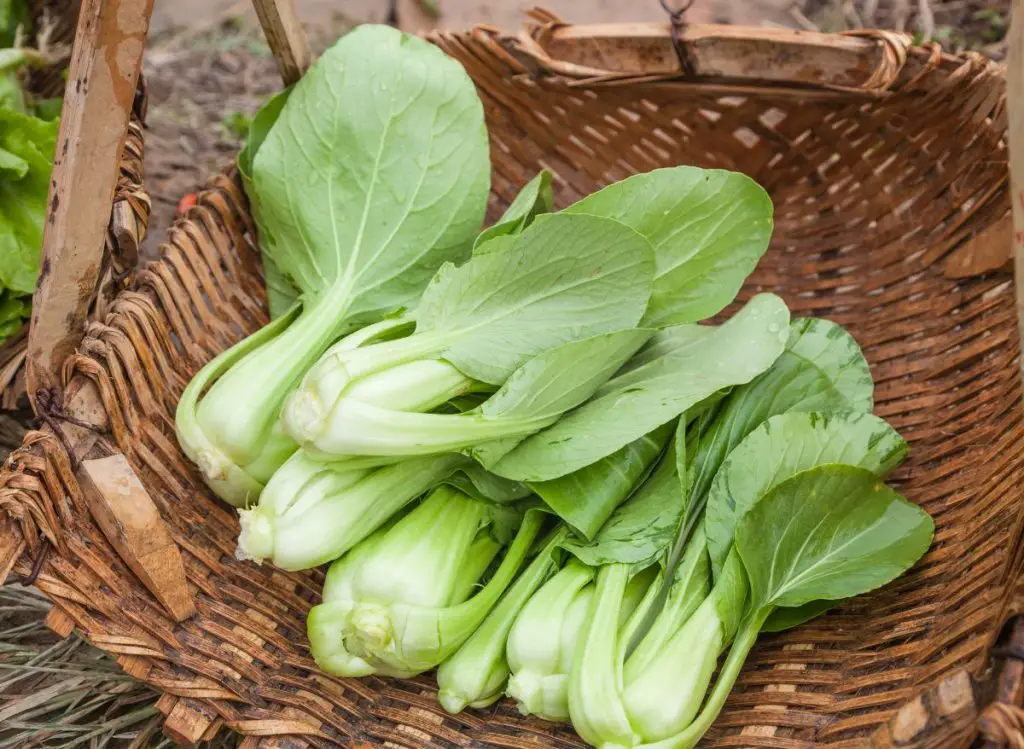 7- Swiss Chard
Swiss chard is another ideal fall vegetable because it typically tends to bolt when it matures in summer.
Even though it can tolerate heat better than spinach, Swiss chard does well in cool temperatures because high temperatures slow down leaf production.
How To Grow Swiss Chard In Pots:
Plant seeds at least 40 days before the first anticipated frost in your location.
Swiss chard grows best in full sun but will also tolerate partial sun. 
Swiss chard can be ready for harvesting 30 days after planting if you want baby leaves and 45 to 60 days after sowing if you want full-sized leaves.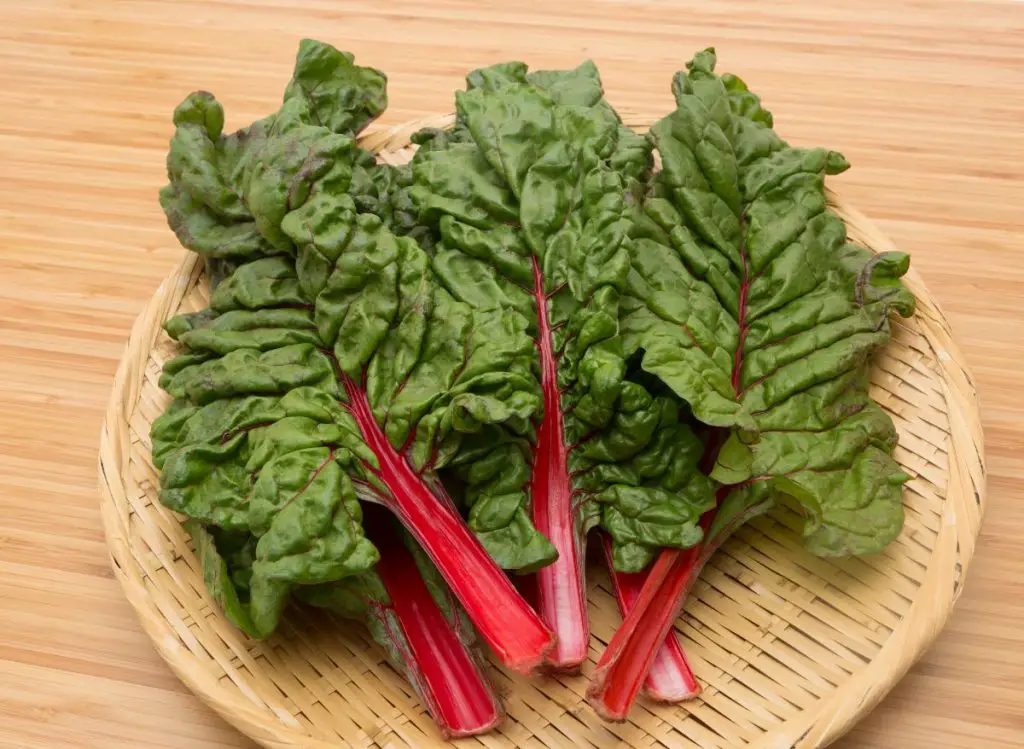 8- Carrots
This is another fall vegetable that is a two-for; it will give you 2 crops from 1 growing space. The green carrots tops are loaded with nutritional benefits and are tasty when added to a raw salad or cooked in stir fry recipes.
Carrots will be ready to harvest in 60-80 days.
How To Grow Carrots In Pot:
Start sowing carrots seeds in mid-summer and continue at 2-week intervals for 6 weeks so you will be able to harvest fresh carrots until frost.
Use a pot that is at least 12 inches deep.
Sow seeds 1/4 inch deep and thin seedlings out to 1 inch apart.
9- Collards
This cool-season leafy green vegetable thrives in the fall and will develop a sweeter flavor after a light frost has fallen on it. Collards mature into large plants and need a large pot to grow. 
How To Grow Collards In Pots:
Plant 1 collard seed in a 5-gallon bucket filled with potting soil and compost if you plan to allow the leaves to reach full maturity.
If you plan to harvest the collard greens when the leaves are 6-8 inches, then 2 seeds can be planted in a 5-gallon bucket.
Place the pot in full sun and keep the soil moist.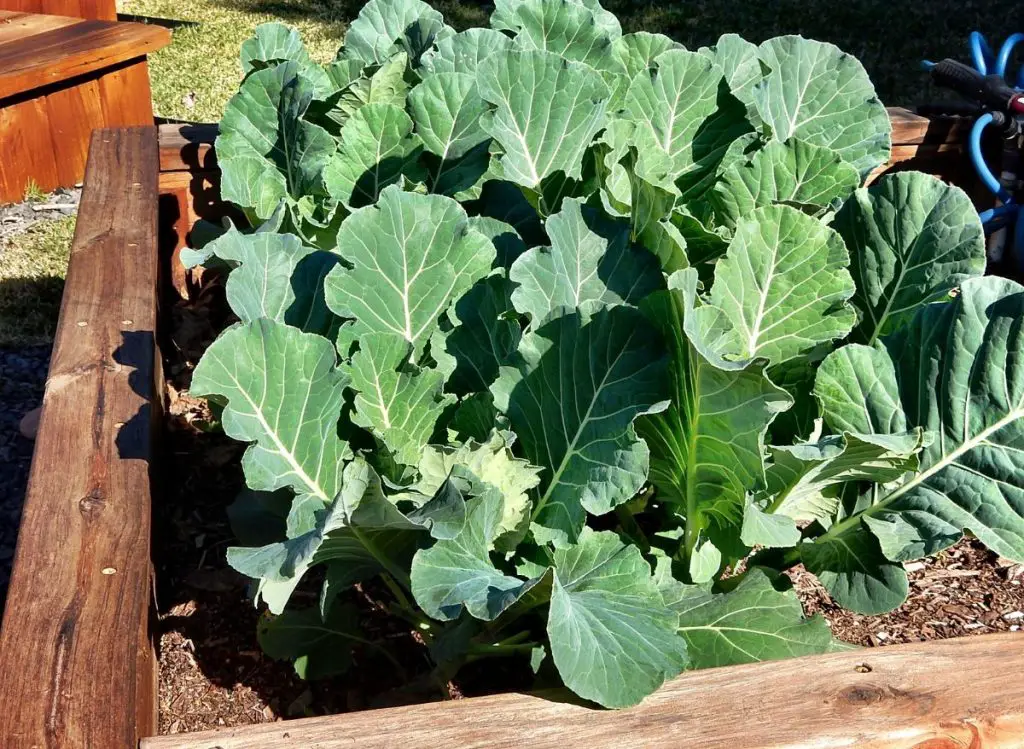 10- Radish
Radishes are excellent fall vegetables for containers because they are easy to grow quickly. They are a member of the Brassicaceae or cabbage family, which contains broccoli, cauliflower, cabbage, kale, and collards.
How To Grow Radish in Pots:
Try planting seeds four to six weeks before the first frost in autumn.
Radish thrives in well-drained, slightly acidic, neutral soil with a pH of 6 to 7. 
Improper watering can cause the radish to develop poor flavor
Radishes are generally ready for harvest three to five weeks after planting. 
Radish will develop a strong taste if left in the ground too long.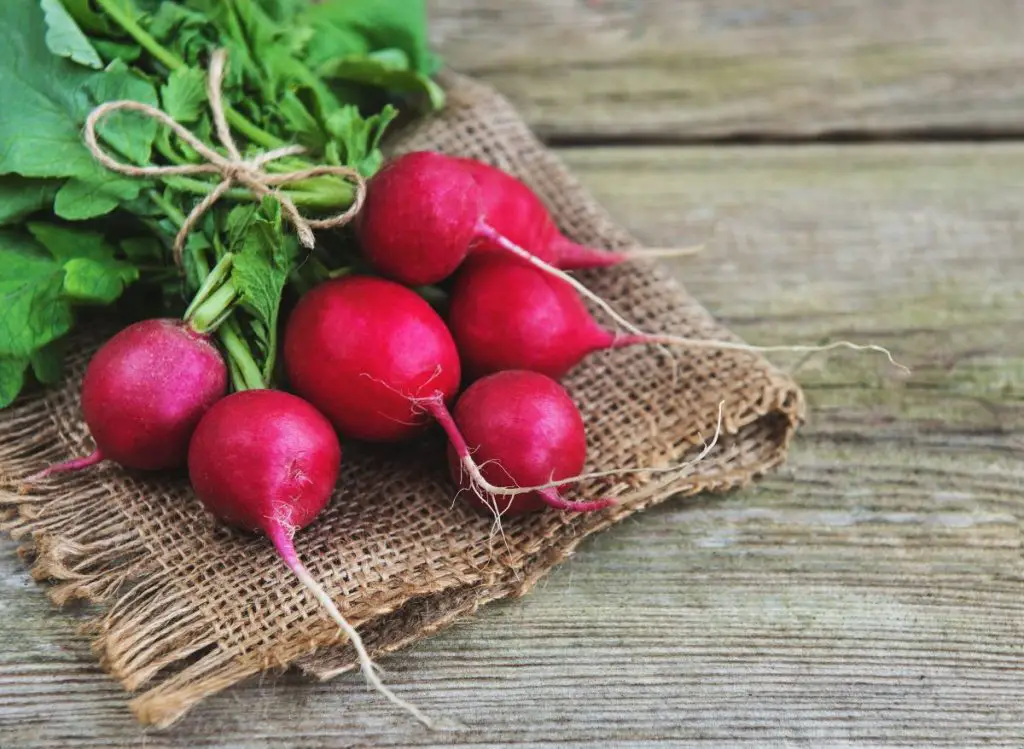 11- Diakon
This radish variety is also known as a winter radish. Daikons are white, grow in the shape of a carrot, and have the flavor of a mild red radish.
How To Grow Diakon Radish In Pot:
You will need a container that is at least 18 inches deep to grow diakons.
Fill the pot with potting soil and compost.
Plant the diakon seeds 1/4 inch deep and 4 inches apart.
Place the pot in a sunny location that receives some shade during the day.
Keep soil moist.
Daikons will be ready to harvest in 40-70 days, depending on the size you want them to be at maturity. Plant seeds in succession every 2 weeks for an extended fall harvest.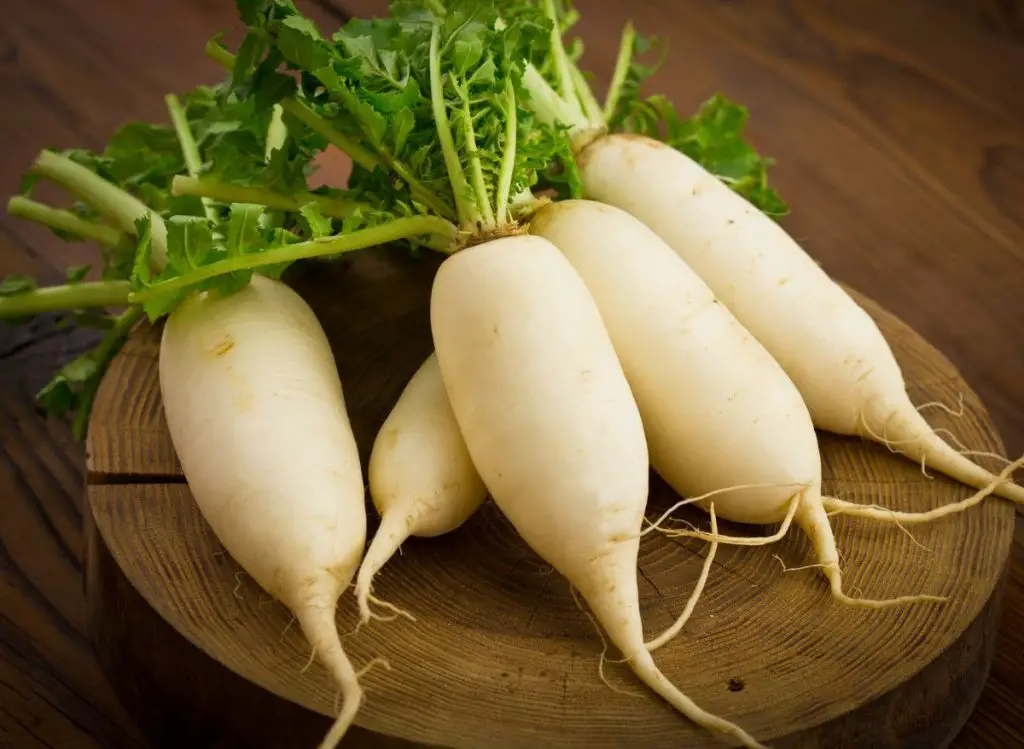 12- Spinach
Like lettuce, spinach is acold-hardy, leafy green that can be planted in some areas in early spring, fall, and even winter.
When growing spinach in pots, keep it indoors in winter on a windowsill or in a cold frame and wait until the cool days pass, when the soil warms to 40°F.
How To Grow Spinach in Pots:
The best time to plant spinach seeds in a container vegetable garden is from late August to September.
Spinach thrives in full sun to light shade.
Before planting, prepare your soil for about a week by mixing it in compost.
You can also prepare the soil in late summer or early fall.
Spinach requires six weeks of cool weather from seeding to harvest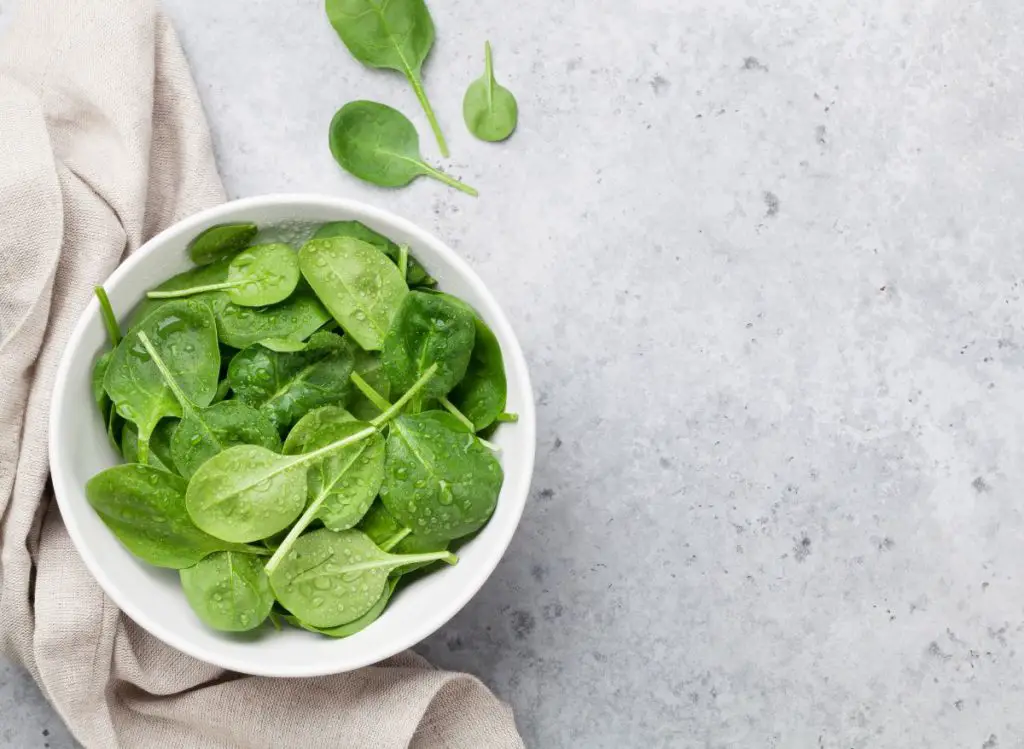 13- Green Onions
You can grow green onions in a pot year-round, so you will always have a fresh supply to add to your recipes. After you get them started, you can continually re-grow green onions from their bulbs.
You can plant green onions in a shallow 6-inch deep pot.
How To Grow Green Onions In Pots:
Start with a pot with plenty of drainage holes and fill it with potting soil.
Plant the tiny green onion bulbs (called sets) in the soil, pointy side up, 1 inch deep, and 2 inches apart. 
Place the pot in a sunny location and keep the soil moist.
The green onion tops will be ready to harvest in 50 days. This fall vegetable can be grown outdoors or indoors.
Harvest the green tops by snipping off the top half. The bottom half will re-grow so you can have a continual harvest.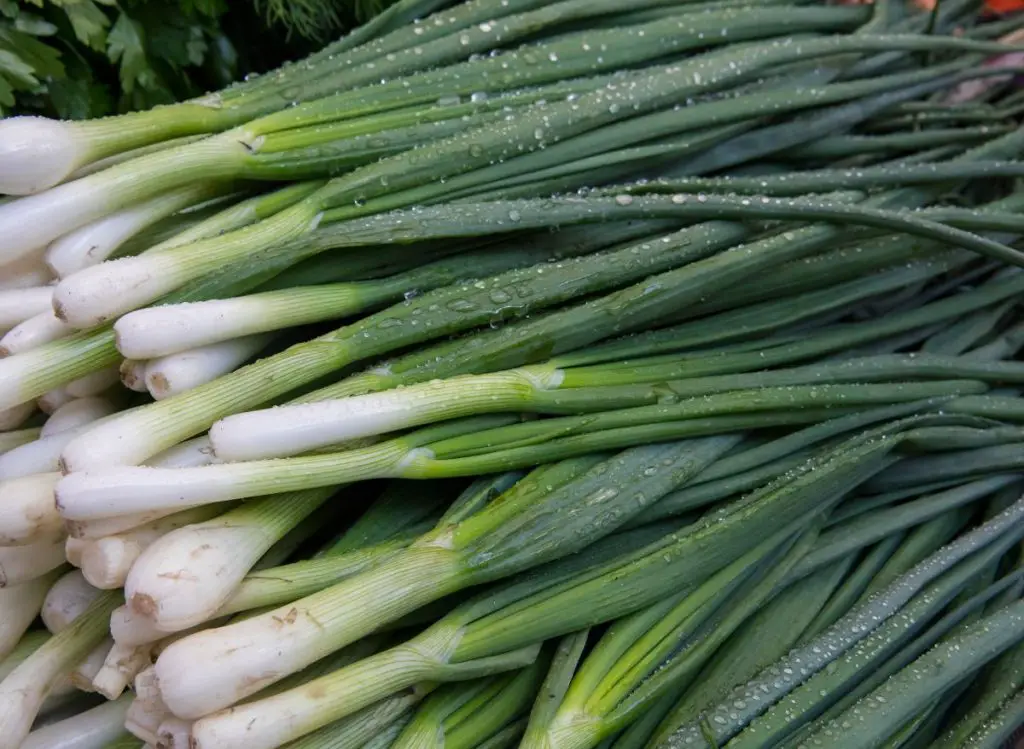 14- Sweet Potato
Sweet potatoes provide edible tubers and a lovely above-ground vine. You will need a large pot to grow this fall vegetable, one that is 18 inches deep and holds about 20 gallons or more of potting soil.
Sweet potatoes need a long growing season of 90+ days but are still ideal for growing in a pot on a sheltered porch or patio. As long as the plants will receive at least 6 hours of sun each day, you can grow sweet potatoes.
Tips For Growing Sweet Potato In Pots:
Plant them in mid-summer and treat the plant like a flowering vine to add beauty to your outdoor space.
Harvest the sweet potatoes in the fall just before the first frost.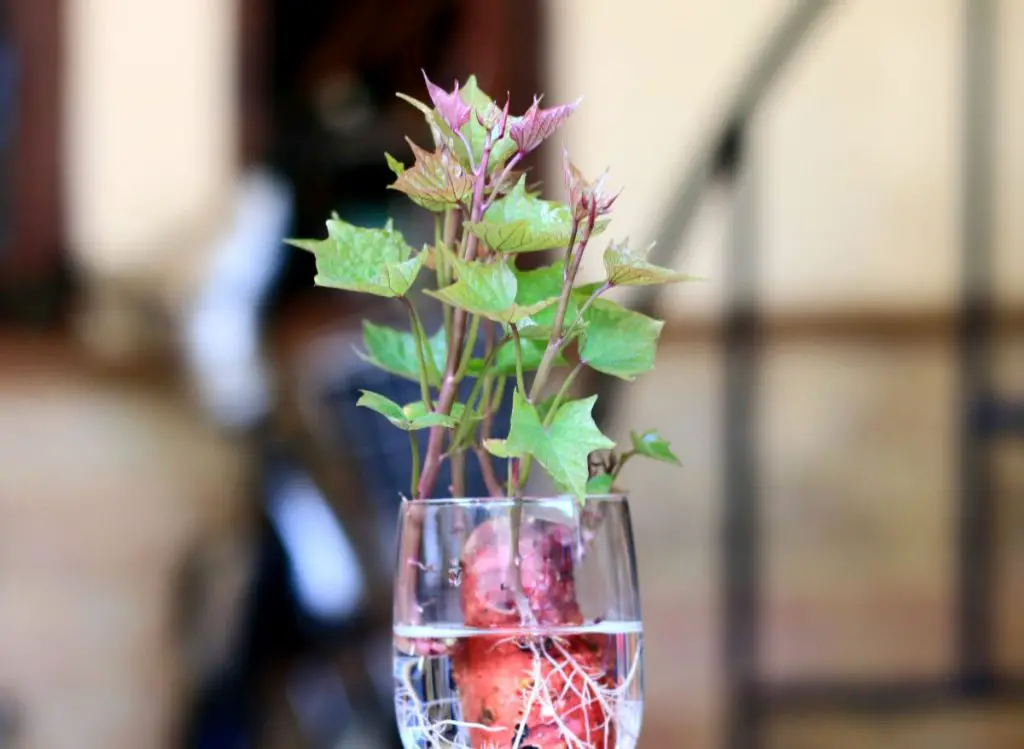 15- Mustard Greens
Mustard greens are one of the best fall vegetables to plant in containers; they can tolerate light frost, even though they are known to be as cold and hardy as spinach and kale. 
When planted in autumn, tender mustard greens will get a bit spicy and somewhat sweeter flavor. 
Mustard greens thrive in fertile, organically rich, consistently moist, and well-drained soils, particularly in full sun. However, it also grows well in light shade.
How To Grow Mustard Greens In Pot:
The best time to plant is in early spring.
They should be ready to harvest 40-50 days after planting.
Best to water mustard greens plants early in the day so they will dry off before nightfall, reducing the risk of attracting fungal diseases.
The most frequent pests include aphids, caterpillars, flea beetles, snails, and slugs (Source: Missouri Botanical Garden)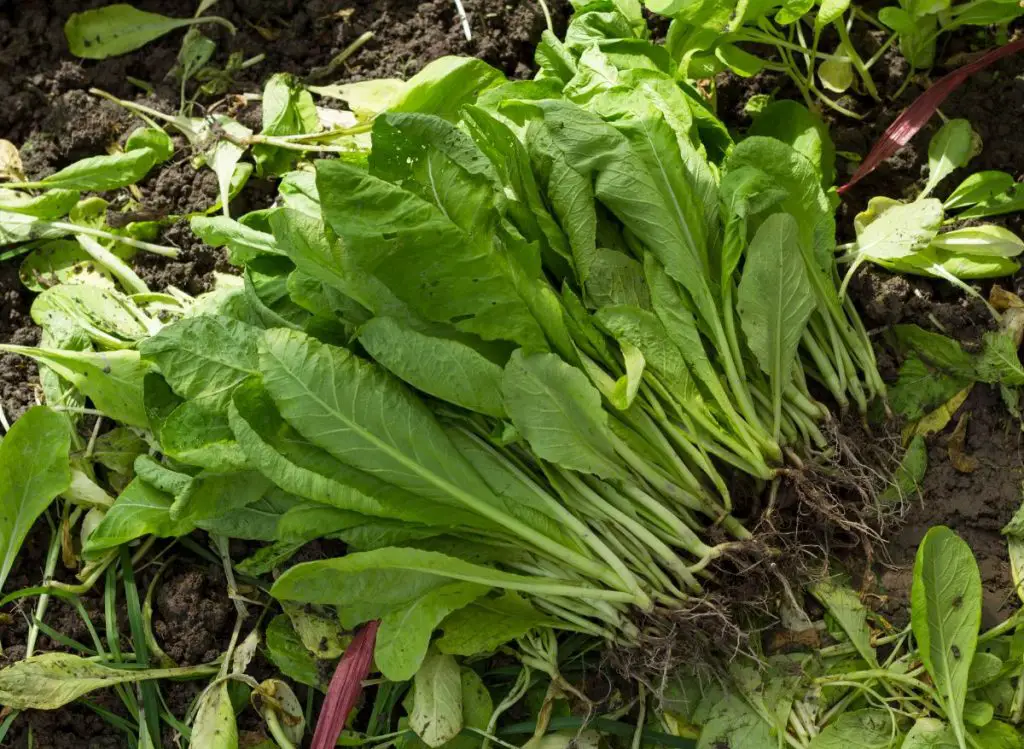 16- Kale
Kale is among the healthiest vegetables as it is both low in calories and loaded with vitamins and minerals.
Kale requires about 12 to 18 inches of space. In containers, it can grow in a minimum size pot of 6 gallons, as shallow as an eight in. depth.
Kale thrives in full sun and rich, loamy, moist, and well-drained soil. It also does well in cool temperatures and some afternoon shade to survive heat.
How To Grow Kale In Pots:
Plant kale seeds about six to eight weeks before the first frost in autumn.
Kale can withstand hard frosts (25–28°F) without losing its taste or showing damage.
The good news is that the cool fall weather brings out the sweet and natural flavor.
It requires full sun and about six or more hours of direct sunlight daily.
It generally takes up to 95 days for kale to be ready when growing it from seed. 
You might also enjoy reading this quick guide On How To Remove Aphids From Kale Properly.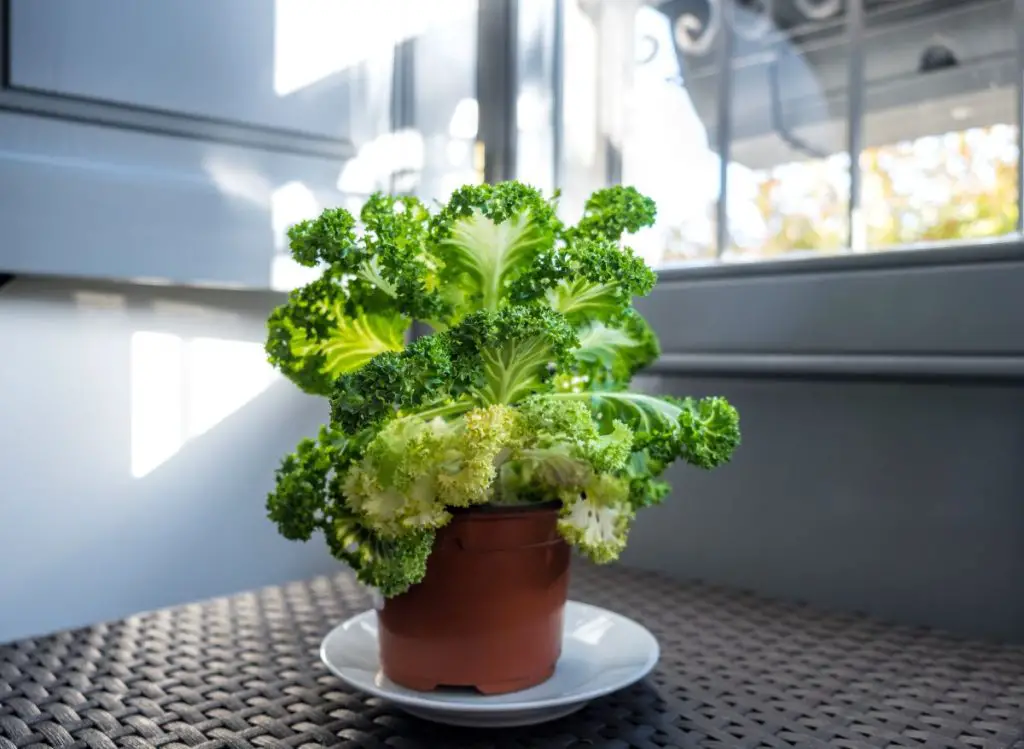 17- Peas
Peas are among the most favorite fall vegetables, which is a reason for their popularity. Peas are nutritious, tasty, and very easy to grow.
How To Grow Peas In Pots:
When planting peas, choose well-draining soil in a sunny location.
Plant your peas early fall, about 6 to 8 weeks before your first fall frost date.
It takes about 60 days for most varieties of peas to mature.
During the growing season, soak the soil to a depth of at least one inch every week, as suggested by the University of Minnesota's gardening experts.
The best temperatures to grow peas are between 55°F and 65°F.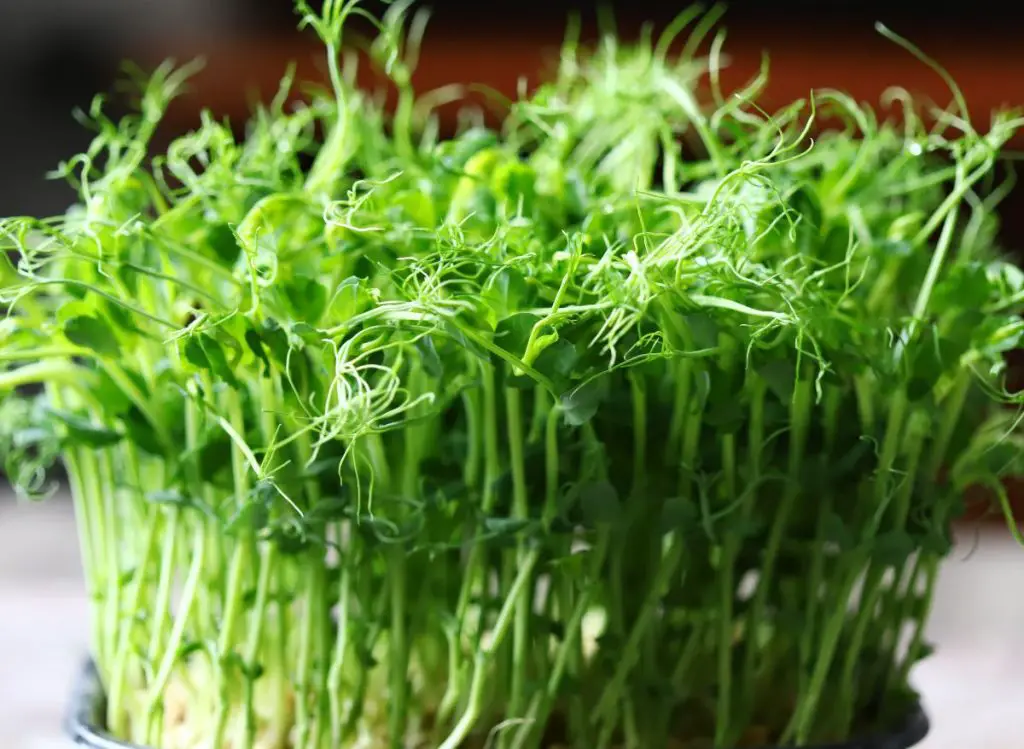 18- Zucchini
Zucchini plants are one of my favorite vegetables to grow in the fall season. However, they typically have an extensive root system, so they need ample garden space and a big container. 
When growing Zucchini plants, choose a pot at least 36 inches deep, as their roots can grow up to three feet long. 
How To Grow Zucchini In Pots:
Zucchini generally produces fruit ready for harvest in 35 to 55 days, depending on the cultivar and weather conditions.
For optimal results, plant about five or six zucchini seeds in the center of the container and cover them with one-half inch of soil.
If you are interested in exploring more about how to grow and care for Zucchini effectively, I wrote an article discussing the most common issues with Zucchini plants and how to fix them. I encourage you to check to read this article more.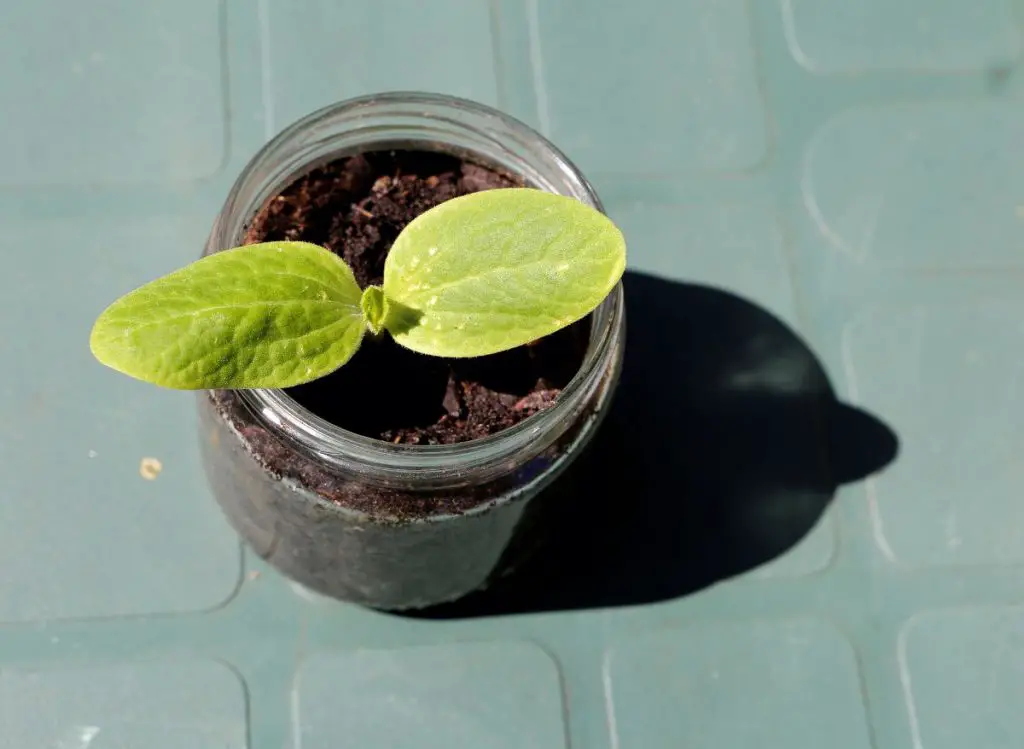 19- Turnips
This last one is another two-for root vegetable that provides both an edible root and leafy green top. Turnip roots are ready to eat 40 days after planting, and the leaves can be harvested anytime they reach 4 inches long.
Snip off the outer leaves and allow the turnip root to remain in the pot until it reaches the desired size.
Tips For Growing Turnips In Pots:
Start with a pot that is at least 12 inches deep.
Fill it with potting soil and plant the turnip seeds 6 inches apart.
Plant the seed 1/4 inch deep and water the soil well.
Place in a sunny location and keep the soil moist.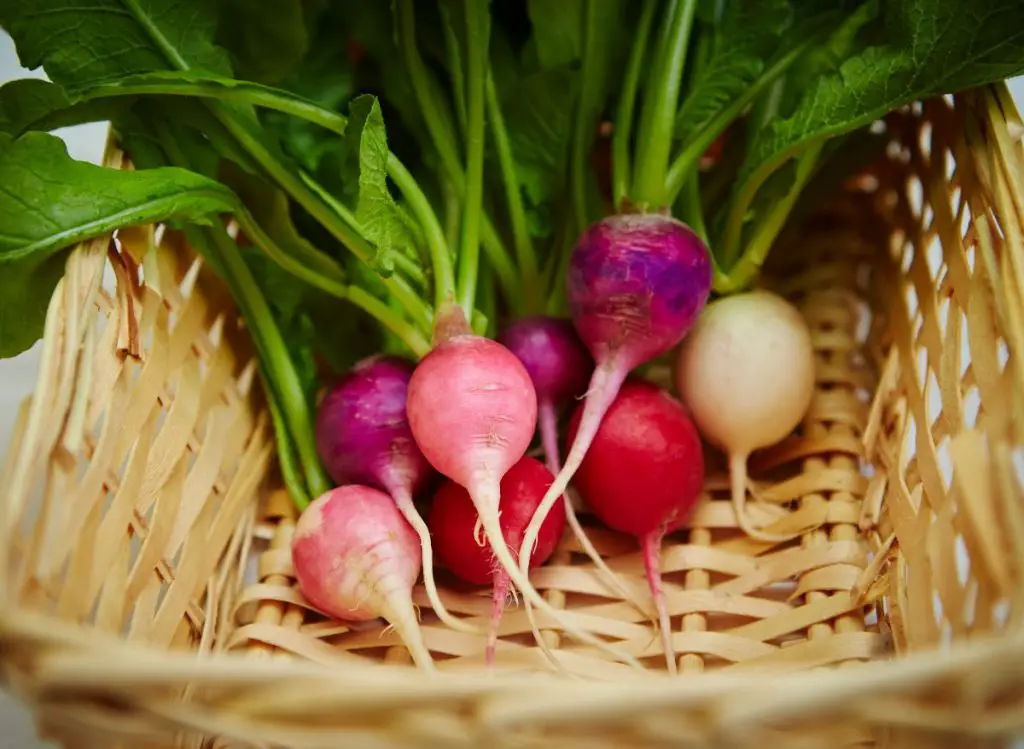 Wrapping Up
With these 19 fall vegetables, you can start a successful fall garden in pots. Have you tried growing any of these fall vegetables?