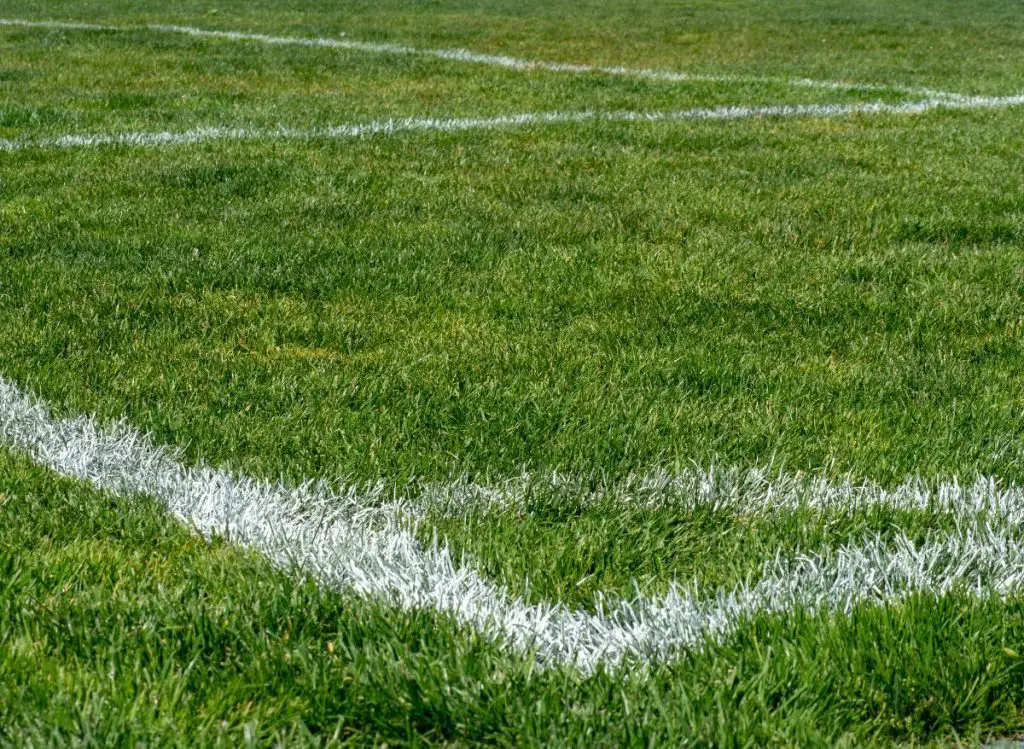 All over the world, it is hard to ignore the beautiful lush greenery around golf courses, exotic resorts, and athletic fields. But you could be baffled about what makes these places green and elegant even during adverse weather conditions.
The good news is that most companies have taken advantage of technology by using grass paint to give your lawn a stunning look. Did you know you can get lawn-friendly dyes that will not harm your grass plant, pets, or the little guys? 
Since the grass paint industry is awash with myriads of grass paints, choosing the ideal one for your lawn can take time and effort. However, this article makes your decision-making process more accessible by presenting you with the ten best grass paint on the market. 
Most beginners wonder whether spray paint kills grass or not; I wrote a whole article discussing all things to consider when using spray paint.
Buyer's Guide- Best Grass paint
Before highlighting some of the best grass paints, we should discuss the features and benefits of various grass paint in the market.
However, what considerations should you factor in before making the purchase?
1- Color Blend
Most homeowners would prefer to purchase grass paint similar to their lawn color to help give it a natural look.
Therefore, understand your lawn color to help you choose a paint that will blend well with it. 
2- Longevity
The question of how long the grass paint will last is crucial since no one wants to paint their lawn every week.
A paint that can last several months without wearing off despite irrigation or rainfall will save you the hustle of repainting.
3- Coverage
Depending on your lawn size, get good grass paint to cover your lawn evenly without leaving some patches unpainted.
Fortunately, most grass paint in the market can cover an ordinary household lawn. 
4- Organic and Natural
Good grass paint should contain non-toxic formula, thus, making it safe for your loved ones, pets, and the environment.
Moreover, it should not interfere with the future growth of your lawn.
5- Value For Money
The beauty of using grass paint on your lawn is that it will save you on the amount of water and fertilizers you use.
Therefore, you should purchase pocket-friendly grass paint that transforms your lawn into the desired look and gives you value for your money.
Best Grass Paints On The Market
The best way to apply grass paint to your lawn is to spray a grass paint mix about 4 to 6 inches from the grass in a circular motion. 
I suggest you keep all traffic off painted grass until it completely dries. Generally, it takes about 2 to 3 hours for painted grass to dry. 
Here are the best grass paints on the market
1- Lawnlift Ultra Concentrated Green Grass Paint
When you think about grass paint, the first brand that comes to mind is Lawnlift because it's a household name among most homeowners. Grass paint giant dedicated to selling high-quality and genuine products would not escape the notice of lawn lovers. 
The beauty of Lawnlift ultra-concentrated is that it yields good results on your lawn since it is highly concentrated. Ensure you follow the instruction when mixing the grass paint to help you produce 1.375 gallons. 
Lawnlift grass paint is ideal because it sticks on the grass and will not be washed away after watering your grass or when it rains. This paint will make your lawn lush green for at least three months as you await the future growth of your grass during favorable seasons.
2- EnviroColor 4Ever Grass Paint
Have you ever wondered why most golf courses are evergreen? The secret product for this green look is EnviroColor 4Ever grass paint. This grass paint will give your lawn a fresh look and natural green without altering its future growth.
EnviroColor 4Ever grass paint is available in four non-toxic formulas that cater to all grass types and can last up to nine months after painting. Since the grass paint is safe and environmentally friendly, you do not have to sweat when your pets play and eat grass.
If your grass is dormant, infested by disease, or has pet stains, look no further than EnviroColor to help you change your lawn into a picture-perfect landscape. The color concentrate covers 1000 square feet when used correctly, thus, making it ideal for small and extensive grounds. 
Since EnviroColor products are all-natural, they are easy to use, thus, saving time and money. Therefore, if you are looking for grass paint that will transform your lawn's overall appearance while providing huge savings economically, think EnviroColor
3- Seymour 20-602 Grass Paint
Sometimes you may notice that your lawn has some ugly dead spots and your effort to fix it with some seeds leaves the yard with some dry brown and yellow patches. 
Of course, no one wants to be the neighborhood's laughing stock, which can be discouraging for most lawn lovers who value first impressions. 
The good news is that Seymour 20-602 Grass paint is an ideal solution for patches on your lawn when your puppy digs and pees on the ground. This spray paint also covers stubborn brown spots on your lawn, even during favorable weather conditions. 
The spray paint settles on the grass quickly and dries instantly, thus, giving your lawn a fresh, lush greenery look. Therefore, if your yard has minimal patches using Seymour 20-602 Grass paint is economically viable and time-efficient instead of concentrates. 
When using this spray paint, ensure the surface is dry and protect the surrounding areas from spray mist since you want to only focus on the grass.
Remember to protect your eyes during the process by staying 6-24 inches away from what you are spreading. Although the spray paint might not make your grass grow, it is safe to use and is formulated not to damage your lawn. 
The rain or watering your lawn will not wash away the paint since it stays green for longer. Since Seymour is a professional grass concealer, it can be perfect for golf courses, hotels, public outdoor spaces, and your home.
4- Green Grass paint Max Strength by Petra tools
The formula paint is highly concentrated and is guaranteed to transform your lawn into vibrant, lush greenery. However, it is not efficient for removing urine spots; instead, it is ideal for dry, dormant, and dead grass. 
The grass paint is manufactured with 100% natural, safe ingredients for your lawn and loved ones. You can spray your lawn without worrying about damaging the environment or machinery. 
Green Grass paint Max is an easy-to-use, fast-drying formula engineered to deliver the best results and value for your money. Moreover, the paint instantly blends well into your lawn to give you the desired look. 
During application, Green Grass Paint Max Strength propriety wetting agents help spread spray droplets across treated turf for increased uniformity and a better overall appearance.
The paint formula is safe for all types of grass and will not harm or inhibit future growth. Furthermore, it will not wash away with rain or irrigation but will allow existing foliage to grow and flourish. 
5- Covington Pre-Mixed Green Grass Paint
Most dogs develop a favorite spot on your lawn to pee, contributing to yellow or brown patches. Fortunately, Covington Pre-Mixed Green Grass Paint is formulated with carefully balanced ingredients to save your lawn and give it a fresh new look.  
Whether the patches on your lawn have been caused by drought, dryness, dead grass, or dog urine, the grass spray will transform all pesky brown spots into a bright green color. Furthermore, the grass spray is safe for your lawn and will not cause fading of your grass or hinder future growth. 
The best bit about this grass paint is that it is time-efficient. It is often pre-mixed and ready for use, so you do not have to waste time mixing. However, to achieve the desired look, you need to apply the paint formula multiple times depending on the type of grass you intend to spray. 
The high-quality, water-based formula dries up in minutes and coats evenly to help cover the brown spots. And since this pet-friendly grass paint lasts longer, you will save money even with irrigation or rain. 
Following the paint's clear labeling and directions makes your lawn look beautiful and alive. Since you cannot control drought or get rid of your puppy, get yourself Covington grass paint to help you cover the bare spots on your lawn.
Is Grass Paint Good For Lawns?
Grass paint is excellent for quick coverage of browning or yellowing areas in your lawn while waiting for the natural green to return. For instance, if your lawn is browning due to dog urine, you want to temporarily regreen the spot while flushing the urine from the soil.
The good news is that when used properly, lawn paint will last about 2 to 3 months. However, depending on where you live, you may need one or two applications throughout the winter months.
What to read next:
Final Thoughts
Sometimes mother nature is to blame for your lane's dry, dormant, yellow, and brown patches. However, you can transform it into vibrant, lush greenery, thanks to the technology of grass paint. 
Although there is no one size fit, the key lies in finding out what works best for your individual needs, including color blend, longevity, coverage, organic, and value for money. Therefore, opt for grass paint that blends well with your lawn to help you create a beautiful natural landscape.